The SG Esports Dota 2 team spoke to Esports.gg about the unprecedented qualification for The International 10.
After a thrilling 5 finals where they bested Team Unknown, SG Esports have become the first all-Brazilian lineup to qualify for The International 10 (TI10). Esports.gg had the pleasure of speaking with Costabile, 4dr, Tavo, thiolicor and KJ, as well as SG Esports manager China, about their historic feat. The fiery team took us through the past few months of their difficult journey to this point.
How did you feel when your team qualified for the International 10 after such a gruelling Grand Finals?
SG Esports: The feeling was that of immense accomplishment. We didn't have the best journey during Season one and two of the SA DPC, but we were quite confident about our preparation going into the TI10 qualifiers. When we had won, the emotion took over all of us, we all seemed to be on the same page. Players, coach, staff, it felt like a real family and team.
Did you face ping problems during training and preparation for TI10?
SG Esports: Currently, as we are in the Gaming House, in Fortaleza, Brazil, we have lots of ping problems to Peru. In the first match (of the Finals), we played with 120-130 ping and there was no way around it. On Brazilian and American servers, we basically get the same 80-90 ping, so it's better for us. Prior to the qualifiers, we did train against NA teams, and also participated in tournaments against other Peruvian teams. We wanted to gauge ourselves and see what we were capable of.
What are the expectations for the team going into a LAN tournament finally unshackled from ping issues?
SG Esports: LAN tournaments are all about the feeling. You face the opponent on an equal footing, without having ping problems, so it's the best scenario we could ask for. Playing at a ping disadvantage affects our game a lot, we make stupid mistakes that we can't control and these mistakes can even cost us the game.
"There's no such thing on LAN though. We're eye to eye and at every good moment we're going to scream and show our opponents what it's like to face us!"
SG Esports about LAN tournaments
---
"Qualifying is just the first step in our journey at TI10 being eternal in Brazilian history" - SG Esports' Manager, China
Despite their superb form in the TI10 qualifiers, the path here was filled with hardship. Paulo "China" Fong, the manager for SG Esports shares more about how the team has changed to get to this point.
Without a doubt, this is a historic achievement for Brazil. It's the first time that an all-Brazilian team plays The International. What is it like to be part of such a feat?
China: Indescribable! A funny thing, which I had told my wife Roberta, was that my goal for the year 2020-2021 was to be the first manager of a 100% Brazilian team in TI. Accomplishing this was something that moved me a lot on the day of the final. And for all of us, it's just the beginning of this story. We want to go beyond, qualifying is just the first step in our journey at TI10 being eternally cemented in Brazilian history.
What did the team do to switch gears between the qualifiers in May and the current TI10 SA Qualifiers?
China: We've changed a lot. With everyone being together, we could all be fully immersed in the game and focused. We basically were thinking about Dota, every day from 1pm all the way until 10pm. In the time between that, and during our breaks, we just talked to each other. We all made an active effort to move away from social media, and had daily conversations to improve the harmony between us. The team's coach and psychologist also helped in this regard.
Many people think that the preparation process is just playing, but it's a whole lot more than that. Keeping the training routine consistent is essential for starters. The hardest aspect is being all on the same page, and moving at the same pace as a team. We managed to achieve this, and in doing so our team was 100% ready for any opponent.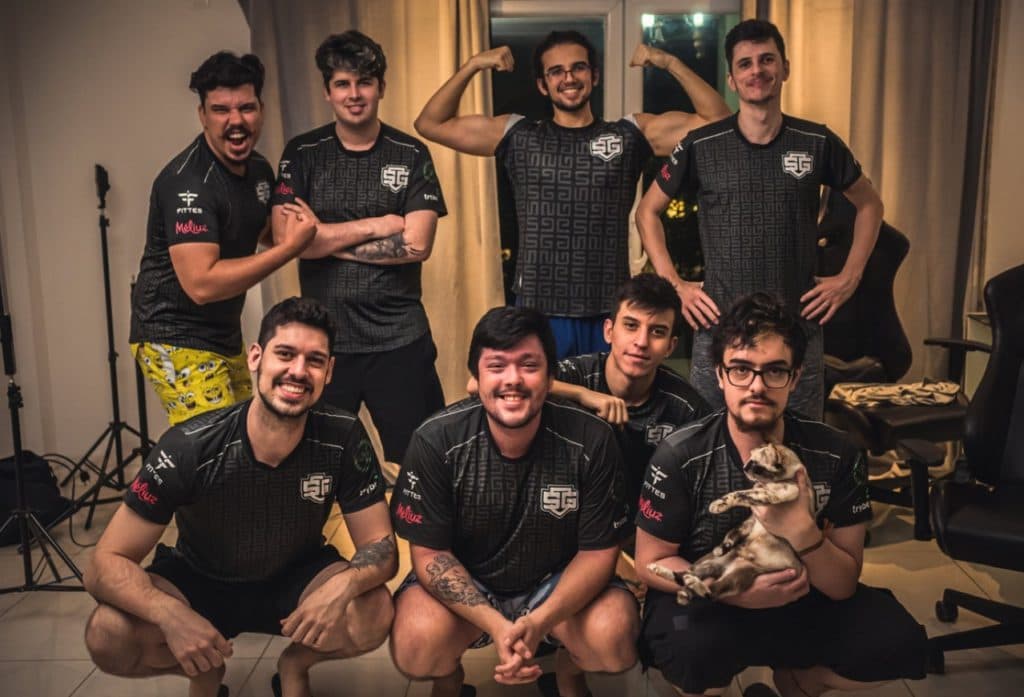 The SG Esports team at their Gaming House - an environment they say has helped them tremendously.
---
You guys have been in the Gaming House since January. What is it like to be away from home for so long? How important was this period together for the qualification?
SG Esports: It was really difficult, of course. Coexisting is something that's very complicated and hard to get used to. Everyone has his own quirks, ways of doing things and wants, Fitting all of that into a house, even in a big one is quite the task. There are days where you just want to play Dota, train, and just be in your own corner. But in this Gaming House, there's no real way of avoiding each other. Not having that space is something we each had to overcome.
Not being able to see family and friends, that took a toll as well. The upside though is that staying here really made us focused all the time. Ultimately, this union helped us pull each other onwards and upwards. It definitely helped us evolve.
SG Esports about the training period in the Gaming House
When we were preparing for the qualifier, we made the decision to gather everyone together here, in a Gaming House. The purpose was to avoid possible distractions and any potential problems. Ultimate
When we were preparing for the qualifier, we knew that gathering everyone together, be it in a Gaming House or office would be crucial. Staying here helped us avoid possible distractions and a lot of other potential problems. It was definitely essential to keep us united and focused on the same goal.
---
A Second Chance for TI Glory for Tavo
For most of the current SG Esports line-up, TI10 will be an entirely new experience. For Otávio "Tavo" Gabriel, who played TI in 2018 for the paiN Gaming, it'll be a second shot at glory. We spoke to the offlaner about how he plans to approach this gauntlet this time round.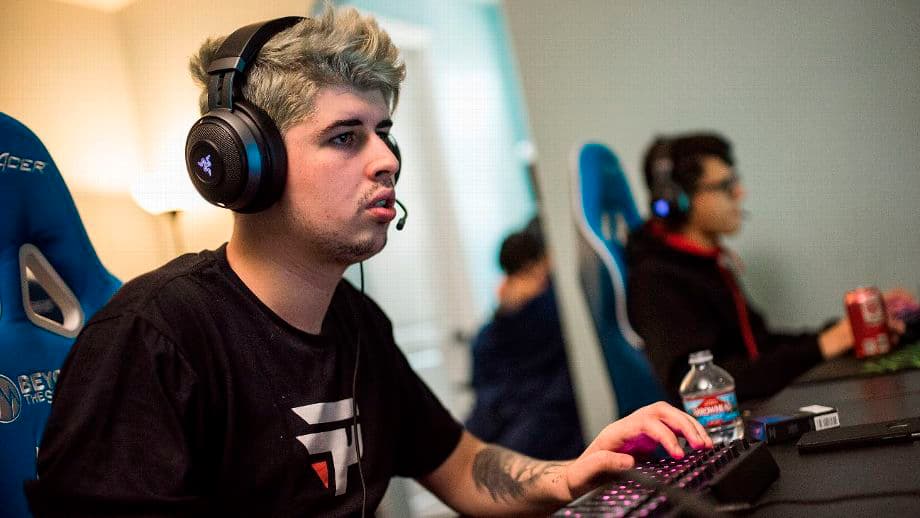 Otávio "Tavo" Gabriel - Dota2 player, today at SG Esports - Image: Todd Gutierrez/Beyond the Summit
What's it like to compete in a TI for Brazil again? What can you pass on to your teammates in this experience, which is new to them?
Tavo: There are no words to really describe this feeling. I took a break in 2020 and had the risk of not playing for any team. When they called me again, I felt it was time to go all out for this opportunity. I already came out and said that when I went to TI (in 2018), I felt like I didn't do my best. This TI though, I want to make history with them by my side. When we're there, we aren't going to care that it's TI - we're gonna show everyone what we're capable of. We know where we want to go, and we're going to keep doing our best, day after day, match after match.
---
SG Esports' Rollercoaster of a Journey Thus Far
While the harmony and form they've achieved presently is something they are proud of, things weren't always this way. The players talk about the many issues they've faced prior to this
What were the main difficulties in this journey towards TI10?
SG Esports: We had a lot! It was a roller coaster of emotions, problems, relief, madness! During the first season of DPC, we thought we would qualify for the Major, but we ended up stumbling to Egoboys and we ended up in 3rd.
After that, we had a roster swap - replacing Kingrd for Tavo. We got a lot of criticism for that, but felt it was best to go with our original line-up (with Tavo). There were many thoughts about roster changes, amongst many other things. In the end though, we decided to stick through it together, and focused on fixing our issues. We rallied together and decided that we would do our best every single time, no matter the opponent.
---
Preparations for the Main Event
As for SG Esports' plans for preparing for TI10, the players mentioned that a bootcamp in Europe would be ideal. However, with the COVID situation, it's just not feasible. They are planning to focus on studying and training, to face up against the European and Chinese metas.
How have you guys prepared for the European and Chinese teams?
SG Esports: We spend a lot of time just studying what they do. They might just be the benchmark of Dota 2 these days, so we analyse their games with our coach Mangusu. After which we try and come up with ways we can beat the stuff they're doing. It's all a process - involving practice, pubs then analysis.
The amount of work we put in can get pretty taxing, but it's this process that led us to TI. If we want to keep on this road, we must continue and keep everyone on the same page this way.
Do you have anything to say to the other Brazilian/SA teams in the scene?
Have focus, a lot of perseverance and believe in your dreams. We fought for a long time and dedicated ourselves to the fullest. Always try to be close to people and players who have the same goals and try to be 1% better every day. Always remember: if sacrifice was easy, it wouldn't be called sacrifice. When the storm passes and we start to see all the positive results, there is no better feeling in the world!
SG Esports' message to the rest of the SA/Brazilian Dota 2 Scene
---
TI10 takes place between August 5th and 15th in Stockholm, Sweden. The competition will have a total prize pool of US$ 40 million and 18 teams.