Riyadh Masters Play-in: Team Aster and Team Liquid are the first teams to secure Group Stage
The first day of Play-in sees a smooth journey for Group A, but Group B remains a bloodbath.
The first day of Riyadh Masters Play-in concluded with 48 total matches played throughout more than 10 hours of continuous Dota. The BO2 round saw two teams clinch the top position in Group A - Team Aster and Team Liquid. Both teams advance to the Group Stage and will sit out of the Decider round. Group B, on the other hand, is still a close contest.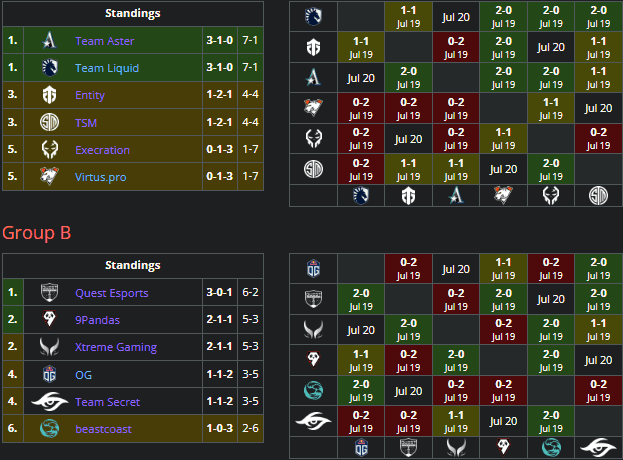 Riyadh Masters Play-in: Smooth Group A, Entity steals the spotlight
Group A was a straightforward journey, with favorites Team Aster and Team Liquid grabbing the top spots. Team Aster looks solid, apart from an unexpected draw against TSM. Team Liquid faced a similar case after losing a game against Entity in the first game of the day. Nonetheless, they proceed to win all three series against Virtus.pro, Execration, and TSM.
Both powerhouses secure top two and advance to the Group Stage. Team Aster and Team Liquid will clash against each other in their final series of the Play-in.
TEAM HIGHLIGHT 💡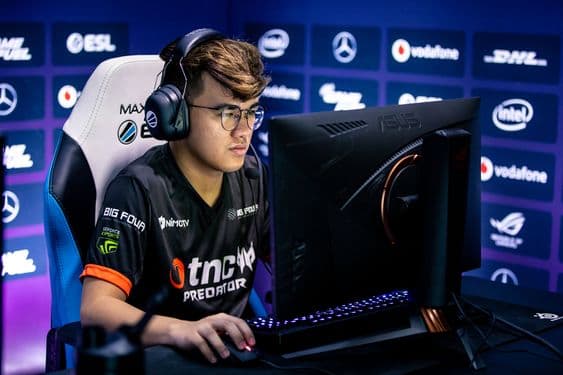 Gabbi's debut with Entity steals the spotlight.
Image via ESL
Entity is an interesting highlight in Group A. The team had just debuted Filipino offlaner, Kim "Gabbi" Santos, and they left a pretty good impression. Gabbi had been absent from the pro scene for five months and was filling his time streaming and interacting with his fans. He last played for Fnatic until the team disbanded on February, 2023. As for now, Entity looks quite promising. Many fans including the Filipino Dota 2 community have their eyes glued to the team.
TSM has a similar performance as Entity. They even managed to pull an upset against Team Aster. On the other hand, Virtus.pro and Execration crumbled with no victories, one draw, and three losses.
Riyadh Masters Play-in: Group B bloodbath, Quest dominates
Group A presents a more stacked lineup, with more dark horses of the Play-in. There is no surprise that the battles in this group are more intense. As for now, all teams except for beastcoast, still have a chance to secure the top two of Group B.
The most promising team in Group B is Quest Esports, who grabbed three consecutive wins with ease. Despite recently losing star player, ATF, and scrambling to find a last-minute stand-in, they are performing incredibly well.
TEAM HIGHLIGHT 💡
An interesting team to look at in Group B is definitely Xtreme Gaming. The solid Chinese lineup is just recently joined by star player, XinQ, who returned after a long absence from the scene. XinQ last played with PSG.LGD almost an entire year ago. But his return is looking spectacular. Xtreme Gaming is the only team so far that delivered a defeat against Quest Esports.
OG in particular had a disastrous start to the Play-in. The team lost two consecutive series against Quest Esports and beastcoast. But they quickly recuperated by the end of the day and grabbed a draw against 9Pandas, plus a boosting win against Team Secret.
Speaking about Team Secret, the team had the opposite scenario compared to OG. They had a good start, winning against beastcoast. But they eventually lost balance, settling on a draw against Xtreme Gaming and losing two series against Quest and OG.
Decider round will eliminate four teams
Play-ins will not have any eliminations. Instead, the bottom four of each group will clash against each other to decide who leaves the tournament and who advances to the Group Stage. The Decider round will commence a little later, starting 4:30 PM CEST.