Old G begins their journey in the WEU DPC Closed Qualifier today. Keep track with the team's matches and results here!
The 2022/2023 Dota Pro Circuit Winter Tour Closed Qualifier is here and crowd favorites, Old G, will soon be hot in action. This final chapter of the qualifier season sees eight teams, all of which qualified through the Open Qualifiers, battle it out for the coveted Division II slots. Will Old G manage to make it into the Western Europe (WEU) DPC? Keep track of the schedule and results here!
*This is an article for Tour 1. If you want to see Old G's schedule and results for Closed Qualifier Tour 2, press here.
Old G, comprising Johan "N0tail" Sundstein, Sébastien "Ceb" Debs, Topias "Topson" Taavitsainen, Volodymyr "Noone" Minenko, and Arif "MSS" Anwar, was formed rather spontaneously ahead of the 2022/2023 DPC season. Despite fielding semi-active players and a midlaner-turned-carry, the team still managed to advance to the Closed Qualifier through the first OQ. Now they have one final obstacle before they can step into the next season's DPC. But remember! Keep your expectations low...
Closed Qualifiers format overview
The DPC Closed Qualifiers (for all regions) take place across four days from December 19th to 22nd. Eight teams, that qualified through four rounds of Open Qualifier, will clash in a double-elimination bracket format with all matches being best-of-three (BO3).
All participants in the WEU Closed Qualifier are Old G, Monaspa, Ooredoo Thunders, HAVU Gaming, Team Blink, KZ Team, NOSTRVM, and LeClassique 2.0.
Countdown
Bracket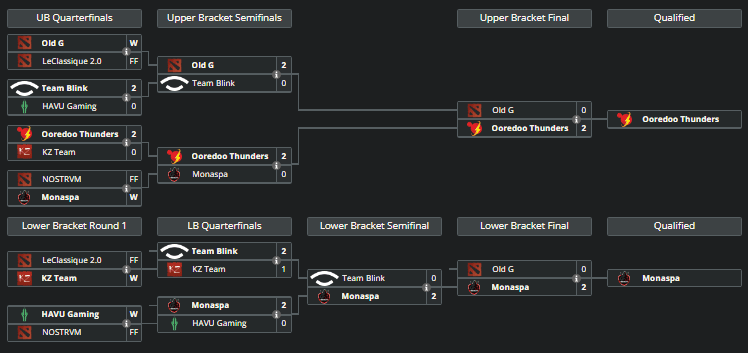 You can check the bracket here.
Results
Old G [W] vs LeClassique 2.0 [FF]
UPDATE: LeClassique 2.0 has forfeited the match. Old G advances to the Upper Bracket Semifinals, meanwhile LeClassique 2.0 drops to the Lower Bracket.
Old G [2] vs Team Blink [0]
Old G defeats Team Blink 2-0 to advance to the Upper Bracket Final. The next series will determine OG's qualification to WEU Division II.
Old G [0] vs Ooredoo Thunders [2]
Ooredoo Thunders acquires the first slot in Division II after knocking Old G to the Lower Bracket. Old G has one more shot to qualify for Division II through the LB.
Monaspa defeats Old G 2-0 and secures the last slot in WEU Division II. Old G is eliminated from the Closed Qualifier.
Where to watch Old G live
Tune in to the official English stream on ODPixel's Twitch channel or T_Panda's Twitch to watch Old G play in the WEU DPC Closed Qualifier. Community streamers and casters might also hop on the Old G hype and broadcast the games on their channels. Here are some of the most popular Dota 2 streamers and casters on Twitch: Gorgc, Jenkins, and Bkop.
We'll update this section with more available livestreams once the matchup begins.
---
---
Closed Qualifiers in other regions: