OG's Taiga reveals why he took a break from Tour 3 DPC
Following a wave of obnoxious rumors, Taiga revealed that his anxiety and depression led him to take a break from DPC.
Taiga has yet to play with OG in Tour 3 Dota Pro Circuit (DPC) after stepping back due to "private issues". But recently, the position 4 player took to his personal Discord server to finally disclose his situation.
Taiga revealed that he has been suffering from anxiety and depression which worsened after TI(11). He also stated that this affected his performance as well as his drive and motivation. Currently, Taiga is in therapy and is taking the steps to heal.
Sorry for keeping you guys in the dark, but I have been having anxiety and depression for a while, it just got worse after TI, I might seem fine but I really wasn't. That's why my performances has been very shaky. I'm on therapy right now to get better, and it's been helping me to get back my drive and motivation to come back streaming and pubbing, it's not fully there yet but I'm taking the steps towards healing.
Tommy "Taiga" Le posted on his Discord server
Vile rumors might have pushed Taiga to speak up
But this indistinct remark and his mysterious absence have caused rumors, including obnoxious accusations, to spread. This was made worse after Taiga live-streamed on Twitch, seemingly healthy and fine.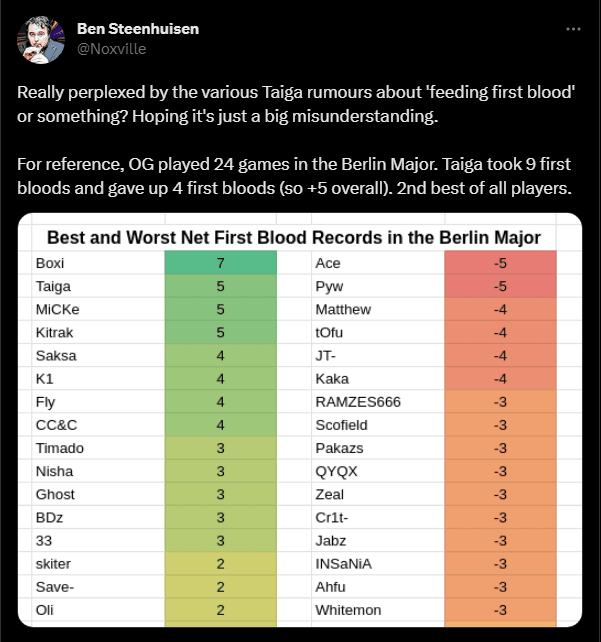 However, the most baffling rumor associated Taiga with matchfixing. Reddit comments quoted notable personalities who mentioned that "Taiga threw first bloods" or that he did something that is a "human factor after all." These indirect accusations quickly spread through the community and not long after, talks of Taiga departing OG due to his matchfixing scandals blew out of hand.
These rumors might have been the reason why Taiga opted to disclose his personal issues. Nonetheless, fans have sent full support to the Norwegian player and wished him a swift healing journey.
However, time is ticking for OG as the org nears disqualification from WEU DPC. PGL's ruling only allows four instances of playing with stand-ins and OG has so far played with an incomplete roster three times.