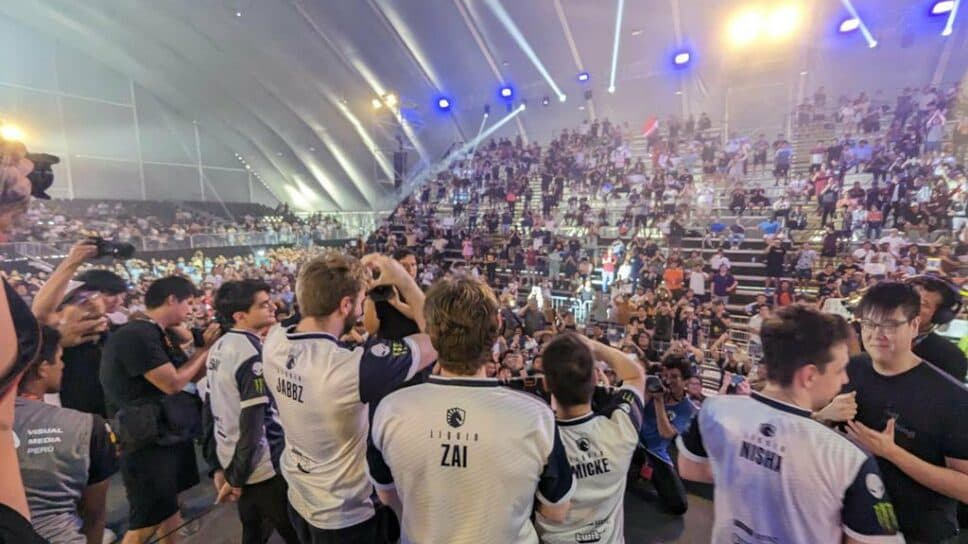 Team Liquid vs Gaimin Gladiators: GG stomp Team Liquid 3-0
After an action-filled five days of Dota 2, the Lima Major is finally down to its last two teams. Gaimin Gladiators and Team Liquid face each other in the Grand Finals in Peru.
Gaimin Gladiators has had a smooth ride through the upper bracket of the Lima Major. The WEU team has remained undefeated through the playoffs, defeating Team Aster, Entity, and more recently Team Liquid. Team Liquid will once again face Gaimin Gladiators in the Grand Finals.
Team Liquid vs Gaimin Gladiators
The Lima Major 2023 finals is a best-of-five series. The first team to win three games will secure the tournament victory.
| | | | | |
| --- | --- | --- | --- | --- |
| Team Liquid | Gaimin Gladiators | +44,000 (GG) | 18-34 | Gaimin Gladiators |
| Team Liquid | Gaimin Gladiators | +2,000 (GG) | 6-26 | Gaimin Gladiators |
| Team Liquid | Gaimin Gladiators | +13,000 (GG) | 9-11 | Gaimin Gladiators |
Game 1: Stomp, Stomp, Stomp
After having watched Team Liquid crush Talon esports in the LB Finals, Gaimin Gladiator came into the finals with a plan. A plan to not allow Micke to farm freely. His Nature's Prophet had multiple deaths in the early game in the safe lane and ultimately he had to abandon the lane.
Team Liquid had picked Riki to scout and possibly counter the stacks in the Dire jungle, but it wasn't enough. The Liquid roster could simply not win the skirmishes, which was even more problematic than allowing Gaimin Gladiators to farm the stacks.
As the game progressed, Jabba's Riki was the critical component for Team Liquid's attempt at a comeback. He would quite often spot enemy heroes alone and then Team Liquid would simply collapse on Gaimin Gladiators. The gem on Riki was able to get a massive lead for Team Liquid and meanwhile, his teammates were getting their farm up and up to a level where they could compete with Gaimin Gladiators.
But ultimately, Gaimin Gladiators just stuck together and then Lina was just too OP for Team Liquid to handle. Gaimin Gladiators won Game 1, but for Team Liquid fans, it was still a good game.
Game 2: Team Liquid put up a fight, but Gaimin Lina too stronk
Gaimin Gladiator once again got the Lina pick and they just ran amok with the Lina. This game Lina got the free farm and after they grouped up together, it was quite an easy task for Gaimin Gladiators.
The lead kept growing for Gaimin Gladiators and ultimately they took the win. Quinn ended the game with a 10-1 score, clearly dominating the way his place in the team dictates the pace of the game. His Pango was able to control a signficant portion of the teamfights and disrupt the way they would approach the game.
Game 3: Heals and counter heals
The third game draft saw Gaimin Gladiators pick a Witch Doctor + IO draft Team Liquid picked the Ancient Apparition, one of the few heroes that can actually counter the WD + IO Draft. But Gaimin Gladiators simply went BKB on multiple heroes
Team Liquid's gameplan was simple - they had to take fights early in the game. Once Gaimin Gladiators got BKBs it was always going to be super difficult for Team Liquid. Ultimately, however, Gaimin Gladiators got their BKBs and took the victory.
John Patrick Lowrie, Dota 2 Voice actor introduces the teams to stage
Ahead of the Grand Finals, Avo+ brought on John Patrick Lowrie to the stage. A seasoned voice actor, Lowrie introduced the two teams - Team Liquid and Gaimin Gladiators in his iconic voice. He has worked in Dota 2 and is known as the voice of Pudge, Earthshaker, The TI announcer amongst many others.
What is Team Liquid's Dota 2 roster?
Aydin "iNSaNiA" Sarkohi
Michael "miCKe" Vu
Michał "Nisha" Jankowski
Ludwig "zai" Wåhlberg
Samuel "Boxi" Svahn
What is Gaimin Gladiator's Dota 2 roster?
Erik "tOfu" Engel
Melchior "Seleri" Hillenkamp
Marcus "Ace" Christensen
Anton "dyrachyo" Shkredov
Quinn "Quinn" Callahan
How to watch Lima Major Grand Finals?
You can watch the Lima Maor Grand Finals on the official Twitch channel here. We have also embedded the stream below.