What actually is the meaning behind the HOTDOG meme at TI12?
You're watching The International 2023 (TI12) and noticed something weird.. the Twitch chat is spamming "HOTDOG" and there's no actual hot dog in sight. On LGD Gaming's jerseys, you see the large printed food name, a partner that stands out from the rest. You might wonder what it represents, if not the actual food itself. Well, we were curious too and we got you the answers!
LGD Gaming rocking a new jersey for TI12 with HOTDOG as a new partner.
(Screenshot from TI12 stream)
What is HOTDOG?
LGD Gaming -- who recently parted ways with its long-time partner PSG -- arrived at TI12 with new partnerships. A huge partner of LGD includes bilibili, a popular video-sharing website based in Shanghai, China. But the biggest standout of LGD's partners is called HOTDOG. It is easily noticeable as the name is planted in big font on their jerseys.
HOTDOG is a Chinese digital platform for trendy art, also called a Metaverse platform. The HOTDOG Metaverse showcases NFT collections from well-known brands and artists.
HOTDOG memes take over LGD games
TI12 has seen its fair share of memes and hilarious moments. But LGD'S HOTDOG is one of the most interesting ones. TI12 spectators - the Twitch chat especially - go wild whenever LGD Gaming goes on screen. During their series, you can see the chat spamming "HOTDOG". Some are confused chatters and some are using it as a cheering catchphrase.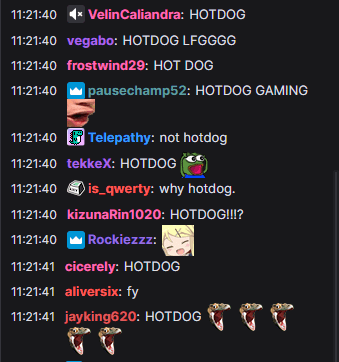 The Twitch chat spams HOTDOG on TI12 stream.
(Screenshot from Twitch)
During one of the segments, SirActionSlacks even brought a plate of hot dogs into LGD Gaming's practice room. All members of LGD Gaming were in the room including the renowned coach, Zhang "xiao8" Ning.
We have another HOTDOG moment during the Lower Bracket Finals between LGD and Gaimin Gladiators. In a hot dog vs veggies showdown, SirActionSlacks led a bunch of crowds to chant "LGD!" while waving actual sausages!
LGD Gaming marches to top 3 at TI12
Is this the HOTDOG buff? LGD Gaming is currently on fire as the Chinese powerhouse speedruns the Upper Bracket. The team recently knocked down its regional counterpart, Azure Ray, to book their ticket to the Upper Bracket Finals. Their next match will be a historic rematch against Team Spirit - a feat we have seen during TI10 finals.