Invictus Gaming enters an exciting new era as they sign an all-star Dota 2 stack.
The legendary Chinese organization, Invictus Gaming, has signed a powerful stack for the next Dota 2 season. After releasing its entire roster, Invictus Gaming announces the arrival of an all-star lineup comprising former LGD Gaming and Team Aster players.
Here is Invictus Gaming's new Dota 2 roster:
Du "Monet" Peng

Cheng "NothingToSay" Jin Xiang

Thiay "JT-" Jun Wen

Ye "BoBoKa" Zhibiao

Yap "xNova" Jian Wei 

Xie "Super" Junhao (coach)
A new era for Invictus Gaming
For a long time, Invictus Gaming has been in a slump. The TI-winning organization had missed consecutive tier 1 events from 2021 until recently, which saw them place bottom at the Bali Major. The squad desperately needs a reset of some sort and they opted to start with a clean slate.
Invictus Gaming released its former roster which comprised notable names like Zhou "Emo" Yi and Xiong "Pyw" Jiahan. In a thrilling announcement, Invictus Gaming unveiled its new Dota 2 roster. And it is insanely stacked.
NothingToSay departs LGD Gaming after four years and joins Invictus Gaming.
(Image via Valve)
Former LGD Gaming midlaner, NothingToSay joins the Invictus Gaming roster. The 22-year-old player was a part of arguably Dota 2's greatest lineup. With LGD, he clinched a runner-up placement at TI10 and a top 3 placement at TI12 - this among many other incredible achievements. Invictus Gaming would be NothingToSay's new chapter in Dota 2 after four years under LGD Gaming's banner.
Monet departs Team Aster after four years and joins Invictus Gaming.
(Image via Valve)
One of the best carry players in China, Monet, also joins the new Invictus Gaming roster. Monet last played for Team Aster in which he was a staple member. He played with Aster for four years since 2020. Throughout the duration, Monet dominated the Chinese region and grabbed a top 4 placement at TI11.
xNova played alone on stage at TI11 after his teammates in RNG caught COVID.
(Image via Valve)
Next, we have xNova, who is one of the most stable support players in the region. The 26-year-old Malaysian has been in a tough spot. From playing alone on stage at TI11 to suffering relegation to Division II, his journey hasn't been forgiving.
But xNova holds impressive achievements. Under PSG.LGD, he placed second at TI8 and third at TI9. He also holds Major victories such as the EPICENTER XL and the MDL Changsa Major both in 2018.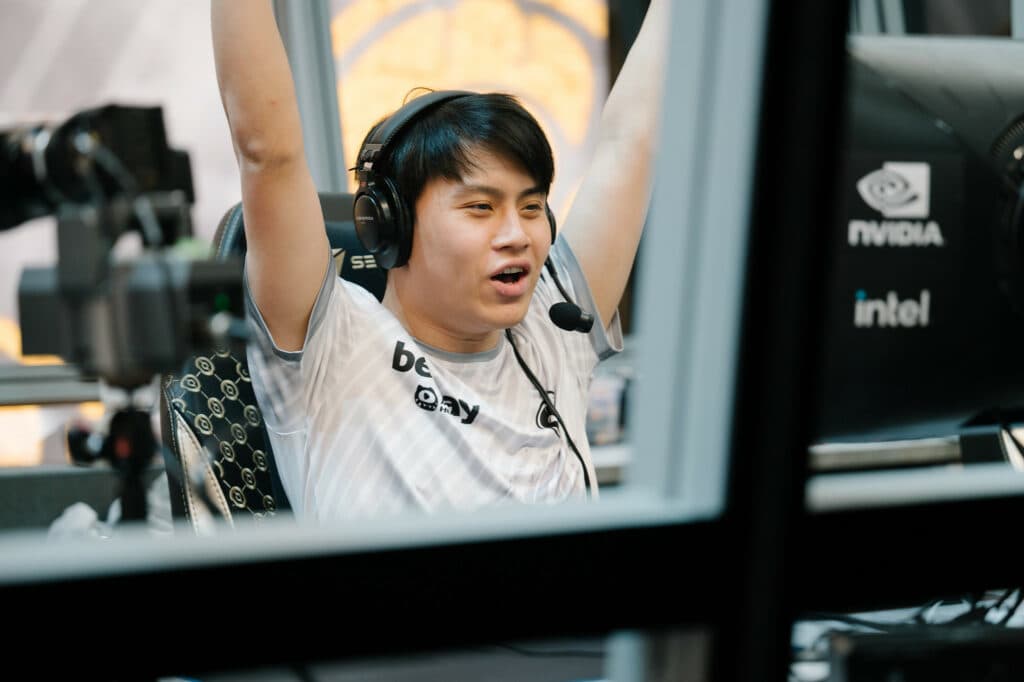 JT- returns to Invictus Gaming after a slow year.
(Image via Valve)
Another Malaysian joins the lineup and he is none other than JT-, who once played for Invictus Gaming. The offlaner has had a dull season, missing tons of significant events. He did make it to the ESL One Berlin Major with Xtreme Gaming, finishing in the top 12. Despite a slow year, JT- holds many respectable achievements including a top 4 finish at TI10 and a Major win from the 2021 ONE Esports Singapore Major.
Pos 4 player, BoBoKa joins Invictus Gaming's new roster.
(Image via Valve)
BoBoKa, who is a renowned support veteran in China, rounds up this roster. He last played for Team Aster and had a short loan-stint with BOOM Esports. BoBoKa's belt is decorated with achievements like a fourth-place finish at TI10 and a victory at the Dota 2 Asia Championship 2017.
---
Invictus Gaming may had a sleeper season, but its new roster looks powerful enough to make a much-needed comeback. Keep track of more post-TI12 roster news on esports.gg!