Here's a look back at how the pandemic has taken a toll on the Dota 2 competitive landscape.
It's a well known fact by now that Dota 2's competitive scene has taken a huge hit because of the coronavirus pandemic. Even after just more than 18 months, the pandemic's unpredictability more than ensures the effects aren't ending anytime soon.
While it may be almost cynical focusing on how such a small niche has been affected by COVID, it is important to remember the specifics of how things were disrupted. Simply chalking it up to "heavily affected" is nothing but a hollow statement without details - and easy hand-wave if you will. For the sake of documenting and remembering this year, the disruption of the Dota 2 scene in 2020 and 2021 needs more than just footnotes in online wikis.
Below is an attempt to document as many of the ways that the pandemic has affected Dota 2. Of course, the list is not exhaustive, but it's as complete as its length would allow.
Wiped Away the Previous DPC Season
The 2019-2020 DPC Season was wiped away by the pandemic
It's been over two years since we last watched the International. And in that time, there's been just three Majors… a historic low for Dota 2. While much of this is to do with the changing system, covid hasn't helped things at all.
The pandemic did away with the final traditional season of the DPC before moving to the regional league system. It seems almost fanciful in a post-Covid 19 world to imagine something like the old DPC. A globe-trotting format where teams travel to eight or more tournaments a year gathering points.
As the pandemic exploded throughout March, the first event affected was the StarLadder ImbaTV Dota 2 Minor Season 3. While the short event ran over just one weekend and wasn't delayed or canceled, its winners immediately ran into problems. As countries began in earnest to stop the spread of Covid 19, Team Aster temporarily found themselves stranded due to visa issues.
With the ESL One Los Angeles Major canceled just days after the close of the Minor, Aster was now stranded in a different way—The team struggled to even return to China. But even had the LA Major gone ahead, visa issues with Virtus.pro's then carry Zaur "Cooman" Shakhmurzaev, and other teams reporting problems entering the US, threatened to make it a very different affair.
Weeks later, and the DPC season was officially put on hold, and The International postponed. In its wake, a wave of replacement online tournaments took the stage, starting with WePlay! 's charity WeSave event, and continuing for the rest of 2020. What's more, all accrued DPC points were essentially lost, meaning a year of work for some teams was now rendered moot.
The Pandemic Shattered Dota 2 Rosters
But beyond events, the pandemic also scuppered many plans that teams had for rosters. While not just an issue of the pandemic (The new regional league format change played a part), the lack of travel, and the need for players to spend a significant amount of time in one location, some players just had to be dropped.
Star players such as Roman "RAMZES666" Kushnarev and Syed "SumaiL" Hassan suddenly were more of a burden than a boon, often playing on high ping or having to be subbed out.
Teams did the best they could, but the online tournaments of 2020 showed that having players from different regions on your team was less and less viable. Only now, in mid-2021, has it become more reasonable for players to travel.
Teams and Orgs Dropped Dota 2 During the Pandemic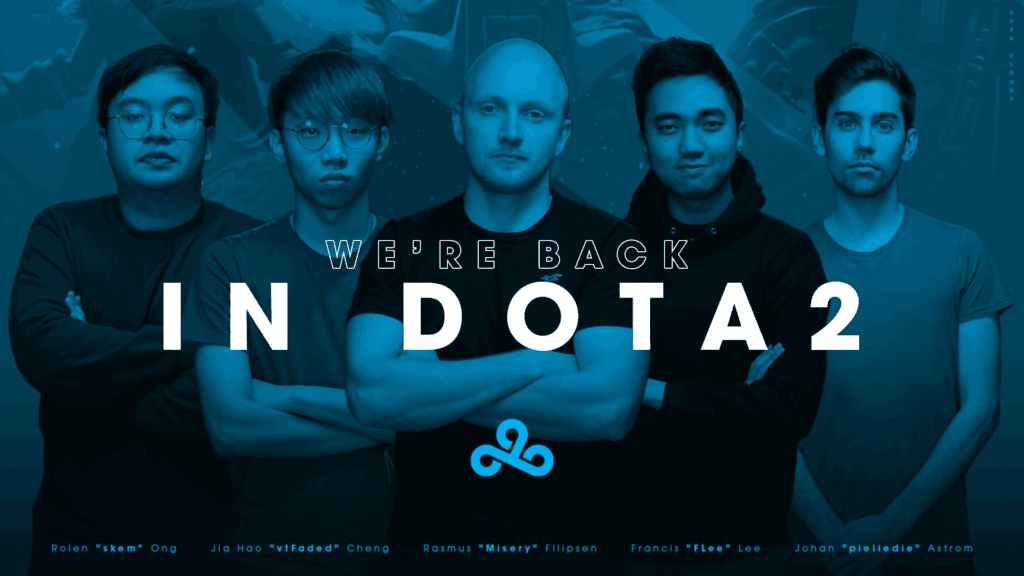 Cloud9 Joined Dota 2 again in 2020 only to drop it shortly after the Pandemic ended the season
Events and individual players were not the only ones to bear the brunt of pandemic restrictions. Organizations struggled with the financial burden of having no DPC Majors. The lack of LAN events cut into their operating funds, before they were forced to shutter.
Southeast Asia was the most affected, losing two two-tier teams in their region. Reality Rift, who were a dominant team in local competition, was the first to cease operations. GeekFam was the next, another top SEA squad. Both teams cited the lack of official competition for their disbandment.
But beyond SEA, Tier 2 teams across the world and even a recently signed Cloud9 squad were victims of the issues arising from coronavirus. C9 returned to Dota 2 in late January 2020 for the first time in almost three years. However, the squad abandoned its plans months later, leaving nearly three months to the day the roster was first announced.
The pandemic highlighted both how fragile in some ways and how robust other aspects of the scene could be. Some teams were able to cut their rosters and survive, while it was a catastrophic event for others.
The Pandemic Wrought Havoc on the Singapore Major
In late 2020 a massive delay in starting the DPC led to the shortening of the circuit, something few now remember. Valve's original DPC 2020-2021 outline announced three individual regional seasons and three Majors. Valve dropped the third regional season in late 2020.
Even so, as teams attempted to settle back into competitive play in 2021, it seemed like things were finally getting back to some semblance of normal. The first regional season went off with relatively few hitches. Then, of course, there were teething problems, but only as many as you'd expect from a new format.
First, Natus Vincere announced that Andrii "ALWAYSWANNAFLY" Bondarenko and Bogdan "Iceberg" Vasilenko had both caught coronavirus. Despite finding a replacement in RAMZES666, the team was eventually forced to pull out.
Meanwhile, Neon Esports and Quincy Crew announce they'd have absent players. QC's Arif "MSS" Anwar and Neon's Anthony "Natsumi" Vargas were both unable to travel. Coronavirus was the reason for MSS's absence. Additionally, team Nigma, T1, and Team Aster would also find themselves missing players.
However, the most crushing absence was beastcoast. The South American team had been a threat on the international stage for almost two straight years. But coronavirus had scuppered their chances of out-of-region success. The Singapore Major was their first event outside of SA or NA in nearly 18 months. Only to have it taken away at the last minute.
With regional rivals Thunder Predator performing so well in Singapore, it felt like beastcoast had missed out on a potential podium position at the Major. A cruel fate for one of South America's best squads.
It's not over yet, and the worst may be yet to come
While the AniMajor went off relatively without a hitch (apart from Oli from IG), and things seem to be settling down, it's clear that it's not smooth sailing just yet.
The world continues to battle with coronavirus, there's no guarantee that TI and beyond won't be affected. At the moment, Bucharest will be open to press and fans, as well as competitors. However, with the situation rapidly changing each day, this could soon change. The effects of coronavirus on competitive Dota 2 will likely still continue for some time.