Geek Fam finally debuts its roster in the BTS Pro Series 13. Here are the new geeks in town.
The geeks are back in town! After what seems like ages of a TBD lineup, the ongoing BTS Pro Series 13 finally unveils Geek Fam's roster for the tournament.
Here is the full Geek Fam roster:
Rolen "skem" Ong
Joshua "avataRmod3" Maraño
Nikko "Force" Bilocura
Ravdan "NARMAN" Narmandakh
Roger "Roddgeee" Tan
This is definitely a refreshing look at the Southeast Asian Dota 2 scene. Former BOOM Esports team captain, skem returns to Geek Fam once again. He once played for the team when he was only 18 years old in 2018.
In his Geek Fam era, he played as the offlaner, but this time around, he assumes the carry role. This also seems like a drastic change as skem previously played the pos 5 role for BOOM Esports. But it was clear that the change was going to happen as he had been spamming carry heroes in pubs for a while.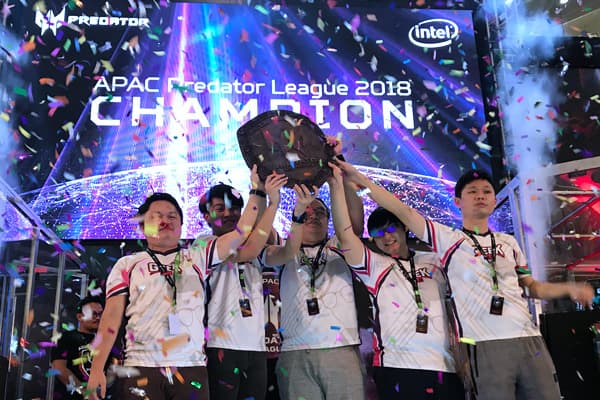 skem with Geek Fam won the APAC Predator League 2018
The rest of the lineup also comprises notable names in the region. Neon Esports' player, avataRmod3 is playing on loan as Geek Fam's midlaner. This likely means his contract is not over or they are in a trial period. Strong offlaner, Force joins the squad fresh off a win at the APAC Predator League under his former team Polaris Esports. Meanwhile, Mongolian player NARMAN, also known as Hustla, brings his prowess as a position 4 to Geek Fam. Former pos 5 for RSG, Roddgeee rounds up the interesting lineup.
Geek Fam roster is still unofficial
Geek Fam is a renowned organization in SEA, that once competed in known Dota 2 tournaments. They closed the Dota 2 division in 2020 due to the harsh impact of COVID-19 pandemic but they return once again and fans are ecstatic. We are also brought on a nostalgic ride, especially with the return of skem under Geek Fam colors.
However, there is no confirmation whether this roster will compete for the 2023 DPC. As for now, this is the lineup for BTS Pro Series and they will likely retain most - if not all - of the players. In the meantime, you can enjoy Geek Fam in action who is currently playing in the ongoing BTS Pro Series 13.