Gaben has welcomed us all to The International, so TI12 can officially begin. The welcome came as part of TI12's opening ceremony.
The International has officially begun as Gabe "Gaben" Newell welcomes fans to TI12 as part of the opening ceremony. The welcome by the Valve company president has become a tradition for the event, and many fans state that the tournament hasn't really begun until Newell has welcomed us all to The International. The ceremony took place on Oct. 27, at the start of The International 2023.
The ceremony began as a full orchestra gave a rendition of a new Dota 2 score live from the Climate Pledge Arena. The track, which was a medley of familiar Dota 2 themes bringing in leitmotifs of Dota 2 music old and new. The near four minute initial track, then broke into an individual choral performance of the main menu theme.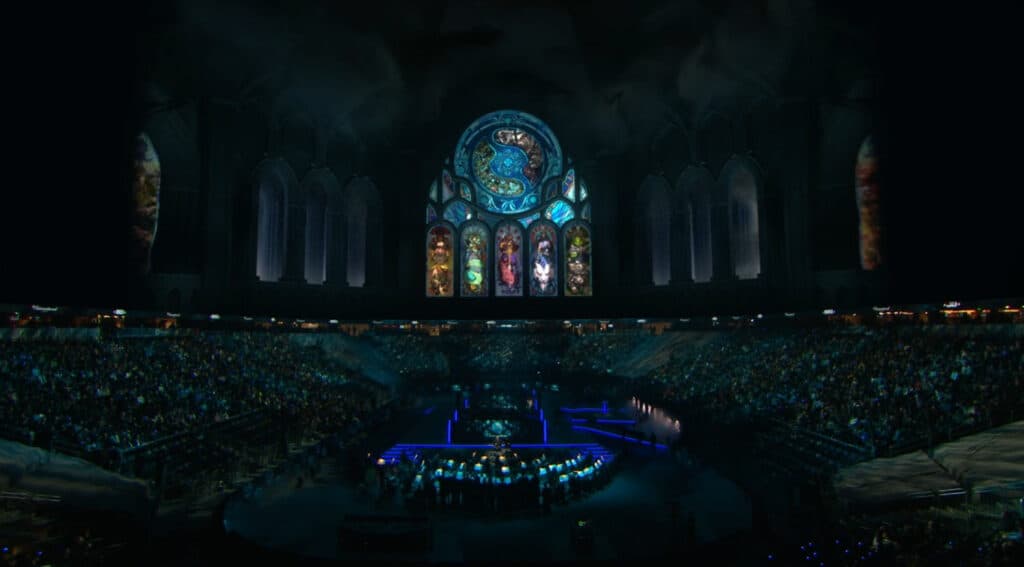 The TI12 Opening Ceremony (Image via Valve)
A video package showing off the Climate Pledge Arena and Aegis of Champions then played, showcasing winners of the past. An incredibly 3D augmented display showed heroes exploding out of stained glass panels, and then the final eight teams were introduced. The orchestra then started up again with the classic Dota 2 theme. And with cheers in the background fans were ready to see the most important part of the opening ceremony: Gaben.
But rather than an in-person appearance Newell instead welcomed fans in a video skit. In it, Gaben raged at Dota 2, only to catch himself, and stated he was happy to have TI back in Seattle after half a decade. He closed the video with his familiar "Welcome to The International" catchphrase.
Gaben has not made an in-person appearance at The International since 2019. TI was postponed in 2020, and Newell spoke remotely for TI10 and TI11.
Prior to the opening ceremony, the event had been what Valve had called "The Road to The International." But with the ceremony, and Gaben's welcome, TI12 has officially started.
You can watch TI12 live on the official Twitch Stream:
---
Stick with esports.gg for more coverage of TI12, Dota 2, and much more besides!