Due to travel issues, Evil Geniuses are subbing in former Quincy Crew player MSS to play offlane instead of Nightfall for this rest of this current DPC tour.
We have some breaking roster news today with Evil Geniuses announcing that former Quincy Crew pos 4 player Arif "MSS" Anwar would be subbing in for Egor "Nightfall" Grigorenko for the rest of this DPC tour. According to EG's statement, "travel and logistics" were the reasons for the change. Nightfall will also not be leaving the team, but will re-join at the conclusion of this first tour.
The Reason for the Change
Travel and logistics have been a big problem for the Dota 2 scene. With the ongoing Covid-19 pandemic, hosting LAN tournaments, and getting travel visas have been a consistent issue. After the International, many Chinese players were stuck in Romania due to the Covid policies of their home countries.
With the Omicron variant now running rampant across the world, and more-so in the United States, travel is perhaps an even greater issue.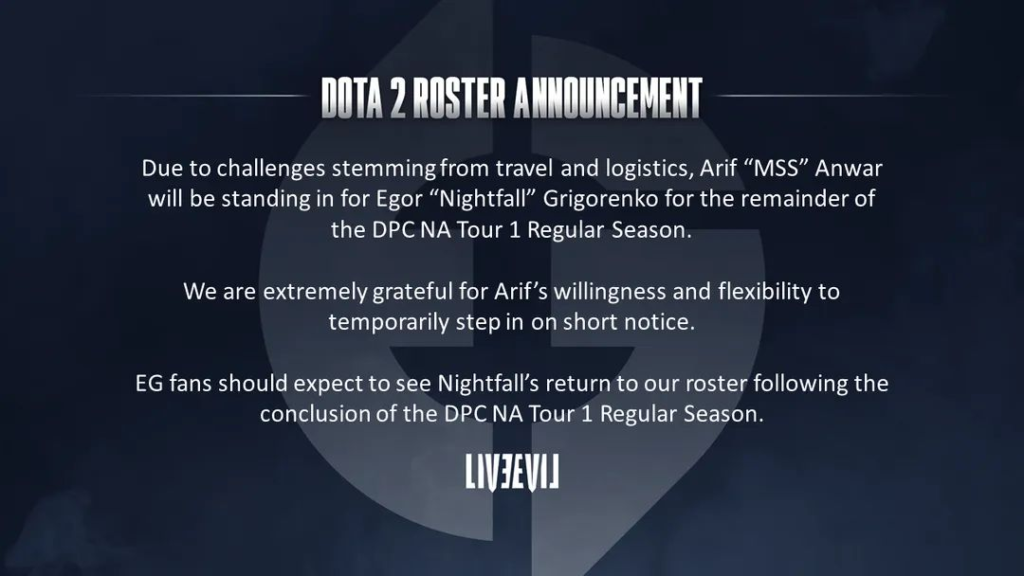 Evil Geniuses' current troubles in-game
This roster change comes at rough time for EG in the current DPC season. They are currently 2-2, and not to the teams you'd think. They took early losses in the season to Black and Yellow and the newly sponsored Wildcard Gaming squad. The latter team handed EG a 0-2 loss in that series.
Although this is a bad start for Evil Geniuses, MSS is certainly a well respected player that could breathe some life into the team. MSS last played pos 4 for Quincy Crew, but much of his earlier career he has played offlane. In this sense, the transition for him may not be as drastic as it was for Nightfall, who previously played carry for Virtus pro.
On the popular podcast "We Say Things", host Troels Lyngholt "syndereN" Nielsen commented that although the start for EG looks rough, EG fans should not panic yet. This is assuming that EG knew that this new roster would have a rough start and make a rally either this tour or next tour. Time will tell if EG can pull it together to make this tour's major or begin to look better.
This new roster shift will have it's first test this afternoon against 4 Zoomers. For more Dota coverage and everything in between, stay with us here at esports.gg!