Dota 2 IESF World Championship 2023: All teams, where to watch, and more details
Sixteen countries, featuring some prominent players, will clash in Iasi, Romania for $100K.
The Dota 2 International Esports Federation (IESFF) World Championship returns in 2023 with sixteen nations. This tier 3 event, featuring some prominent Dota 2 players, hosts a hefty $100K USD prize pool. Participating nations will clash for a slice of the prize money live in Iasi, Romania. More details below!
IESF World Championship date and prize pool
The Dota 2 IESF tournament will take place on August 26 until September 3, 2023.
The Group Stage will span two days, from August 26th to 27th. This phase will divide sixteen teams into four groups of four teams each. The Group Stage will be compact with BO1 games. The top two teams of each group advance to the Playoffs, meanwhile the rest are eliminated.
The Playoffs will then start on the same day, on August 27th, and continue until September 3rd. It will be a double-elimination format with all games, including the Finals, being a BO3 series.
Dota 2's IESF will distribute $100K to the top 3 of the tournament. Here's the prize pool distribution:
| | | |
| --- | --- | --- |
| # | Prize money (USD) | Team |
| 1. | $50,000 | TBD |
| 2. | $30,000 | TBD |
| 3. | $20,000 | TBD |
Dota 2 IESF World Championship prize pool distribution.
Dota 2 IESF World Championship to feature notable pro players in Romania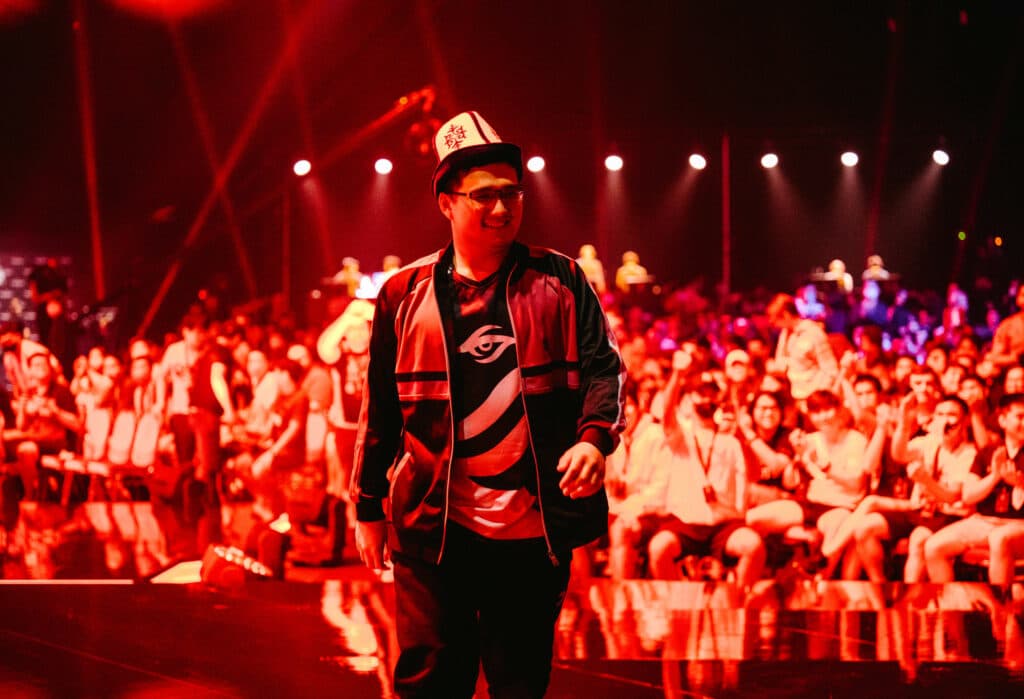 TI finalist, W_Zayac, will represent Kyrgyzstan in the IESF World Championship.
Image by Valve
Sixteen teams, comprising the host's nation, previous winners, and fourteen teams from Regional Qualifiers. Most of the teams have lesser-known players but there are a bunch of familiar names across the board. Romania, the host nation, will present Aliwi "w33" Omar, a two-time TI finalist and the current content creator for Nigma Galaxy.
Indonesia's roster comprises well-known local players such as Dreamocel and Hyde. Almost the entire roster for the Philippines is the Polaris Esports roster, who pulled out of the TI12 Qualifier to participate in the IESF World Championship.
United States fields 4/5 of nouns' roster, who just qualified to TI12 through the North American qualifier. Myanmar's players are made up of Yangon Galacticos' players who are also currently banned by Valve due to involvement in scripting.
Players of Mongolia are also Dota Pro Circuit (DPC) players who pulled out from the TI12 Qualifier to participate in this tournament. W_Zayac is also stepping foot in this international tournament, representing his country Kyrgyzstan. Ukraine presents names like Stonebank and Kidaro from B8 and Bulgaria has names like lil pleb and CTOMAHEH1.
Here's a complete list of the sixteen participating nations in the IESF World Championship:
Romania
Indonesia
Egypt
South Africa
United States
Ecuador
Argentina
Myanmar
Philippines
Jordan
Mongolia
Kyrgyzstan
Czech Republic
Sweden
Ukraine
Bulgaria
Where to watch
You can watch the live broadcast of the Dota 2 IESF World Championship on Twitch. You can also catch the livestream on YouTube.
*The Twitch account is currently temporarily unavailable due to a violation of Twitch's Community Guidelines or Terms of Service.