Crimson Witnesses is hosting a TI12 finals viewing party featuring NADCL Turbo Mode where fans can play alongside NA Dota 2 stars!
Crimson Witnesses is collaborating with NADCL (North American Dota 2 Challengers League) to bring a unique TI12 pub stomp experience. On-site fans in Seattle can join their viewing party with extra activities on the side including Bowling and Pool. But that's not the best part.. You can join their Turbo Mode tournament and play alongside NA Dota 2 stars such as TI champions, PPD and Universe.
Here's everything you need to know about this Crimson Witnesses x NADCL TI12 finals party and the Turbo Mode tournament!
Crimson Witnesses TI12 finals party - date and location
The Crimson Witnesses TI12 finals party will be hosted on Thursday, October 26th, 2023 from 15:00 - 21:00 PDT.
The private party will be held at the Husky Union Building (basement floor) in Seattle, USA. Here's a more specific address: 4001 East Stevens Way Northeast Seattle, WA 98195 United States. You can find this location on map here.
What is at the Crimson Witnesses TI12 party?
The TI12 finals watch party offers plenty of perks alongside the usual pub stomp experience where you watch the finals of TI12 together with other fans. The biggest hook of the event is the Turbo Mode at TI12 tournament by NACDL. This tournament gives the opportunity to play alongside eight notable North American Dota 2 players.
Here are the captains of Turbo Mode at TI12:
Saahil "Universe" Arora
Peter "ppd" Dager
Nicolas "Gunnar" Lopez
Luke "Yamsun" Wang
Arif "MSS" Anwar
Paul "Speeed" Bocchicchio
Samuel "Sammyboy" Anderson
These eight players will become captains of their own team where each of them leads four attendees at the Turbo Mode tournament. The format is a quick eight-team Single Elimination bracket.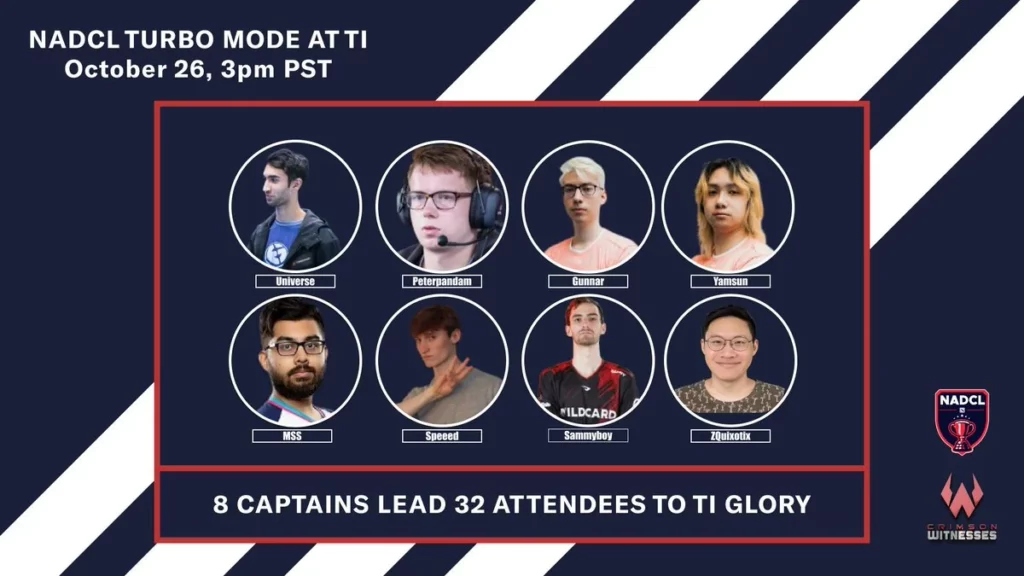 Eight captains of the Turbo Mode at TI during the Crimson Witnesses TI12 Finals watch party.
(Image via Crimson Witnesses x NACDL)
With a ticket purchase, you can also get access to the Gaming Lounge and a Console Arcade with Xbox Ones and Nintendo Switches. Not only that, there is a bowling alley, pool hall, table tennis, tabletop gaming area, foosball, and air hockey. There will be free food and drinks provided throughout the duration of the event.
Tickets for Crimson Witnesses TI12 party - price and where to purchase
For $75 to $80 USD, nearby fans - who are community members of the Crimson Witnesses - can join this TI12 finals viewing party. Note that the tickets are limited! You can purchase the Crimson Witnesses TI12 finals party tickets here.
Where to watch
About Crimson Witnesses and NADCL
Crimson Witnesses is a community that runs Dota 2 community events and meetups around major events such as Dota 2 Majors and The Internationals. Meanwhile, the NADCL is a Dota 2 tournament organizer - founded by TI5 champion, PPD - that focuses on the North American scene.