A preview of the journey of 3 Chinese teams that will be representing their region at The International 10.
China has the highest representation at The International 10 with five teams competing in the $40 million event. PSG.LGD are the tournament favorites but few would discount any of the other Chinese teams. The TI10 China Army comprises PSG.LGD, Team Aster, Invictus Gaming, Elephant and Vici Gaming.
This post is part 1 of Esports.gg's China Preview and features three Chinese teams: Team Aster, Vici Gaming and Elephant.
3 Years of Breaking Through Brambles and Thorns - Team Aster
Team Aster, co-founded by legendary Dota 2 player, Xu "BurNIng" Zhilei, is probably the most topical teams in China after PSG.LGD. The Chinese fans have also given the team a nickname, they call it "Tea Master".
The team has had a roller coaster season. They finished 2nd and 1st place in the Dota Pro Circuit 2021 China Upper Division in Season 1 and Season 2 respectively. This gave them a total of 800 DPC points, good enough to secure themselves an invitation to The International 10.
The King in China, but not at the Majors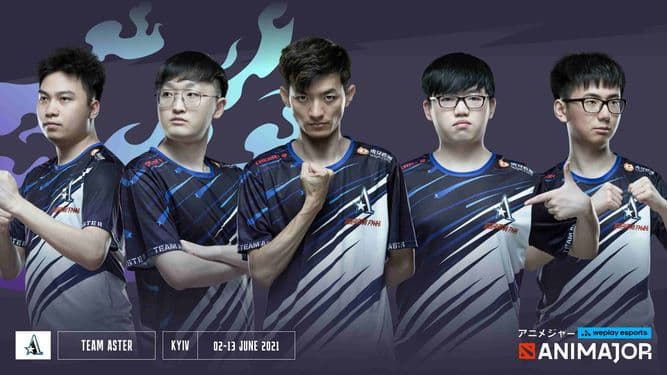 In the China community, Team Aster are called The King of Civil War. This nickname came from their dominant result in the Dota Pro Circuit 2021. They finished 2nd in Season 1 and 1st in Season 2, while also crowning champions in the two recent i-League 2021 Seasons 1 and 2. However, despite being dominant within the China region, Team Aster were not fascinating when it came to the Majors.

During the ONE Esports Singapore Major, Team Aster lost their star player Ye "Borax" Zhibiao due to an incident. He was allegedly arrested for soliciting prostitution in Shanghai right before their departure to Singapore. As a result, the team had to play with their assistant coach/analyst, Cheng "Mad" Han for the entire event where they eventually got eliminated by Thunder Predator in the Lower Bracket Round 1. The team went home as 9-12th place and unfortunately with 0 DPC points.
"In the China community, Team Aster are called The King of Civil War. This nickname came from their dominant result in the Dota Pro Circuit 2021."
However, the squad managed to bounce back strongly in the Season 2 of DPC China Upper Division. A 6-1 result not only secured themselves a slot in the WePlay Animajor playoffs but also the precious 500 DPC points. Unfortunately, the storyline repeated itself again. Team Aster dropped 0-2 to T1 in the upper bracket and another 1-2 to TNC Predator shortly after. The team once again finished in 9-12th place and 0 DPC points. 
Chinese fans furious with Team Aster after getting demolished by T1
This time, Chinese fans and the community were furious with the performance and results of Team Aster.
The fans were especially furious with the team due to the Upper Bracket games against T1. They lost the BO3 series in 58 minutes of total game time. The reason that triggered the fans was the history between the Chinese community and T1's captain, Carlo "Kuku" Palad. Kuku's racial slurs comment in a pub game years ago caused him to be banned from competing in the Chongqing Major.
The fans were furious that Team Aster did not play their hearts out despite knowing the patriotic feelings behind the series.
Will the Sakura Brothers withstand the pressure and lead Team Aster forward?
Xxs and Borax, the long-time duos have worked and found success together particularly with Team Aster's co-founder, BurNIng, since Invictus Gaming. They have always been the ones that received the most criticisms whenever the team is not performing well. Mainly because they're crucial to the team's success.
The Xxs+Borax+BurNIng trio were at their peak with iG when they won the Dota 2 Asia Championship 2017 with a 3-0 dominating score against OG. At this time Xxs and Borax were the formidable duo that would often dictate the entire game for the team. After joining Team Aster, the two of them were called the "Sakura Brothers" because despite numerous roster changes in the team, their positions in the team are unshakable. Hence, there is a lot of expectations and pressure on them to carry the team to a newer height in The International 10.
The amount of pressure and expectations on Team Aster are unimaginable. Especially with a very young core like Liu "White`Album" Yuhao who is completely new to TI. The road ahead is looking challenging for the team. Fortunately, they have 2 of the most successful and experienced veterans as their backbones, Zhang "LaNm" Zhicheng and BurNIng. There's a saying in China, "an old man is a treasure of a family", in this case, they have two.
Team Aster: The Innovator and Meta Leader of CN Region
Besides the Sakura Brothers, you can't take away Team Aster's success in the region from LaNm's drafting and innovation. At the beginning of the DPC Season 1, Team Aster were dictating the hero meta and influencing how other teams played.
With LaNm's hero pool, he was the very first that played Abaddon in the China DPC Season 1 game, and almost single-handedly brought the hero to the most-contested tier where it'd be banned or picked every game. For your context, there were 0 games of Abaddon being picked until LaNm pulled it out twice in the series where they eventually won against PSG.LGD with a 2-1 score. Ever since that game, or that week, Abaddon became the meta.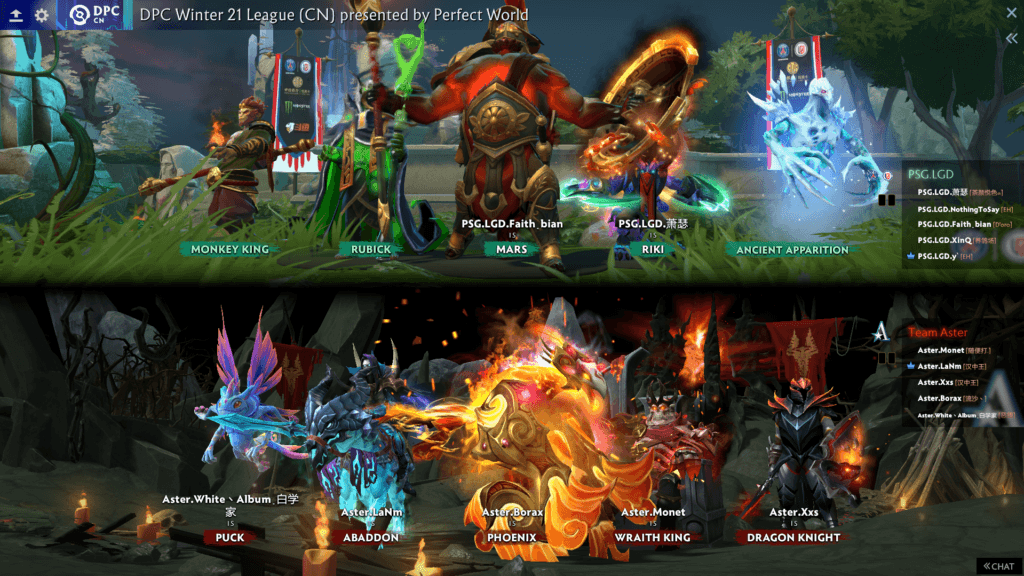 First game of Abaddon from Team Aster and the region in 1st DPC Season
---
First game of Treant Protector from Team Aster and the region in the 2nd DPC Season
Haters will say that this is just a flash in the pan, so LaNm did it again in the next season. In Season 2, Aster started their DPC games in the third week of the season because of their mandatory quarantine after returning from the Singapore Major. While the other Chinese teams were playing either extremely fast-tempo playstyle or extremely teamfight-oriented playstyle, Team Aster came in at the 3rd week and showed everyone the perfect combination of the suffocating tempo with teamfight capability plus sustainability.
Welcome to LaNm's laboratory
Most notably, their Leshrac plus Treant Protector combination was one to be feared. Right after Team Aster pulled this out against PSG.LGD (again) and VG which gave them 2 series victories, the idea of combining tower push with sustainability had taken over the China DPC Season 2, where many other teams had started to replicate that.
You can clearly tell that Team Aster have been the leader of meta within the China region and this has found them success across the season. With no doubt, if they're able to do the same in TI 10, they will enter the status which they are most comfortable with. The million dollar question is, will they be able to? Let's wish them good luck and best of health in the upcoming TI 10!
The Savior of China - Elephant
Elephant departing from China to Romania
It started with 40 million RMB initial capital, with one ambitious goal, to acquire the best players in China to bring the Aegis home. This is something that no Chinese team has managed to do so since Wings Gaming in 2016.
This is Elephant. When the news of the team's roster broke out, they were seen as the savior of Chinese Dota. And the reason was simple, they acquired the PSG.LGD duo, Somnus and Fy who are at their prime, and the Vici Gaming duo, Zhou "Yang" Haiyang and Zhang "Eurus" Chengjun who have grown to be the faces of Vici Gaming under Bai "rOtK" Fan's leadership.
Roller Coaster Ride for the All-Star Team
However, the journey of Elephant started with a huge step back. The team was initially working with 4 Angry Men (4AM), a China organization that focuses on PUBG Mobile, But drama soon followed it was revealed that 4AM did not pay Eurus' buyout fees that cost 1.5 million RMB to Vici Gaming. The incident eventually ended with Eurus agreeing to take a pay cut to join the team and finally bringing the mess to an end. 4am left the project, thus Elephant being the sole investor.
Where was rOtK in the first DPC season?
Due to this incident, the organization and players had to face a lot of criticism and negative feelings. Moreover, the legendary coach, rOTk, was initially rumored to join the all-star roster broke the news in an emotional stream where he announced to take a break from DPC Season 1. Turn out the reason behind this was because Elephant did not have enough budget left to hire him.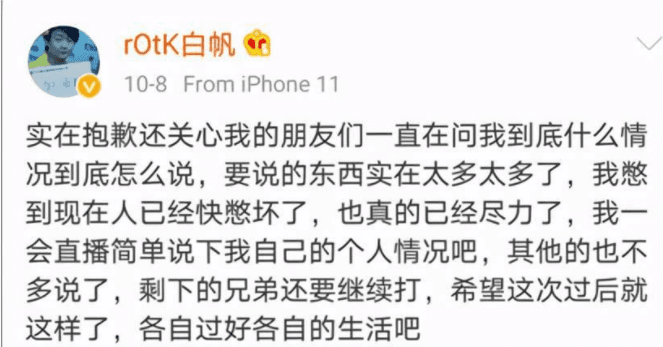 rOtK's sentiments on the situation on Weibo
"I'm sorry to all my friends that are very concerned of me, there are too many things to talk about, I've been keeping to myself and it's driving me crazy, I've tried my best, I'll talk about my personal situation on my stream later, I won't talk about the rest, the rest of my brothers are still competing, I hope this is the end, let's live our own lifes after this."
rOtK's public statement
During this incident, rOtK posted this on his Weibo account. He mentioned that he is completely worn out and exhausted due to this mess, and decided to take a break. He was even sobbing when his friends shared their concerns to him.
Wait, Elephant, Really?
Fast forward to the DPC Season 1, the team was competing with Chen "Xz" Zezhi as their coach, who was the TI runner-up with CDEC Gaming in 2015. In the tiebreaker series where they were up against PSG.LGD for the wildcard slot to Singapore Major, which was arguably the most important game for the team at the moment, they were late to their series!
This resulted in a 70s draft time penalty and Elephant eventually got 0-2 by PSG.LGD and failed to qualify to the first Major. The fans were furious. Not only because they were late, but because they were the hope of many Chinese fans to regain the glory of Chinese Dota. Lots of the angry fans were flooding Elephant's Weibo posts with criticism and complaints.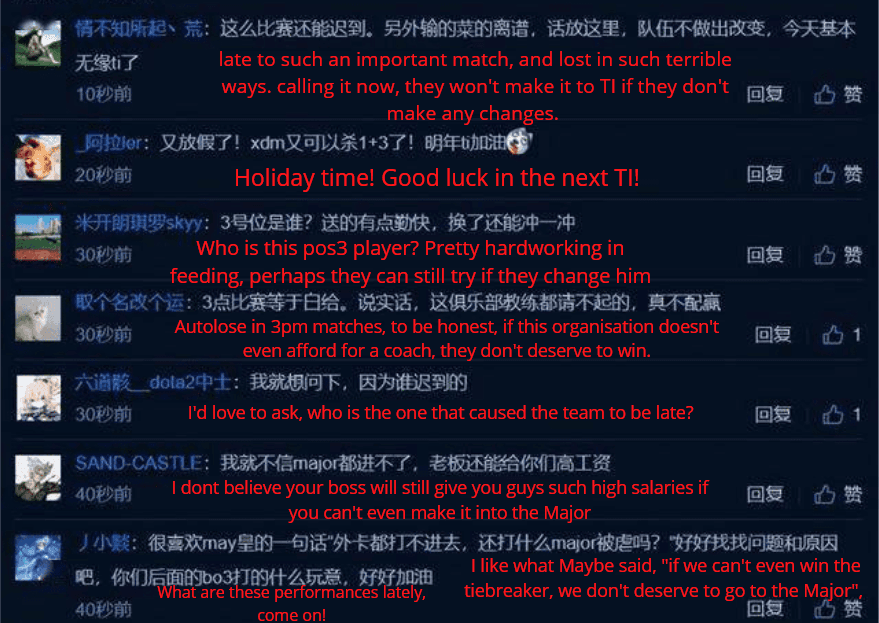 Criticisms on Elephant's Weibo posts after the loss against PSG.LGD in the do-or-die series
Better Late than Never, the Reinforcement has Arrived
After failing to qualify to the Singapore Major, Elephant knew that they had to make some changes. PDD, one of the investors of Elephant and also a famous streamer, mentioned on a stream that he realized the team are playing like 5 mercenaries being put together. There was no strategy or playstyle, the team were purely playing based on high individual skills. And finally, they brought back the leader that they've always wanted, rOtK. He joined the team as their coach, while keeping Xz as an assistant coach.
It was never supposed to be easy
Despite having rOtK, the team unfortunately still failed to make it to WePlay AniMajor. This time, the community pressure was at the highest. Lots of fans were flooding the social media of the players, especially Eurus's. There was even a rumor saying that Elephant was going to disband. In regards to that, Eurus cleared all his posts on Weibo so no one could reply to anything, while Elephant posted a clarification to state that the team will not be disbanding nor were there any arguments within the team.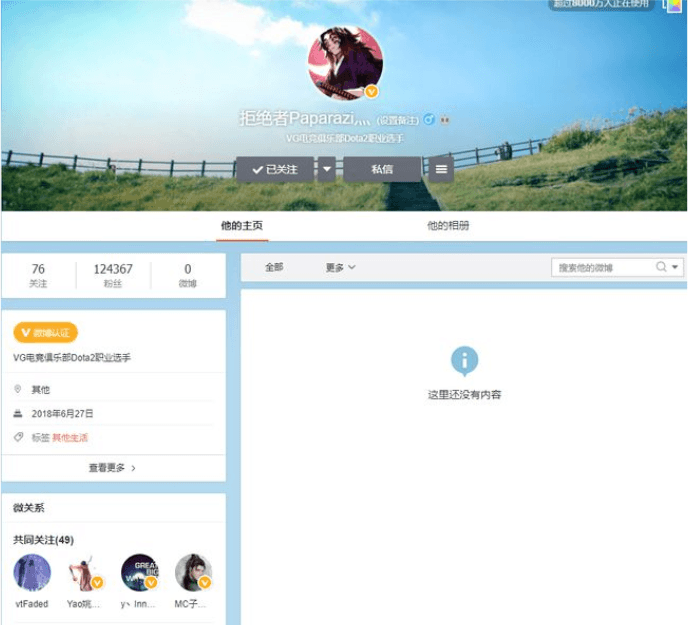 Eurus cleared all his posts on Weibo
Elephant clarifying on the rumor of disbanding before TI Qualifier.
Third time's the Charm
Not qualifying for the two Majors brought many questions to Elephant. Mainly because of how high-key they were at their launch of this roster. They were seen as the saviors of Chinese Dota to avenge PSG.LGD's loss at TI8, which was a permanent pain for many of the Chinese fans. And the only chance they had left was to qualify for TI10 from the regional qualifier.
To do this, they knew they needed a change, they needed one more leader that could be the bridge between the players and the coach. They returned Ru "RedPanda" Zhihao to Royal Never Giveup (RedPanda was loaned to Elephant), and brought Xie "Super" Junhao to the team, who was a long-time veteran with a lot of experience.
Super was playing for RNG before he joined Elephant, who are one of the two biggest opponents in the TI regional qualifier alongside EHOME. And this turned out to be the right decision given that Elephant successfully qualified to TI with a 3-1 victory over EHOME.
Supreme Soldiers with Methodical Tactics
During their TI Regional Qualifier run, all the pieces of Elephant finally came together. Their supreme individual skills, drafting from rOtK, experience from Super, were the keys to their success. Elephant are the believers of having strong side lanes with heroes that offer strong disables and teamfights, as well as better winning conditions.
You can see some of the former Vici Gaming shadows from Elephant, which both teams are comfortable in building advantages from the laning phase and slowly maneuver their ways to take objectives and map control with a slight early advantage. In a sense, pretty similar to Evil Geniuses since both teams are very capable in getting the slight edge of advantage early on with their spectacular laning skills.
This being said, with a lot of hope from Chinese fans, let's see how well Elephant will do in TI 10. We wish them the best of luck and health!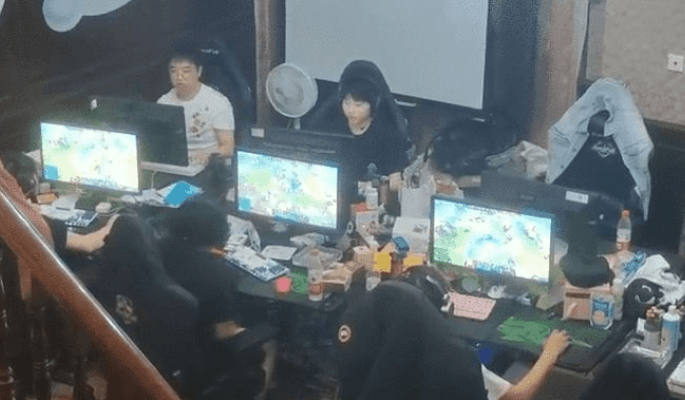 Elephant's boot camp picture
The X factor of CN Dota - Vici Gaming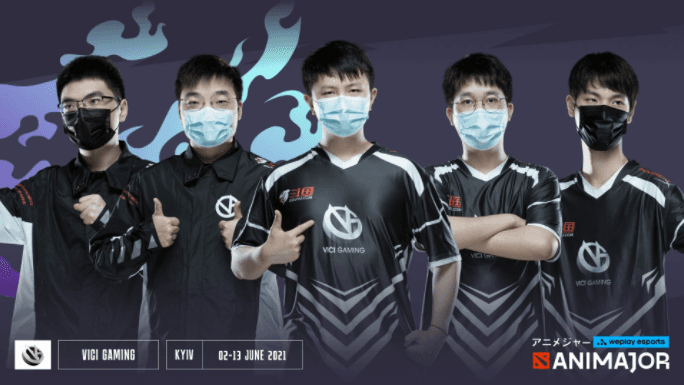 Vici Gaming in AniMajor
Vici Gaming, they should not be a stranger to any Dota fans in the world right now, even if you're not a fan of the team. They have always been around, TI10 will be their 5th TI appearance, which is a pretty big achievement for any Esports organization. However, ever since the team's anchor, Bai "rOtK" Fan, left the team, Vici Gaming have fallen from the throne.
Trust the Process
From winning multiple Tier 1 international tournaments, like MDL Cheng Major, ONE Esports Dota 2 World Pro Invitational Singapore with an all-star roster consisting of the best and youngest players in China, to rebuilding their roster with a rather unknown potential star to the Western scene, Yang "Erica" Shaohan, who is more commonly known as "poyoyo" at present day alongside with Ren "old eLeVeN" Yangwei, who is seen to be one of, if not the most controversial position 3 player in China by the fans because of his extremely aggressive playstyle.
Looking back to their journey in this DPC Season, it has been all blood and sweat for the young squad. Most notable were both of their Major runs in ONE Esports Singapore Major and WePlay AniMajor. First they had to fight for the precious group stage slot with teams like T1 and Team Nigma in the Singapore Major, then once again fighting to the death for the group stage slot from teams like Invictus Gaming and Team Secret in the AniMajor. If there is one word to describe the team, like how the Chinese fans love to, that would be resilience. This team just would not give up.
How far are we going, old eLeVeN?
Speaking about resilience, you have to give the credit to this man, old eLeVeN. Throughout the two DPC seasons, he has almost redefined many people's perspectives on position 3. With his incredible performances, he is seen by the community as the offlane that has the highest carrying potential. Not only did the fans think so, his enemy certainly thought so too.
To give you a context, this is how important old eLeVeN is to Vici Gaming to the absolute favorite of winning TI 10, PSG.LGD. During the series between Vici Gaming and PSG.LGD in the DPC Season 2, PSG.LGD went out of their way and banned 7 of old eLeVeN's heroes. Yes, you heard it right, 7 ban slots, all on the position 3 heroes. Hence there is a saying within the community, if you're aiming to take down Vici Gaming, shut down old eLeVeN.

PSG.LGD spending all 7 banning slots on old eLeVeN's heroes
The Silent Killer
Compared to the other CN teams, Vici Gaming are the least topical team. As mentioned before, they were never really the favorite of winning tournaments anymore ever since the formation of this current squad, Chinese fans have shifted their hope to the two Major champions, PSG.LGD and Invictus Gaming. Elephant and Team Aster are still being highly discussed in the community because of the storyline behind the teams and players. Vici Gaming on the other side, have been receiving far less attention and pressure, which could be very healthy for the team. Like what this Chinese fan pointed out : "there is no praise nor criticism on Vici Gaming no matter win or lose, everyone is talking about PSG.LGD and Elephant."
Chinese fan's comment on Max+ under VG's thread
Two is Better than One
While many participating teams are looking to increase their armory for the upcoming TI 10, Vici Gaming was not going to miss out their chances as well. It's no surprise how much value an experienced coach or veteran can bring to a team, especially in the tournament which has the highest stake. China in particular, is a region where they value, respect and believe in experience a lot.
Vici Gaming knew that, and hence they made an agreement with Ehome, who unfortunately lost to Elephant in the grand final of China Regional Qualifier, to acquire their head coach Yao "357" Yi to help them with their TI run alongside their current head coach, a long time VG veteran, Lu "Fenrir" Chao. 357 should be no stranger to many Dota fans, he was with PSG.LGD during TI 8 and TI 9 where the team finished 2nd and 3rd place. In the community, he is seen as the living legend as he is an important piece of the ancient glory days in Dota 1 when EHOME was the king in China around 2010-2011.
Low Key but Equipped
Vici Gaming might just be the biggest dark horse among the 5 Chinese teams. They have all the qualities they need to make a deep run in TI : talents and experiences from their players, composure and incredible strategy preparation from their strong coaching team, and most importantly, they have probably the least pressure from the China community to perform, cause very often, teams play at their best when they are most relaxed.
It is going to be exciting to see how much Vici Gaming will show us during TI. Let's wait and see!