Ballentine's has partnered with Dota 2 in a unique and surprising sponsorship to create some China-exclusive blended whisky.
Now Ballantine's has gone a step further as it unveils a pair of limited edition Dota 2 Blended Scotch Whiskies, ostensibly to celebrate the 10th anniversary of Dota 2. Unveiled with a Dire and Radiant variant (Red and Blue respectively), the limited edition Dota 2 Ballantine's Whiskies are China exclusive.
The unveiling of the Ballantine's x Dota 2 limited edition whiskies was accompanied by a video which showed iconic Dota 2 heroes fighting for a chance to get their hands on Ballantine's. As per the video description: "To kick off the partnership, we have dropped an exclusive short movie featuring appearances from some of the game's iconic characters as they head on an epic quest to collect several lost runes needed to get their hands on a dram of Ballantine's."
At the conclusion of the video, the Dota 2 heroes, including Juggernaut, Lina, Naga Siren, Lina, and, ofcourse, Brewmaster, find themselves in a bar, playing music and toasting with Ballentine's
Ballentine's unique Dota 2 sponsorship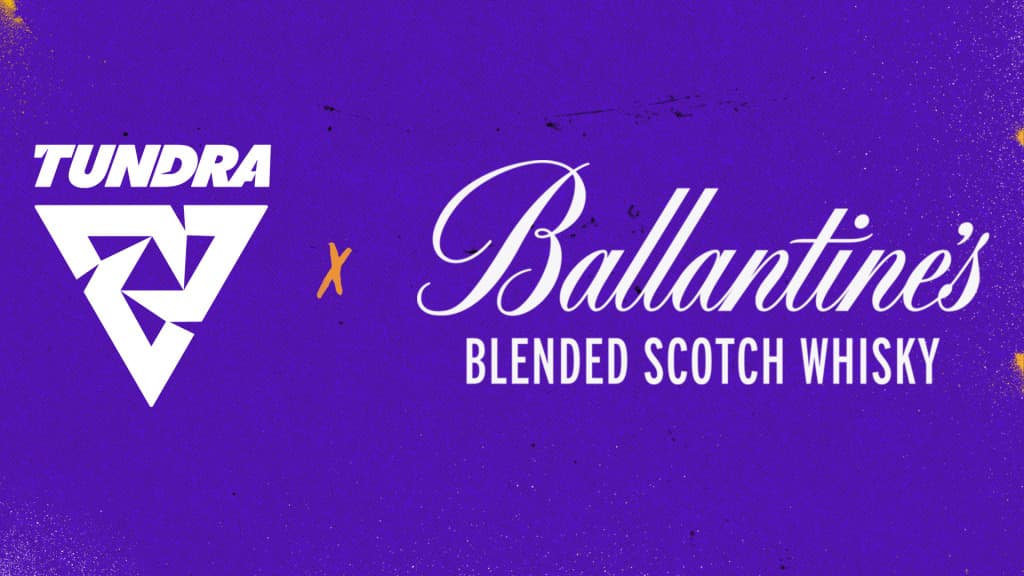 (Image via Tundra Esports)
Ballantine's has moved dramatically into the gaming and esports space in recent months. As previously mentioned, the team partnered with Tundra Esports for TI, becoming a jersey sponsor, and creating a series of videos with the players.
But Ballantine's has also created a Borderlands-themed version of their whisky, Moxxi's Bar Edition. And the drinks maker has added a gaming section to their website.
The direct Dota 2 sponsorship by Ballantine's is the latest in the company's moves. Valve, the developer behind Dota 2 had seemingly resisted hard liquor sponsors in the esports of its games for many years, previously restricting itself to beer, seltzers, and the like. It seems Valve's guidelines on sponsors were adjusted this year, as Ballatine's, Absolut, and Jameson partnered with with BLAST for the BLAST.tv Paris Major, a CS:GO event.
In a struggling market for esports, sponsors of any kind can be a lifeline for teams and events. And the taboo of advertising alcoholic spirits seems to have been lifted as the future looks more and more uncertain for the industry.
---
Stick with esports.gg for more Dota 2 news and guides!