Is this China's year to win TI?
It seems like China is returning to its former glory as both representatives - Azure Ray and LGD Gaming - convincingly march forward to the top 6 at The International 2023 (TI12). Azure Ray, a team that made it through the China (CN) Qualifier, easily defeated nouns in the Upper Bracket. On the other hand, LGD Gaming delivered a mind-blowing series win against one of the tournament favorites, 9Pandas.
While both simultaneously secure the top 6 placement at TI12 - they will soon face each other. Azure Ray will take on LGD Gaming in the Upper Bracket Semifinals. And the good news for the CN Dota fans... there will be a guaranteed Chinese team in the top 3 of TI12.
Azure Ray receives overwhelming support at TI12
Somnus in front of the audience following victory against nouns.
(Screenshot from TI12 stream)
While LGD Gaming's dominant form isn't shocking (the team has always been consistent during TIs), Azure Ray's rise has been incredible to witness. The team fields a slice of the former PSG.LGD lineup - Lu "Somnus" Yao, Yang "Chalice" Shenyi, and Xu "fy" Linsen - who were the strongest favorites of TI8. And fans no doubt have a soft spot for this notable trio.
"Azure Ray fans are turning up at TI12, they're proper loud! Easily the team with the biggest support so far," Dota 2 analyst, TeaGuvnor, posted on Twitter/X. Even as online spectators, we can definitely hear the overwhelming support for Azure Ray as fans cheer their every move.
A brief history..
For two consecutive years, the legendary trio placed second and third place at TI8 and TI9, respectively. With the Aegis being so close yet so far from the team, fans can't help but long for their redemption. And for a while, it seemed like their redemption was far from happening.
Fy's reaction after heartbreaking loss at TI8 Grand Final.
(Image from True Sight)
After TI11, Somnus and Chalice had both taken a long break from the pro scene and focused on streaming. They were inactive for six months before making a casual return to the Dota Pro Circuit (DPC) with Azure Ray. Fy sees a similar story. The veteran captain took a six-month break from Dota 2 after a disappointing TI10 run. He returned to the pro scene with Invictus Gaming and then switched to Vici Gaming. He then reunited with former PSG.LGD teammates in Azure Ray, May this year.
Despite making a last-minute return this season, Azure Ray quickly picked up momentum. The team grabbed a fourth-place finish in China's Division I during Tour 3 DPC. They then grabbed a surprising top 8 placement at the Bali Major. Riding the wave, Azure Ray soared through TI qualifiers and booked their ticket to TI12. Azure Ray is now on track to lift the Aegis of Champions.
Is this the end of China's dark age?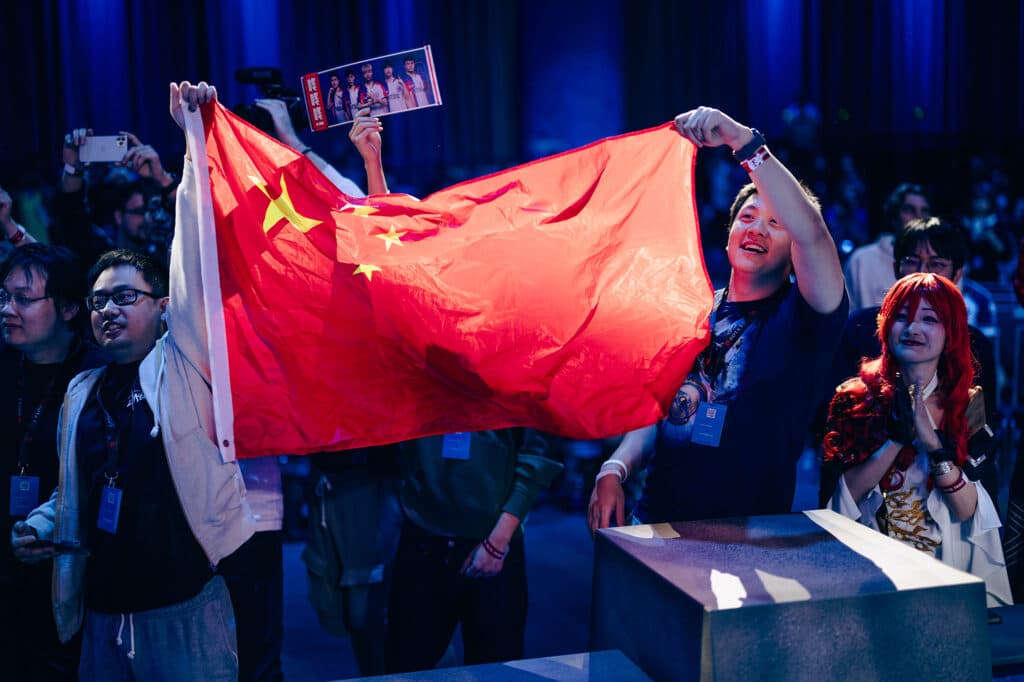 Chinese teams earn overwhelming support at TI12.
(Image via Valve)
Azure Ray and LGD Gaming's dominance at TI12 is refreshing to see. This is because the year hasn't really been great for China. The region gradually fell off in terms of achievement with Chinese teams like Knights and Invictus Gaming consistently placing bottom of every Dota 2 Major. Not only that, there was also a load of match-fixing cases that saw more than forty pro players earning lifetime bans from Valve. This includes players of Knights and EHOME who took part in Major tournaments.
During Dota 2's early years, it was China against the world. The champions of TI would alternate between other regions or China. But the pattern was broken after 2016 when Wings Gaming was the last Chinese TI champions.
But China now sees the light at the end of the tunnel. With Azure Ray's and LGD Gaming's success so far, we might just see a Chinese team win TI for the first time since 2016.