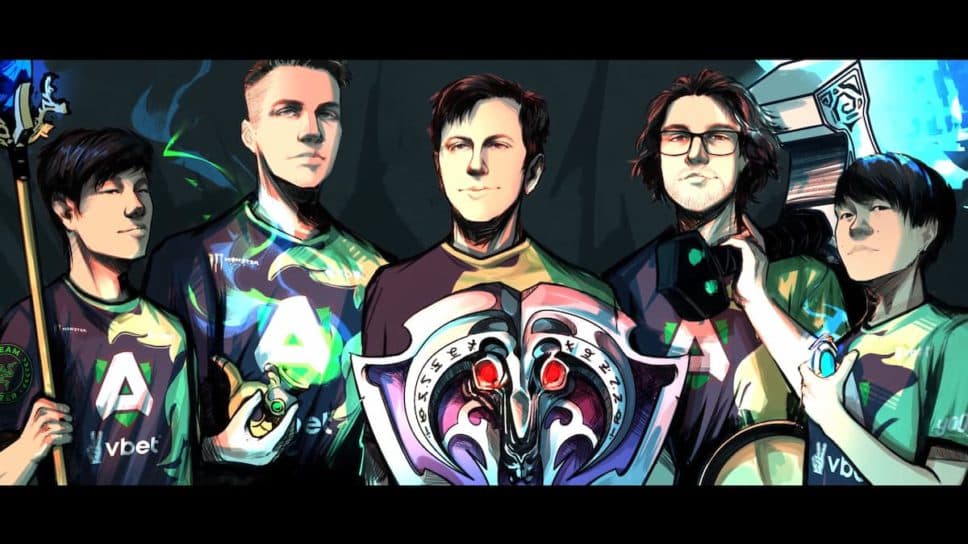 Alliance unveils their new Dota 2 roster with a mix of old and new faces
Alliance's revealed their roster for the 2023 DPC season in a dramatic video.
Storied European Dota 2 organization Alliance today unveiled its new roster after weeks of teasing and speculation. In a post on its official social media a reveal video made the news known to the world.
Returning to Alliance are Gustav "s4" Magnusson, and Simon "Handsken" Haag. With them is fellow Swede Charlie "aQua" Arat . Joining this trio are Remus "ponlo" Goh and Ng "ChYuan" Kee Chyuan to round out the roster.
The move is a fusion of the former goonsquad roster from last year (with Linus "LIMMP" Blomdin and Petu "Pesku" Vaatainen removed) with Singaporean standout Ponlo, and for Fnatic staple ChYuan. 
In a dramatic reading during the announcement video, team owner and founder Jonathan "Loda" Berg explains that "Alliance was born in a triumph, and ever since that day, we've been fighting to return." He said "With the help of an old friend and with a touch of something new, they have rebuilt stronger, together." The announcement ends weeks of speculation about the team's upcoming roster.
How Alliance's new roster was formed
Months before the new Alliance roster was formed, it was known from both interviews and tweets that team owner Loda wanted to get back to the team's roots in their next iteration. What perhaps the organization hadn't anticipated was the surprise retirement of Nikolay "Nikobaby" Nikolov. A standout for the team in past seasons, Nikobaby stepping down meant a full rebuild was on the table for the organization.
This led to an aggressive scouting mission to Singapore during TI11, that saw Loda and then coach, now team principle, Leon "Arthur" Lee Wei Yip liaise with Ponlo — as witnessed by our on-the-ground reporters. Presumably, the then Fnatic player ChYuan was also scouted at this point.
Then, in November,
Kelly Ong
, the team's co-owner and chief strategy officer travelled to Malaysia and Singapore to sign two then-unknown players.
Now, after these weeks of tantalizing details, we have our full roster:
Pos 1 - aQua
Pos 2 - ChYuan
Pos 3 - s4 (Captain)
Pos 4 - ponlo
Pos 5 - Handsken
---
For more information check out the official post on Alliance's
website
.
Michael Hassall
Michael is a UK-based content creator who caught the esports bug in 2010, but took eight years to figure out he should write about it. Throwing away a promising career in marketing and PR, he now specialises in MOBAs, covering League of Legends, Dota 2, and esports in general since 2019. When not glued to tournaments taking place on the other side of the globe, he spends time nurturing an unhealthy addiction to MMOs and gacha games.