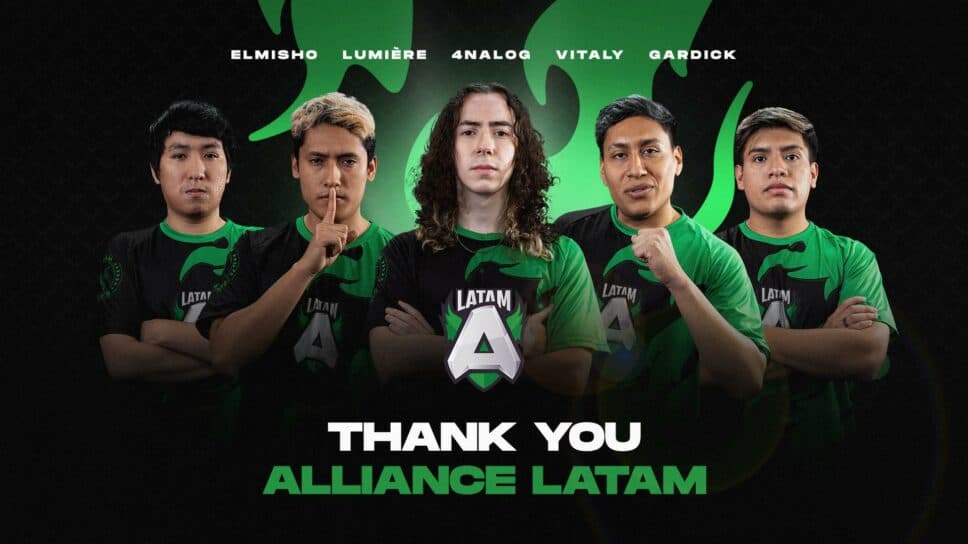 Alliance make a hasty exit from LATAM Dota 2 following roster instability
The team finished sixth in DPC 2022-23 Tour 1.
Alliance has announced it will part ways with its LATAM Dota 2 roster due to roster and team stability. The esports organization is also evaluating future plans for the region but hopes to return again in the future.
This is a sad day as we have to say goodbye to the entire active roster, however, goodbyes are not forever and we hope to one day return to LATAM again with a team that can reflect our vision and values
- Jonathan "Loda" Berg, CEO of Alliance.
Why did Alliance part ways with the LATAM roster?
The official announcement mentions the lack of a stable team and roster as the main reason for Alliance's departure. Prioritizing team stability, Alliance had clearly directed its roster not to have any more changes after the first DPC season of 2023. However, when the team approached the org with more roster changes, the org decided to pull the plug.
"When we entered the region the main criteria we had was to have a stable team with a stable roster," LODA said. "Our goal was always to keep the 5 players of Hokori, so when we agreed to make changes after the first DPC season this year it was with the clear direction that no more changes would be made after this. Sadly our direction was not respected and when the team approached us to kick 4nalog as well as one more player, it was clear that this was no longer what we signed up for."
A fabled org in Dota 2, Alliance entered the South American scene in December last year when they signed the Hokori Dota 2 squad.
The team finished sixth in the DPC Tour 1 ending the season with a 2-5 record. Their two victories came against Qhali and KeyD Stars. With a sixth-place finish, the team barely maintained its slot in Division 1.