All teams qualified for the Dota 2 Bali Major
Here are all teams that have qualified for the 2023 Bali Major.
The Dota 2 community gears towards the third and final Dota 2 Major of 2023, the Bali Major. This event will be the first Valve Major in Indonesia which will take place in a luxurious resort, the Ayana Estate, in Bali. From June 29 - July 7, eighteen of the world's best Dota 2 teams will clash for the coveted $500K prize money and the 3,500 DPC points. Find out all the qualified Bali Major teams below!
Tundra Esports
Gaimin Gladiators
Quest Esports
Team Liquid
Team Spirit
BetBoom Team
9Pandas
Team Aster
PSG.LGD
Invictus Gaming
Azure Ray
Bleed Esports
Execration
Blacklist International
Bali Major teams and rosters
Team Aster and PSG.LGD qualified for the Bali Major effortlessly. This also marks SumaiL's first time qualifying for a Dota 2 Major in four years - WePlay AniMajor in 2021 being his last.
Team Aster roster
Du "Monet" Peng
Sumail "SumaiL" Hassan
Lin "Xxs" Jing
Ye "BoBoKa" Zhibiao
Yu "皮球" Yajun
PSG.LGD roster
Guo "shiro" Xuanang
Cheng "NothingToSay" Jin Xiang
Li "niu" Kongbo
Lin "planet" Hao
Zhang "y`" Yiping
Tundra Esports roster
Tundra Esports is the first Western European team to join the Bali Major teams lineup. It's no surprise that the TI11 champions make it but they've absolutely sharpened their performance this Tour.
Oliver "skiter" Lepko
Leon "Nine" Kirilin
Neta "33" Shapira
Martin "Saksa" Sazdov
Wu "Sneyking" Jingjun
Bleed Esports roster
Bleed has the biggest glow up of Tour 3 so far. The Singaporean org almost faced relegation in Tour 2. But they have their eyes set on the Bali Major, winning against the biggest powerhouses of SEA in the first phase of the league. Bleed Esports is now the top seed of SEA DPC, securing a quick direct invite to Bali Major.
Souliya "JaCkky" Khoomphetsavong
Teng "Kordan" Tjin Yao
Daryl "iceiceice" Koh
Djardel "DJ" Mampusti
Kim "DuBu" Doo-young
Team Spirit roster
With an undefeated streak, Team Spirit becomes the first team to join the Bali Major teams lineup from Eastern Europe. Despite a rocky performance in the last two Tours, Team Spirit polished their performance to convincingly lead the standings in the region.
Illya "Yatoro" Mulyarchuk
Denis "Larl" Sigitov
Magomed "Collapse" Khalilov
Miroslaw "Mira" Kolpakov
Yaroslav "Miposhka" Naidenov
Evil Geniuses roster
A Dota 2 Major will not be complete without SA's strongest contender, Evil Geniuses. The squad qualified for Bali Major following a dominating 6-0 performance, and they have yet to be defeated. EG last placed fourth at the Berlin Major and they are undoubtedly one of the favorites coming to the next big event.
Crhistian "Pakazs" Savina
Jean Pierre "Chris Luck" Salazar
Adrián "Wisper" Dobles
Farith "Matthew" Puente
Jose "Panda" Padilla
Gaimin Gladiators roster
The back-to-back Major champions will arrive in Bali to grab their third consecutive Major win. Despite solid performances throughout Tours, they have yet to grab a first-place finish in the WEU DPC.
Anton "dyrachyo" Shkredov
Quinn "Quinn" Callahan
Marcus "Ace" Hoelgaard
Erik "tOfu" Engel
Melchior "Seleri" Hillenkamp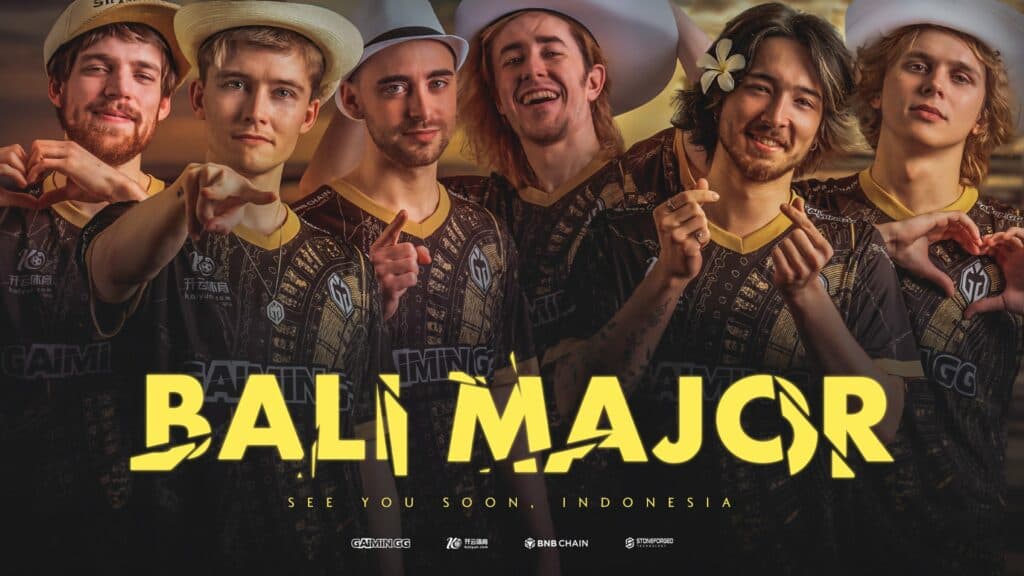 Quest Esports roster
Former Ooredoo Thunders, now joined with prodigy, ATF, join the Bali Major teams lineup! The squad has showcased oozing chemistry to grab wins against OG, Entity, Team Secret, and a surprising upset against Team Liquid.
Aybek "TA2000" Tokayev
Tony "No!ob" Assaf
Ammar "ATF" Al-Assaf
Omar "OmaR" Moughrabi
Oleh "kaori" Medvedok
Team Liquid roster
Western Europe's representatives will not be complete without the consistent Team Liquid. The team has been solid throughout both Tours, however, Tour 3 marks the first that they finish fourth. Nevertheless, they survive the grueling competition in the region and will head to Bali Major!
Michael "miCKe" Vu
Michał "Nisha" Jankowski
Ludwig "zai" Wåhlberg
Samuel "Boxi" Svahn
Aydin "iNSaNiA" Sarkohi
Shopify Rebellion roster
The veterans of NA climb to the top of the region effortlessly. SR managed to defeat regional rivals, TSM, in the first week of Tour 3 DPC. Following that victory, it has been smooth sailing so far and SR has yet to be defeated. With a winstreak, SR confirms their slot at the Bali Major.
Artour "Arteezy" Babaev
Abed "Abed" Yusop
Jonáš "SabeRLight-" Volek
Andreas "Cr1t-" Nielsen
Tal "Fly" Aizik
BetBoom Team roster
TORONTOTOKYO-led team, BetBoom, will join the teams in Bali Major! The all-star lineup showcased promising performances throughout the year, however, they constantly flunked during Major LANs. In this Tour, BetBoom managed to defeat a powerful 9Pandas, who last placed third at the Berlin Major. Is this signs of improvement and can BetBoom finally shine on the international stage?
Egor "Nightfall" Grigorenko
Danil "gpk" Skutin
Ivan "Pure" Moskalenko
Vitalie "Save-" Melnic
Alexander "TORONTOTOKYO" Khertek
Invictus Gaming roster
IG booked their slot to the Bali Major after finishing Tour 3 DPC with a 5-2 scoreline. The team had a rocky journey in past Tours but they have returned to the top of CN scene - especially after a triumphant performance against Team Aster.
Zhou "Emo" Yi
Zhou "Dust" Shiyuan
Li "项羽" Longwu
Xiong "Pyw" Jiahan
Cui "qyqx" Chenyang
9Pandas roster
Tour 3 DPC was a crazy rollercoaster ride for 9Pandas. They came to the regional tournament as one of the favorites after clinching a 2nd place finish at the Berlin Major. However, they suffered two series losses and almost missed the Bali Major. But after a neck-and-neck series against VP, 9Pandas confirms their tickets to Bali.
Roman "RAMZES666" Kushnarev
Gleb "kiyotaka" Zyryanov
Matvey "MieRo`" Vasyunin
Vladislav "Antares" Kertman
Alexey "Solo" Berezin
Nouns roster
NA DPC sees a switch up! Nouns takes the 2nd place following only a series loss against SR. The team managed to beat TSM and secured a quick invite to the Bali Major. This also marks TSM's first time missing a Dota 2 Major since 2022.
Luke "Yamsun" Wang
Nicolas "Gunnar" Lopez
David "Moo" Hull
Rodrigo "Lelis" Santos
Jacob "Husky" Fifik
Blacklist International roster
Kuku is back with the all-star lineup from Philippines! Since the roster moved to Blacklist International, the team had a rough couple of Tours and missed consecutive Dota 2 Majors. However, they surfed through Tour 3 DPC and secured a third-place finish, zooming ahead of Talon Esports. This will be BI's debut Dota 2 Major!
Marc "Raven" Fausto
Karl "Karl" Baldovino
Damien "kpii" Chok
Timothy "TIMS" Randrup
Carlo "Kuku" Palad
Beastcoast roster
Beastcoast saw a dip in performance during Tour 3, however, they clinched the second-place finish and a Bali Major slot by the end of the league. This feat was still achieved despite K1 stepping back mid-Tour due to mental health.
Héctor "K1" Rodríguez / David "Parker" Flores
Gonzalo "DarkMago" Herrera
Rafael "Sacred" Yonatan
Elvis "Scofield" Peña
Steven "StingeR" Vargas
Azure Ray roster
The all-star lineup of Azure Ray featuring TI-finalists - Somnus, Chalice, and fy - will attend the Bali Major! These Dota 2 veterans, despite only merging forces ahead of the season, already showcased solid chemistry and performance, outscoring Xtreme Gaming to grab a fourth-place finish in CN DPC.
Lou "Lou" Zhen
Lu "Somnus" Yao
Yang "Chalice" Shenyi
Xu "fy" Linsen
Jiang "天命" An
More Bali Major news and updates
We will keep you updated with more news and updates regarding the Bali Major on this page. Here are some related pieces that you might want to check out: