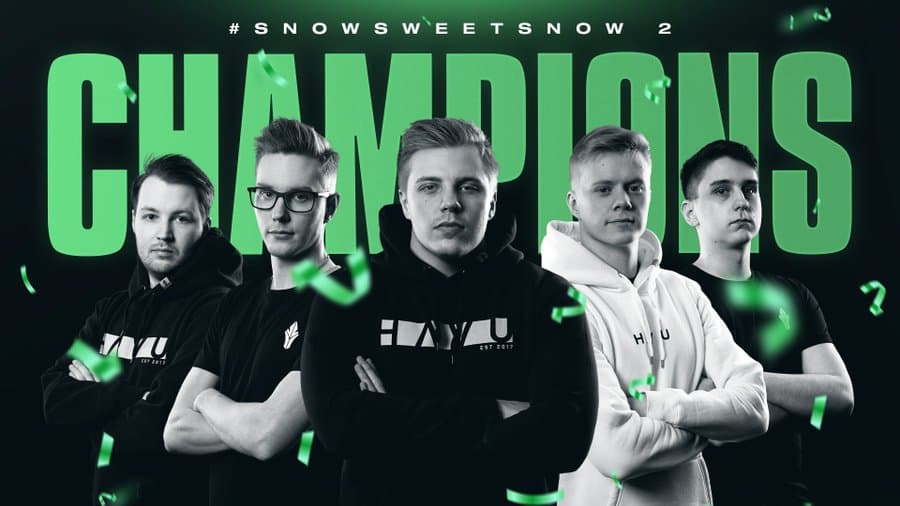 HAVU plow through Snow Sweet Snow CSGO tournament
HAVU wins Snow Sweet Snow #2 after a 2-0 win over AGO in the grand final. The team secured total winnings of $47,000.
Finnish team HAVU won Snow Sweet Snow #2 after an unbeaten run through the playoffs. The team takes home an amount of $44,000 for winning the grand finals 2-0 against AGO.
As one of the four invited teams, HAVU entered the tournament directly in the Main Swiss stage. The team kicked off its Snow Sweet Snow tournament with wins over MIBR, Endpoint and SAW. With a +42 round difference in the Main Swiss Stage, HAVU cruised through the group stage to reach the playoffs.
The Group Stage
The Finnish team continued its stellar form into the playoffs. With a 2-0 win over Anonymo Esports, HAVU had to face one of its toughest challenges in Sprout. But the team was relatively comfortable in defeating Sprout on CT dominant maps of Nuke and Train. Sprout managed to win Dust 2, but it wasn't enough as xseveN and co. marched ahead and looked even more favorable to win the tournament.
The semifinals against Winstrike saw Sami "xseveN" Laasanen and Lasse "ZOREE" Uronen stood out for their team. While ZOREE had an excellent game on Mirage, xseveN had thirty-one kills on Dust 2.
The Grand Finals: HAVU Dominates AGO
The teamstarted the grand finals on a strong note with an 8-1 lead on the T side of Nuke. The team's early-game lead was more than enough to see the Finnish squad win the map.
With a 98.5 ADR, AerialJani "Aerial" Jussila was crucial in HAVU's dominance in Map 1 of the grand final. The second game started on a similar note.
HAVU blasted through the early game with a 7-1 lead. AGO made a comeback late in the first half, but the damage was already done. On the T side, HAVU broke through AGO's CT economy and won the map 16-11.
HAVU is on a fifteen-match win streak dating back to February 22, 2021. This win-streak includes the seven matches won during Snow Sweet Snow #2.