Esports organizer and production company ESL, has announced the formation of a player council for the ESL Pro League.
Announced on March 18, the player council comprises 12 CS:GO players and coaches from partnered Pro League teams.
What is the objective of the EPL Player Council?
The ESL Pro League is one of the biggest CSGO Leagues and features the best teams in action. Image Credit: ESL.
The ESL Pro League player council gives each team a vote on matters critical to the functioning of the league. The council is an avenue for players to provide their valuable input and suggestions. It is a way for the League to receive player feedback and make the necessary changes based on this feedback. 
Players have the opportunity to do the following with the newly-formed player council:
Learn more about the business side of the industry, understand how and why decisions are being made and get proactively involved in shaping the league.
Advocate for change, improvement and set new standards within the ESL Pro League for all participating teams across the globe. 
Help improve the conditions for current and future players by setting standards which, for example, include PC set-ups, practice facilities, accommodation, transport, hospitality, comfort, preparation and performance.
Openly approach the council with ideas, feedback and critique. We want to take our lead from the teams and redefine how players are involved in decision-making.
The EPL player council has already conducted its first meeting in late February, says ESL. Each team had to select one player or coach as their representative on the council.
The player council will meet four times a year. The next council meeting will take place on May 2021. The council will keep its current formation for two years but is subject to change if players or coaches move out of their current organizations.
Who are the members of the EPL Player Council?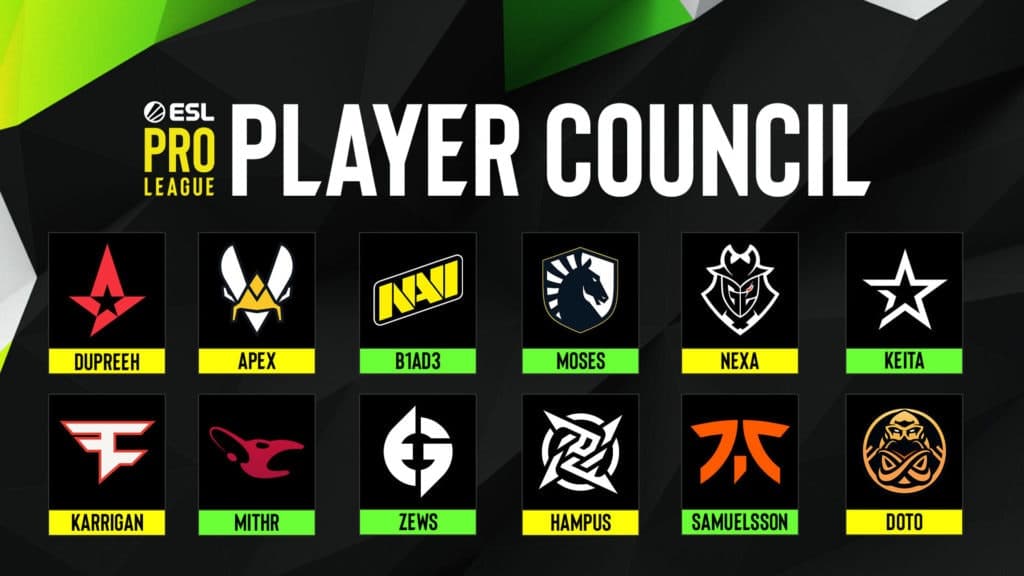 Members of the ESL Pro League player council. Image Credit: ESL.
Here are the representatives of the EPL Player council.
Astralis - Peter "dupreeh" Rasmussen.
Team Vitality - Dan "apEX" Madesclaire.
Natus Vincere - coach Andrii "B1ad3" Gorodenskyi.
Team Liquid - coach Jason "moses" O'Toole.
G2 Esports - Nemanja "nexa" Isaković.
Complexity - coach Jamie "keita" Hall.
FaZe Clan - Finn "karrigan" Andersen.
Mousesports - coach Torbjørn "mithR" Nyborg.
Evil Geniuses - coach Wilton "zews" Prado.
Ninjas in Pyjamas - Hampus "hampus" Poser.
Fnatic - coach Andreas "Samuelsson" Samuelsson.
ENCE - Joonas "doto" Forss.
I'm happy to be involved in this new Player Council along with my colleagues from around the ESL Pro League. I've had a tremendous amount of respect for these players and coaches throughout their careers and it's awesome to work with them on this project. [...] I am cautiously optimistic that we can improve current conditions and identify new opportunities to align the well-being of the players with the growth of the Pro League ecosystem.
Jason "moses" O'Toole, Team Liquid coach & president of the EPL Player Council.