The Major still has three more Matches to go. How far can we go?
The PGL Stockholm Major quarterfinal match between NAVI and Vitality has set a new record for peak viewership in CS:GO Majors. Over 1.35 million viewers tuned in on Map 1 between the two CS: GO giants, the highest in the history of CS:GO Majors.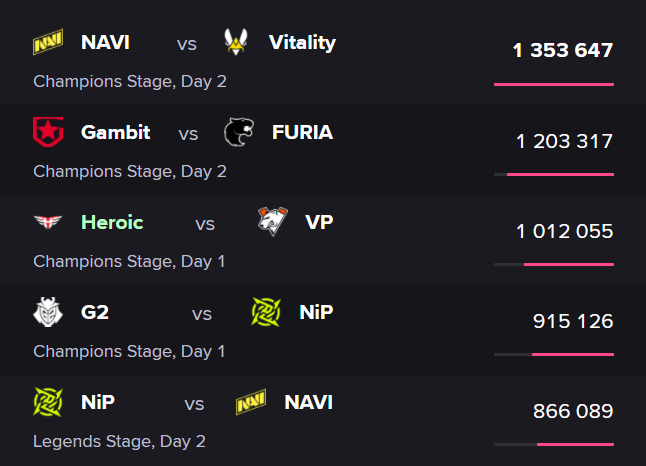 All four Champions stage matches are at the top of peak viewership numbers. Three of these matches crossed a million viewers with the Heroic vs Virtus.Pro match featuring 1,012,055 peak viewership numbers. 
PGL Stockholm Major – Already the Second Most Watched CS: GO Major
The PGL Stockholm Major has not yet reached the semifinals. But it is already setting new records. The tournament had 56,214,188 (after the NAVI vs Vitality match) hours watched and it still has three of the most important matches remaining. With two semifinals and one Grand Final in the next few days, PGL Stockholm Major is en route to becoming the most-watched CS: GO Major of all time. The title of the most-watched CS: GO Major currently lies with the FaceIT London Major which has 61,030,688 hours watched.
Earlier in the day, the Gambit vs FURIA match had set the record for peak viewers. It had over 1.1 million viewers in the first map and 1.2 on the second map. However, the biggest match of the evening was between NAVI and Vitality and more and more people tuned in.

First Major After Nearly Two Years
The PGL Stockholm Major is the first Major after nearly two years of CS: GO Major drought. Even as the teams competed online, and won tournaments and leagues, there was something missing. It was the Major, it was the title of the 'Best CS:GO team in the world', it was the bragging rights and it was 'THE LAN'.
The Stockholm Major is the biggest CS: GO event to date. It has a $2 million prize pool, it is one of the first proper LAN events back after COVID took everything online. It is guaranteed to have a new Major winner after Astralis were eliminated in the Legends stage.
Stay tuned to esports.gg for the latest CS:GO news and updates.
Statistics for this article are via EScharts.com.