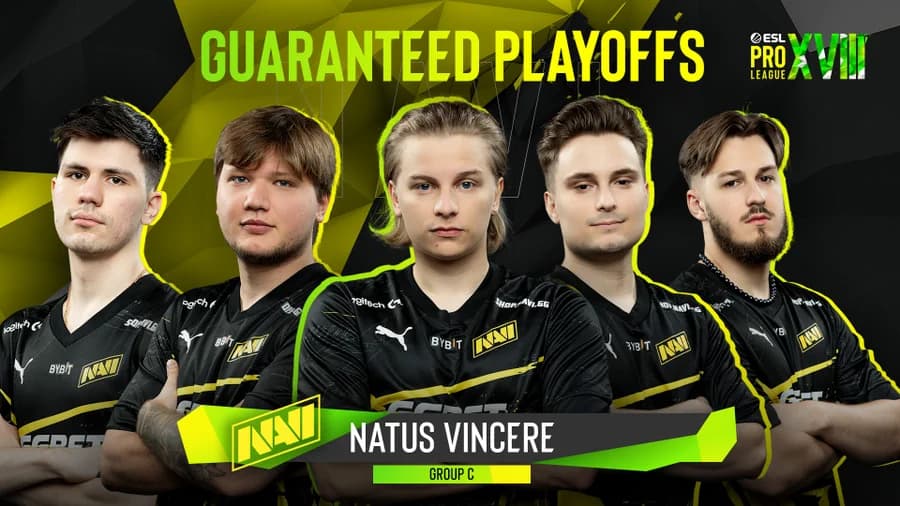 NAVI at ESL Pro League S18: Smooth sailing to playoffs
NAVI becom the first team from Group C to quailfy for the EPL S18 playoffs.
NAVI is the first team to qualify for the ESL Pro League Season 18 playoffs from Group C. The team had a relatively smooth ride out of the group stage limiting Apeks to single digits on both maps. They will now face FaZe Clan for the better seeding in the playoffs.
NAVI breeze past Apeks
After a 2-0 victory over the Chinese team, 5yclone, NAVI were up against Apeks in the Upper Bracket Semifinals. Apeks is an international roster featuring some well-known names such as Jkaem and Styko. Despite the presence of some big names, the roster has not had much success as they acclimatize to their teammates and adapt strategies unique to them.
The three maps of choice were Anubis, Inferno and Mirage. While Apeks kicked off the series with a pistol round win and a follow-up, once NAVI had weapons in their hands, it was relatively easy for them. NAVI strung together four rounds, all four with bomb detonations. Apeks managed to get a few rounds in between, but ultimately it was all about whether Apeks could stop the NAVI juggernaut. The first half ended with a 5-10 score for Apeks, a far cry towards victory on a map like Anubis.
Even though Anubis is a slightly T-sided map, it is often difficult to recover from a 5-10 score against a significantly better opponent. Apeks could only manage two more rounds on their T side, bringing an early end to Anubis.
Inferno was even more one-sided as NAVI started on the T-side. NAVI marched ahead to 11 rounds leaving Apeks with a 4-11 deficit. NAVI's b1t ended Inferno with a 90.5% KAST and a +1 KDA. Meanwhile, jkaem was the only player on Apeks to have a positive KDA, highlighting the NAVI dominance on Inferno.
Imperial and 5yclone survive mid-round matches
Meanwhile, Imperial esports and 5yclone survived their mid-round matches. 5yclone had already put forth a close fight against NAVI in their opening match and even though they lost, it was a very close match.
Imperial esports took down 9z (16-11, 16-10) on Nuke and Anubis respectively. Meanwhile, Chinese org 5yclone has been impressive with its performance against M80. They won 2-0 as well with a 16-10 on Nuke and a 16-14 on Anubis. 

The two teams will now face each other in the Mid Bracket quarterfinal match. While this is not an elimination match, the loser will be one step closer to going out of the tournament.
The ESL Pro League Season 18 started with 32 teams, with a $850,000 prize pool. There are four groups of eight teams each and only the top four teams from each group advance to the next stage.