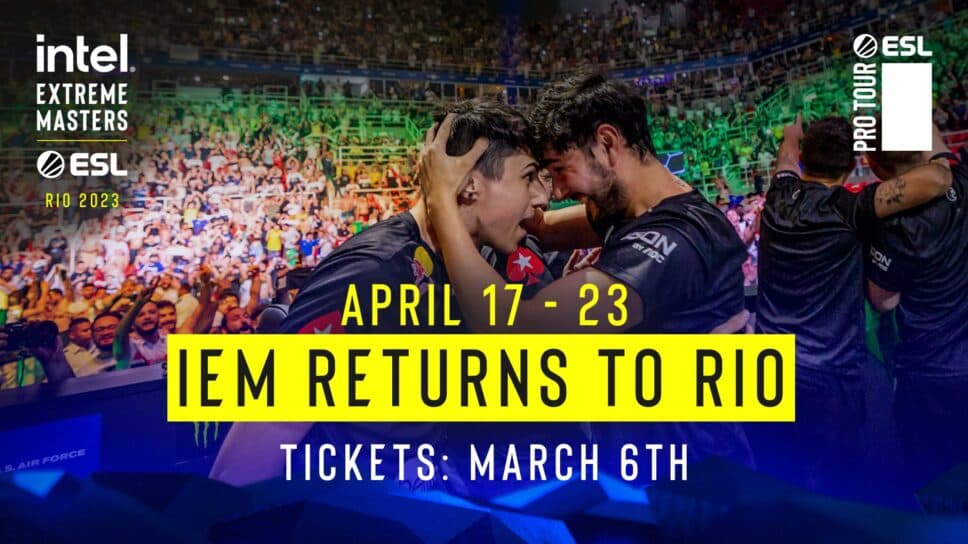 IEM Rio 2023: All 16 invited teams now confirmed
All 16 teams heading to IEM Rio 2023 team have been confirmed. The event will feature four of the top 10 teams in the world.
All teams that will be attending IEM Rio 2023 were confirmed this weekend. The final spots of the tournament were filled by 9z, in the South American qualifier, and MIBR from the North American qualifier.
There will be a total of 16 teams heading to Rio de Janeiro, Brazil. Of those 16 teams, four squads earned their spots via the ESL World Ranking. Seven were invited because they were ESL Partners and the five last qualified through open and closed tournaments.
Summary of how the IEM Rio 2023 invites were divided:
7 Partner Teams
4 ESL World Ranking Teams
1 Local Hero Invite
2 EU Qualifier
1 AS Qualifier
1 SA Qualifier
1 NA Qualifier
ESL World Ranking teams
The four teams invited to IEM Rio 2023 due to their positions in the ESL World Ranking were Heroic, Outsiders, Cloud9, and OG. Previously, ESL revealed that G2, Liquid, and Team Spirit received invitations, but declined them. The reason was simple, they preferred to focus totally on BLAST.tv Paris Major 2023 which will take place only two weeks after IEM Rio 2023 concludes.
The 16 teams invited to IEM Rio 2023
| | |
| --- | --- |
| Natus Vincere | Partner Team |
| FaZe Clan | Partner Team |
| Vitality | Partner Team |
| Ninjas in Pyjamas | Partner Team |
| Fnatic | Partner Team |
| Mouz | Partner Team |
| Furia Esports | Local Hero Invite |
| Heroic | ESL WR Global |
| Outsiders | ESL WR Global |
| Cloud9 | ESL WR Global |
| OG | ESL WR Global |
| 9ine | EU Qualifier |
| BIG | EU Qualifier |
| INC Esports | AS Qualifier |
| 9Z Team | SA Qualifier |
| MIBR | NA Qualifier |
All 16 teams invited to the IEM Rio Closed Qualifiers
Another detail is that IEM Katowice 2023 did not affect the invites, which were were made before the iconic Polish event. If the invites had been sent after Katowice, Cloud9 would have been left out of the tournament and been replaced by Complexity.
ESL shared on Twitter that G2 Esports declined an invite.
ESL Partners and Local Heroes
Seven spots in the tournament were filled by ESL Partners and, in FURIA's case, "Local Heroes". As the highest ranked Brazilian team, Furia were guaranteed at the tournament for the local crowd to have someone to cheer on in IEM Rio 2023.
The other six teams invited were FaZe Clan, Fnatic, MOUZ, Natus Vincere, Ninjas in Pyjamas, and Vitality. As a result, the Brazilian tournament will have at least four teams in the current Top 10 World Ranking.
Closed qualifiers for IEM Rio 2023
The remaining spots of IEM Rio 2023 were given through closed qualifiers. The European region received two spots while Asia, South America, and North America received only one. Through these championships, 9INE, BIG, MIBR, 9z, and IHC guaranteed their participation in the tournament.
Some Brazilian local legends weren't able to qualify for the tournament in those closed championships. Gabriel "FalleN" Toledo's Imperial didn't pass through the open South American qualifier, while Marcelo "coldzera" David and Epitácio "TACO" de Melo's 00Nation stayed behind in the closed qualifier.
Brazil was close to having only one representative in the tournament, since MIBR fell behind in its final match to Complexity. However, the the young prodigy Felipe "insani" Yuji lead his team to qualification over the North American squad.
When IEM Rio 2023 will happen?
IEM Rio 2023 will take place between April. 7 and April. 23. The tournament will take place in the Jeunesse Arena, the same venue as last year's IEM Rio Major 2022. This time, only the playoffs of the tournament will have a crowd.