The CSGO pro said he won't give up and will do everything in his power to come back.
In September, it was reported that Counter-Strike: Global Offensive pro Kristian "K0nfig" Wienecke was removed from Astralis for getting in a fist fight. At first, he denied the rumors — even calling out a journalist for publishing a story about it — but now K0nfig has opened up about the physical altercation that led to a disruption in his CSGO career.
In a TwitLonger, K0nfig admitted that he's been "scared, broken, and completely lost" during the last few weeks as he dealt with the rumors, speculations, and injuries. With support from friends and family, K0nfig has decided to revisit that night and share his side of the story.
"I am not perfect and I stand here today to tell you that I've failed you and the community as a role model and myself for not being the person that I strive to be. I'm really sincerely sorry for failing you. I'll do anything to change it, but all I can do is never letting anything like this happen again in the future. Actions have consequences and no one else is responsible for where I am today, but myself," K0nfig wrote.
What happened to K0nfig?
As previously reported, the incident did indeed take place during the ESL Pro League Season 16 in Malta. The night Astralis lost to Heroic, the team decided to go out and have some fun to alleviate their sadness, hoping to enjoy Malta before heading home the next day.
After barhopping, K0nfig decided to grab some food while his teammates went to a club. He went to join them 30 minutes later, but was stopped by a promoter who told K0nfig he wasn't allowed to come in, calling him a "tattooed loser" on top of it. Feeling humiliated, K0nfig started arguing with the bouncer, who spit at him and then kicked him in the face while standing above him on a stairwell.
K0nfig ended up falling down the stairs, resulting in his ankle injury. The details around this injury were initially a secret when he originally shared the unfortunate news. After being kicked and falling, K0nfig was left sitting on the pavement outside the club in "total shock." But he eventually decided to confront him, something K0nfig wrote he "regrets terribly."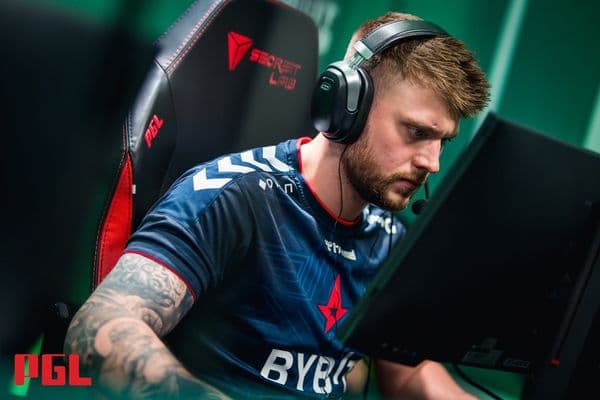 "When I caught up with him, I said I would report it to the police and he immediately spat at me once again and cursed at me which infuriated me. We got into fight, and he broke my leg and I fell to the ground. He was kicking me multiple times in my head while I was laying down," K0nfig revealed.
At this point, K0nfig was just trying to get away. Unfortunately, his leg snapped and "broke completely." He admitted that he was scared he might even die. Luckily, someone called an ambulance and he was transported to a hospital.
"Ever since the episode I have been in a really deep dark place which I didn't think I could be in. I feel sad, angry, disappointed, scared, and worried all at the same time," K0nfig wrote. "The entire time I was hospitalized I cried. I cried every day, multiple times. I felt like I was alone in the world. Nothing could make me smile. Nothing. I just felt like my emotions had died."
Unfortunately, surgery was needed and he asked to have it done back in Denmark. The doctors noticed a fracture, however, and said he couldn't go home for four weeks. He became so scared that he started sweating and crying, his heart broken.
"Everything I wanted in the whole world was just to go home and get surgery. I knew if I could get home my mood would be so much better and I would feel safe and have people that loves me close," K0nfig wrote.
Eventually, K0nfig was able to travel back to Denmark and was immediately brought to the hospital. He was in excruciating pain and unable to sleep up until the surgery. Luckily the painful surgery went smoothly. But K0nfig was mentally drained at this point.
He wrote: "The entire time I was hospitalized thoughts has been in my mind. Is this the time to end my career? Is this it for me? But this is nowhere near the end for me. I'm going to war against myself now. Fuck no, I'm not going anywhere."
K0nfig said that he's planning to see a psychologist and hopes to turn "this downfall into something positive." Meanwhile, the promoter is being investigated back in Malta. He was found to be on drugs at the time of the encounter.
"Actions have consequences and I fully accept responsibility for mine. Now and in the future. To all of you out there, here's the lesson which I've come to learn the hard way: turn the other cheek if you can. Walk away. Violence solves nothing. It is never worth it!"
K0nfig
The CSGO community has responded with support, both wishing him a speedy recovery and commending him for sharing something so personal. Meanwhile, Astralis has dropped K0nfig from the team.
Said Kasper Hvidt, the Director of Esports: "It is not the best of days for anybody involved, but we agree it is the right thing to do. With his energy and positive mindset, Kristian has contributed a lot to the team, both on and off the server, and it's no secret that everybody in Astralis have enjoyed having him around. He will always be welcome here, now and in the future."