G2 perform better with their backs against the wall in the group stages, says NiKo.
G2 and ENCE, two of the strongest teams at IEM Cologne faced each other in the elimination match of Group A. Obviously, many fans did not expect either of these teams to be down in the lower bracket so early in the tournament. But this time, G2 esports had the upper hand, taking down ENCE 2-0 to eliminate them from the event.
G2 esports come into this match after a thrashing at the behest of Movistar Riders. The Spanish team looked extremely dominant in their 2-0 victory over G2 esports.
Speaking specifically on the match, G2 NiKo spoke on the broadcast before their match versus ENCE.
"I feel like this (Movistar Riders match) was maybe the worst counter-strike we have played in a while now, NiKo declared. "Even though we were losing before, I feel like we've never lost in this way. I feel like we always could grab a map or put up a good fight. But against Movistar Riders it was just completely off. It was not us playing, they were the ones dictating the pace. They were just always ahead of us. It felt like they always knew what we were doing. They were getting all the entries they wanted. And we didn't really win any crucial rounds either to break them so it was just a bad game and nothing to take away from them, I think they did great. Their preparation was on point, they executed perfectly and they it was just on us that we couldn't find a solution versus them"
Despite their disappointing loss to Movistar Riders, NiKo was still confident of making the playoffs. He believes his team does better when they are cornered in the group stage.
"I think when we are in the group stage in this high-tense game, we do better. It doesn't go the same way when we are in playoffs, but usually when we are in the groups, when we are having our backs against the wall, we usually do good. I see us still making the playoffs."
G2 vs ENCE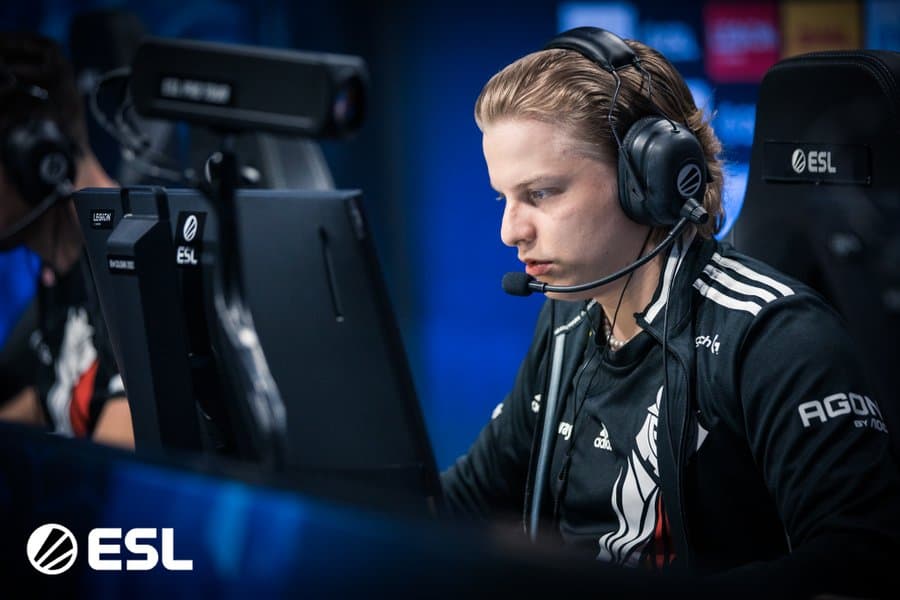 G2 AleksiB at IEM Cologne 2022. Image Credit: ESL.
8-0 Start not enough to save ENCE
ENCE had a phenomenal start to Dust 2 with eight straight rounds on the CT side. G2's T side looked woefully inadequate as they were unable to match ENCE's aggression, neither were they able to figure out ENCE's playstyle. However, G2 did manage to make a comeback
In the end a 6-9 score was not a bad score on Dust 2, G2 managing to bring it back from a 0-8 start. For the G2 players, the momentum was clearly in their favor as they took the reins in the second half.

ENCE won the first few rounds but G2's dominance on the CT side saw them take Dust 2 easily. There were moments of brilliance for ENCE as they tried to make something off the rounds. But the frustration was clearly building upon the Finnish players due to their strats not working as well as a loss of individual playstyle.
Ancient: The G2 Way is the CT way
Ancient is one of the most one-sided maps in the current map pool. However, G2 managed to get seven rounds on their CT side, a massive win for the team. Once the teams switched sides, it was evident the way the first half should have gone. ENCE had no reply to G2's defense and the final score was 16-8.
With this result, ENCE is now out of IEM Cologne, an early elimination at the hands of G2 esports. On the other hand, G2 esports will go forth and face the NInjas in Pyjamas in the lower bracket round 2 match.
Speaking specifically about the match against ENCE, NiKo said they had full knowledge of the ENCE playstyle. This knowledge helped them put up a strong performance against the Finns.
I think we knew pretty much everything about what they were going to do. We know everything about the way they play, the way he likes to call. We always knew when they were going to change the pace. I don't think they changed too much and we were just ready for everything. Even on Dust, I think if we were off to a better start, I think the game on Dust could've been more confident by us.
G2 NiKo on their match against ENCE
In the post-match interview, NiKo had some words of praise for his ENCE counterpart, whose season was cut short by this early exit.
You should be really proud of what you achieved on this team and what you made.
G2 Niko to snappi