CS:GO Legend Flusha retires
"VAC" in the chat one last time.
One of the greatest players to have graced the game, Robin "Flusha" Rönnquist has announced his retirement from CS:GO. A career that spanned more than a decade and included some of the most exciting plays in CS:GO history has come to an end.
Flusha retires from CS:GO
Flusha started his CS:GO career playing for smaller Swedish stacks including Epsilon. He joined Fnatic in 2013 when the Swedish org bought the ex-Epsilon players. For many CS:GO fans, the rest is history. Over a career that spans over 11 years and countless trophies, Flusha remained one of the most exciting players to watch. 
"For some time now I have felt a lack of motivation and also I've been having less and less fun while playing," Flusha said in a statement. "I also felt that EYEBALLERS needed some new blood so it was a mix of a lot, but I've been thinking about this for the last year and once you get these thoughts maybe it's right not to try to push it even more than what's already done."
"It feels like the right time to stop now, I'm not very old compared to some others on the scene, but I've accomplished a lot and I'm happy with everything I've done. There isn't much more to do for me and if you don't enjoy it, it's pointless to stay on the server."
"I feel very satisfied with my career where I have been able to participate and win a lot, especially during my time in fnatic. But I also feel very satisfied that I have been able to play with teammates who have also become very good friends, especially JW and KRiMZ with whom I shared incredibly good memories."
A career spanning countless trophies and over 11 years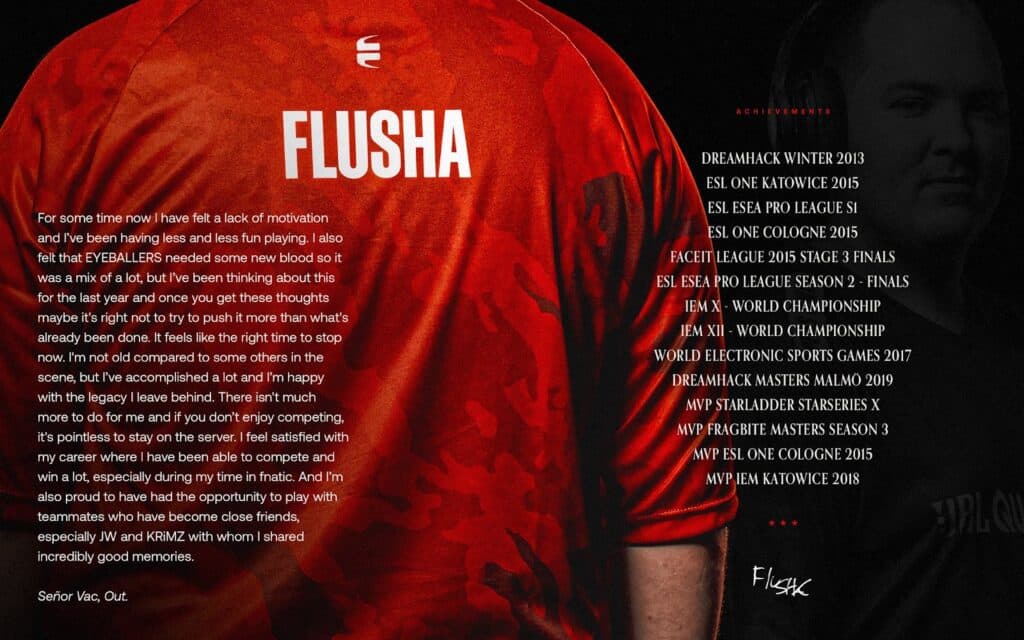 Flusha retires from CS:GO.Image Credit: EYEBALLERS.
With 22 LAN victories and three Majors under his belt, Flusha is also one of the all-time greats in CS:GO. Primarily a rifler, Flusha's playstyle reflected his calculated approach to difficult situations. It was difficult to count Fnatic out, even if they were in a near-impossible situation when Flusha was alive.
Flusha joined Fnatic along with Pronax and JW. The trio formed a crucial part of the Fnatic core and were able to win quite a few events including DreamHack Winter 2013, CS:GO's first Major. However, the roster could not maintain consistency which prompted the org to bring in some changes. Adding Olofmeister and KRIMZ, both from LGB, to the squad provided the much-needed firepower to the roster. 
This group of five players including Olofmeister and KRIMZ would go on to dominate the early days of CS:GO. They won two Majors - ESL One Katowice and ESL One Cologne in 2015. The team would dominate almost every other roster in CS:GO with intellectual Flusha plays and a one-man lurk in Olofmeister. 
It's rare for a top-tier player to consistently be accused of cheating, but Flusha's cerebral plays and experience earned him the nickname VAC. If you see CS:GO Twitch streams with the chat going "VAC," it's origins are from when Flusha was at his peak. 
The Swedish player would hit impossible shots, and at times even other pro players would be surprised by its accuracy and knowledge.
Over the past year, the 30-year-old has been trying to revive Swedish Counter-Strike via EYEBALLERS. The team did not have particularly impressive results, often failing to secure a top-four finish in most of their events. After an illustrious eleven-year career, Flusha has decided to hang up his mouse.
Flusha's achievements
Some notable achievements by Flusha:
DreamHack Winter 2015
ESL One Katowice 2015
ESL ESEA Pro League Season 1 Finals
ESL One Cologne 2015
FACEIT League 2015 Stage 3 Final
ESL ESEA Pro League Season 2 Finals
IEM X World Championship
IEM XII World Championship
WESG 2017
DreamHack Masters Malmö 2019
MVP Starladder Starseries X (MVP)
MVP Fragbite Masters Season 3 (MVP)
ESL One Cologne 2015 (MVP)
IEM Katowice 2018 (MVP)
With Flusha retiring, he said he will still be involved in the scene, although he is not yet sure about his future course of action.
Stay tuned to esports.gg for the latest CS:GO news and updates.