After 10 months of drought, EG have finally won a map of professional CS at an EU LAN.
Evil Geniuses have finally won a map at an EU LAN after 10 winless months. Even with BLAST Premier's extremely lenient format, this wasn't a certainty. But what a fashion to do it in. Smashing out the Ninjas in Pyjamas 16:6 on their map pick of Overpass. Sadly for NA fans looking for more, this was where it ended as EG denied an EU series win. The last one came over 400 days ago at ESL Pro League Season 14 against Astralis.
The driving force behind the victory was the duo of Brehze and ceRq finally showing some of their 2019 potential. But an even bigger impact came out of Autimatic who pulled out a form from his Cloud9 and TSM days. EG's journey at BLAST Premier Fall Groups has come to a close.
But they have given NA fans hope that we will see better days once again. Alongside complexity's victory over, a s1mple-less, NaVi and Liquid's 2nd place finish over G2 and the aforementioned Complexity, these are the best collective results NA has produced in years.
The best results NA has had in years
Evil Geniuses are eliminated from Blast Premier Fall Groups. (Image via Esports.GG)
EG's map win however has come totally out of the left field. The team had struggled immensely with their former roster and only had a week of practice with their current roster. Add to that Autimatic's sudden absence from the first day of the groups and their situation looked dire.
After bombing their group in last place, they were placed in a gauntlet match against NIP. NIP has been a consistent top 10 team over the last few events and has looked like a solid but capped-out team. Against EG it should've been a 2-0 victory. The best EG could hope for was close maps. But EG completely flipped the script.
As revealed by coach Vorborg in the post-match interview, Overpass has been a map that the roster has focused on a lot. With a large chunk of their preparation going towards it, they were confident that they will be ready to battle. For NIP, Overpass has been a comfortable map recently. Despite his teammate Brollan believing NIP don't have an AWPer, es3tag's performance on Overpass has been commendable. This has further bolstered the rifle trio of hampus, REZ, and Brollan.
Autimatic finds impact for Evil Geniuses Map Win
Off the bat ceRq and Brehze combined for 15 frags, pushing their team to a 6-1 lead. And the dominance continued as autimatic dominated the server with a CT side rating of 1.82. Ending the half with a 13-2 lead it looked inevitable that EG would break their record. But NIP's come back put that into question, with the Ninjas putting together 5 rounds in a row to start their CT side.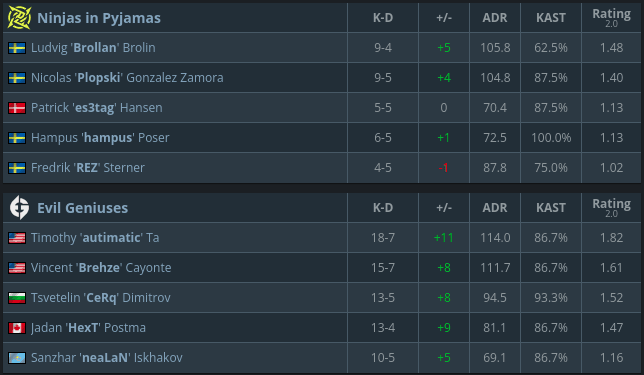 Autimatic led the way on EG's map win (Image via HLTV.org)
Finally, it was a force buy in the 21st round that finally broke the Swedes' finances, allowing EG to waltz to a victory.
"EG were screaming 'they are sh**,' we had to shut them down"
EG eliminated from Blast Premier Fall Groups
Despite their confidence-inducing performance, they were handled by NIP in a close game on Inferno. This marks an end to EG's run at the BLAST Premier Fall Groups as NIP moves on in the gauntlet and will face Liquid in its next game. But the path forward seems bright for the masthead of the Blueprint.