ESL Pro League Season 15 and beyond shifts the ESL ecosystem to become an integrated circuit and simpler path to the Championships.
ESL has announced some dramatic changes in regards to how the entire circuit will look in 2022 and beyond. The tournament organizer hopes to streamline the road to EPT Championships and Masters tournaments. Challenger tournaments now replace the Dreamhack Open tournament series in full and ESEA Premier has now been rebranded to the ESL Challenger League. With ESL Pro League Season 15, these circuit changes will be important in understanding the direct changes the event will now house.
ESL Pro League Season's Overhaul
The challengers who worked their way to the EPL main event had to previously fight only through ESEA Premier seasons in order to qualify. For the transition season 15 of EPL, these challengers who place second in their respective region's ESEA Premier will now be joined by the winners of DreamHack Opens 45-47 and the winners of each ESL National Championship to create the brand-new Conference stage.
Moving Forward: Season 16 and 17 Nomenclature Changes
The objective of making these changes included providing a clear path to pro, prioritize EPL as the biggest tournament and making the understanding of ESL Pro Tour easier for outsiders.
---
Clean up the mess described above by providing one clean destination from Challenger into Masters.
Move EPL back into the position it occupied before the infamous reform: the largest event in our ecosystem.
Make the understanding of ESL Pro Tour for outsiders easier. We can now say "Do well in an EPT Challenger tournament, go to ESL Pro League" vs "ESEA Prem goes to EPL, ESL NC goes to DHO, DHO goes to an EPT Masters but good luck guessing which one exactly connects into which and why."
---
ESL Pro League is now slowly shifting as one of the prime opportunities to qualify for the EPT Championships: IEM Katowice and IEM Cologne. This event combined with the other EPT Masters tournaments allow for only the best to attend some of the most prestigious events of the year. These Masters tournaments will have their own separate qualifications and invites, somewhat allowing them their own ecosystems.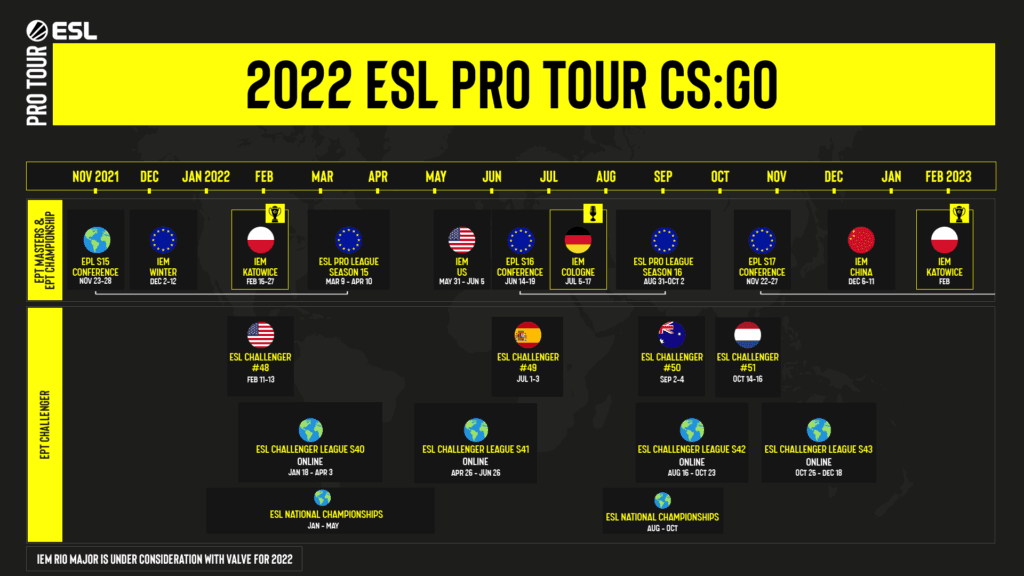 Photo Courtesy of ESL
Moving forward, ESL Challenger tournaments and leagues (ex-DH Open tournaments and ex-ESEA Premier Seasons) will only serve as a door to experiencing the Conference stage of EPL. ESL National Championships seem to be direct invites at ESL Pro League Season 15 but could be shifted over to a completely different event as the transitions draw to a close.
For more updates on the new EPT circuit, stay tuned to esports.gg. Stay tuned to more high-octane Counter-Strike as the BLAST Fall Series begins today as well.