G2, NIP, BIG and MIBR will battle it out for two spots in the Fall Finals at the Royal Arena. After G2's terrible EPL performance they need a win here to maintain their position as a top team.
Blast Premier Fall Groups continues with Group B, where we'll see 4 teams all with their issues, battle it out for a spot at the Fall Finals, moving closer to the all-important Global Finals. We'll see G2, MIBR, NIP and BIG go through the double-elim bracket to secure their spot at one of the first LANs with crowds at the Royal Arena, Copenhagen. Here's a preview of what to expect from the teams in Group B.
G2 Needs to Bounce Back
G2 was terrible at EPL Season 14. They went 0-5 in the group stage, failing to win a single series after their incredible performance at IEM Cologne. They joined the likes of TeamOne, Evil Geniuses and Bad News Bears, in the last-place finish. If we had talked about G2 before the EPL performance, they would have been the favorites for their group if not the whole event. But if we see another performance as we saw at EPL, they can lose to anyone. The G2 management still seems positive that they'll bounce back.
Credits: ESL and Simon Howar
While on a watch party for Valorant's VCT Masters Berlin, G2 CEO Carlos "Ocelote" Rodríguez talked about how his CS:GO team always starts back up slowly after the player break. Carlos attributed this slow start to G2 generally taking a longer break than most teams which leads to them taking longer to get back into the groove. According to him their poor performance at ESL Pro League Season 14 was just another occurrence of this and does not reflect the true level of the team.
A win at BLAST Premier Fall is essential for G2's hopes of making the major as we go straight to IEM Fall RMR after this. If the team doesn't qualify for the major, someone will end up on the chopping block. Luckily for them, they have a relatively easy group to battle through. MIBR are largely irrelevant at the tier 1 scene, BIG live and die off of Florian 'syrsoN' Rische and Johannes 'tabseN' Wodarz and NIP still isn't a solid roster with a stable 5th. If G2 can't snatch the win here, they have very little chance of staying as a top team.
MIBR the massive underdogs
Even with their full roster, expecting MIBR to take any scalps in this event would have been a tall order. And with their strategic coach Renato "⁠nak⁠" Nakano and stand-in Breno "⁠brnz4n⁠" Poletto stepping in for Marcelo "⁠chelo⁠" Cespedes and Ricardo "⁠boltz⁠" Prass, the team has taken an even bigger hit to their potential. The lack of pressure on their shoulders might free them up to play their game properly but for them to even take a map off the other teams will be a big victory.
G2 VS MIBR
The group B opener will be a quick litmus test of the level both teams will present at this event. G2 in their EPL group lost to teams like Sinners and forZe and while MIBR may not play EU games regularly they can still take G2 on if they struggle as they did at the previous event. For G2, if anyone on the team joins helps Nikola 'NiKo' Kovač out with the fragging, this should be a locked game. But if they even lose a map here, they will show that they are still far from the dominant team from the pre-player break season.
Credits: ESL and Stephanie Lieske
NIP's Quest for Consistency
Ever since the addition of Nicolai 'device' Reedtz, expectations from NIP have skyrocketed. When you sign 'Christiano Ronaldo' of CS, you better deliver the results to go with it. But NIP's revolving door approach to the fifth position has made the team massively inconsistent. Their only top result was a second-place finish that came at Flashpoint 3 RMR's weak Europe-only field. That coincidentally was also the only event Erik 'ztr' Gustafsson played with device.
Ever since the addition of Linus 'LNZ' Holtäng, the team has lacked consistency and has had role imbalance with young star Nicolas 'Plopski' Gonzalez Zamora having to transition into the support role. They have struggled to have any top placings at big events and continue to fall short of the mark. This group should be a layup for them to qualify for the Fall Finals as they only need to beat a weakened G2 and MIBR to make it through the groups.
BIG's reliance on Tabsen
Johannes "tabseN" Wodarz is the most skilled german player to play CS:GO. But expecting him to carry every game while IGLing is asking too much. Their recent losses to Skade, Fnatic and Faze all followed similar trends. Someone on BIG was super strong, but tabsen wasn't at the top of the leaderboard. If that happens in this group, BIG will have trouble getting through the bracket. But if tabsen is on point, all they need is 2 good series for them to qualify for the Fall Finals.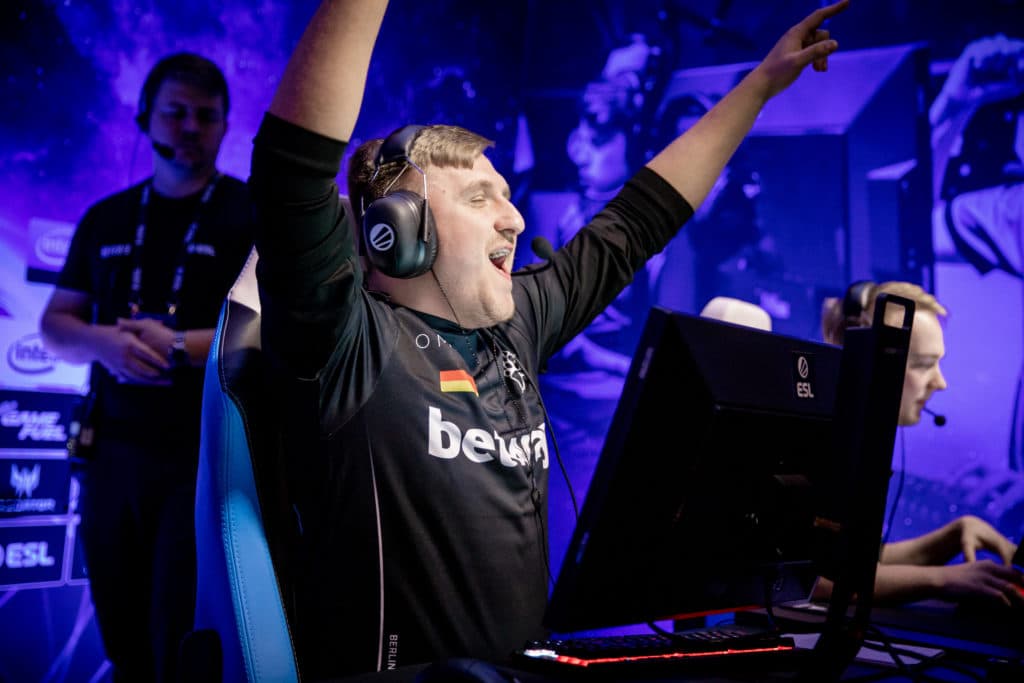 Credits: ESL and Sarah Cooper
NIP VS BIG
The more exciting opener of Group B is sure to deliver. Both teams are inconsistent, both rely on carry performances from their biggest name. Both teams absolutely need this win. Will Hampus 'hampus' Poser or LNZ be the X-factor that leads NIP to the win, or will the German squad's tactical prowess coupled with a strong tabsen showing take the Swedes down.
BLAST Premier Fall Group B kicks off on September 20 with G2 taking on MIBR in the opening match. CS:GO fans can catch all the action live on Twitch.
Featured Image Credits: Simon Howar and ESL