NaVi is a top contender to win the Intel Grand Slam Season 3. But they have a tough road ahead. Can Na'Vi join the two-team club of Astarlis and Team Liquid to claim the Intel Grand Slam Season 3 trophy and pocket a million dollars.
The Intel Grand Slam is perhaps the most prestigious award in counter-strike. To win it, teams require 4 event wins out of 10, including a Champions level event, or 6 events out of 10 without it. When it was introduced in 2017, Peter 'dupreeh' Rasmussen famously remarked that no team will ever win the Grand Slam.
In 2018, after picking up Magisk, Astralis' greatness went beyond anything dupreeh could've ever imagined. Device, Dupreeh, Xyp9x, Gla1ve and Magisk became the most dominant team in the history of the game. It was extremely difficult to win versus them, and whenever you did, they only came back stronger. In fact, Astralis did not go two consecutive events without winning one. They won 3 majors in a row, numerous trophies and had all players feature in the top 20 players in 2018.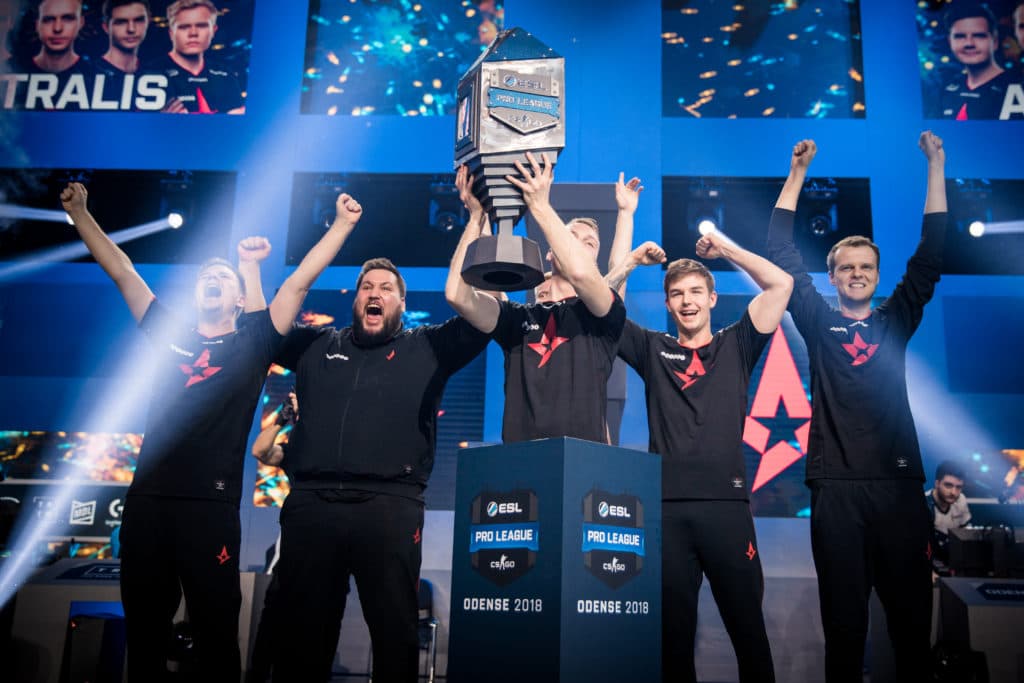 Credits: ESL and Helena Kristiansson
And to finish their year of dominance, they managed to complete the Intel Grand Slam at ESL Pro League Season 8 at their home ground, Odense, Denmark. As they secured the trophy and the million-dollar Grand Slam bonus, legendary commentator Matthew "Sadokist" Trivett crowned Astralis as "The best of all time". Many thought that Astralis would never be defeated, even those who thought they would eventually fall like the Titans before them conceded that their Grand Slam would be extremely difficult if not impossible to replicate.
Team Liquid's Blazed through to the win the 2nd Intel Grand Slam
Throughout Astralis' Grand Slam run, the team they faced in the finals, again and again, was North America's best, in Team Liquid. Turns out after losing every final for an entire year, you might pick up a thing or two about dominance. So as 2018 closed out, Liquid brought in one of NA's crown jewels. A part of the Boston Major winning Cloud9, Stewie2k had just gone through a stint at MIBR with less than ideal results and was ready to get back to winning.
With Stewie2k on the roster, one of the greatest superteams was finally assembled. All 5 players on this roster had at some point been star players in their own teams. Elige, Twistzz and nitr0 in Liquid, NAF in Optic and Stewie in Cloud9. All of them had renewed motivation and a drive that Liquid had never experienced before.
Right off the bat, they finally managed to defeat Astralis in a Grand Finals albeit at a smaller event in the iBuypower Masters. After an exciting Legends stage, the two teams seemed destined to face off in the finals of the 2019 IEM Katowice Major. But an underdog run from ENCE stopped Liquid in the quarter-finals.
The Perfect Storm
Then came the perfect storm that was Liquid 2019. Starting off in IEM Sydney, Liquid went on an absolute tear. Reaching heights of individual skill throughout the team that had never been seen in any roster before. As Astralis, went for a Blast-only calendar, Liquid was dominating the tier 1 CS: GO circuit. The elite teams of the time in ENCE and Vitality stood no chance against the unstoppable Liquid.
The Coveted Grand Slam Gold Bricks
Even when Astralis did show up, they couldn't contain Liquid and were even losing to teams like Vitality while Liquid was quickly picking up trophy after trophy. Their Grand Slam came at the biggest event of the year ESL One Cologne. After going flawlessly through the event, they dropped one map in the Grand Finals against Vitality and managed to secure their Grand Slam in just 63 days. This was a much faster Grand Slam run compared to Astralis' 325 days.
Na'Vi Aims to win the 3rd Grand Slam
Now Na'Vi is en route to putting their names next to Astralis and Liquid. But their journey here has been far from ideal. When NaVi's roster with perfect0 was assembled in January 2020, they immediately propelled themselves to the top with a win at the last LAN before the Covid-19 pandemic, IEM Katowice 2020.
The transition to online left much to be desired for NaVi as they struggled to find their form. But with the Grand Slam being paused for the majority of 2020, it didn't affect NaVi's tally much. Towards the end of the year, they joined Vitality and Astralis as one of the top teams in the world.
Credits: ESL and Helena Kristiansson
Coming into 2021, NaVi looked strong at Blast Global Finals, picking up the first trophy of the year. But the rise of CIS giants Gambit meant NaVi had to struggle for the top spot. After finally transitioning flamie out of the team in favor of b1t, NaVi found the extra gear they needed and started competing with Gambit for the no.1 spot. Gambit picked up a Grand Slam point at Katowice 2021 and NaVi answered back with one of their own at Dreamhack Masters.
After Gambit tied NaVi at 2 wins again, IEM Cologne, the first LAN in over a year came rolling around. NaVi managed to repeat their dominant run from the last LAN, defeating G2 in the finals to take home the lion's share of a million dollars from the event and added a 3rd win to their tally.
Now at ESL Pro League Season 14, 3 years and 6 seasons after Astralis' legendary win, NaVi are on the verge of securing their own Grand Slam. All that stands between them and the 1 million dollar reward is 3 matches of Counter-Strike. The team's goal is clear, Pro League doesn't matter, the opponents don't matter, all that matters is making history. To do so, they'll have to first takedown Ence and then continue on against Liquid, Heroic, Gambit or whoever else might challenge them.
Born to Win, but a Tough Road ahead
Intel Grand Slam Season 3 Events
The pressure is building, the stakes are rising and Natus Vincere may mean Born to Win, but this time the games will feel harder than ever. NaVi's coach, Blad3, recognizes the pressure and the distraction.
"I think it can get in our heads really easily, the thought that we are really close to the Grand Slam, that with each step we are closer and closer to writing our names down in history. I think for us it's very important to have a proper mindset and just not to think about it all and just play, think only about the game to show the best. It can only distract us, so we'll try not to think about this."
Blad3
Will they fail like Faze Clan once did, or will they rise up and go down in history as one of the greatest teams to ever play the game. Will s1mple get to cement his legacy with the prestigious award or will he fall at the final hurdle like his fellow NaVi AWPer Guardian?
If they succeed, NaVi will be crowned as one of the best rosters to ever play. The dominance of s1mple, his trusty wingman electronic, young star b1t, IGL Boombl4, and support maestro perfect0 will go down as a legendary roster. Their win will overshadow Gambit's run that came before it and will propel them to heights that NaVi hasn't seen since CS 1.6.
But what if they fail? Well, history can be a cruel mistress, only remembering the conquests of victors and forgetting the stories of the almosts.