Here's the Week 5 preview for Rocket League and VALORANT.
From Oct. 10 to Oct. 11, the Esports Collegiate Conference (ESC) plays out Week 6 of their 2023-2024 Fall Season in VALORANT and Rocket League. Three weeks remain for Rocket League as the season comes closer to an end. VALORANT, on the other hand, still has five weeks to go and is in the middle of the season starting this week.
Let's take a look at the updated standings and schedules for both games heading into ESC Week 6. There are also a few highlighted matches that you will want to keep your eye on this week.
Nelnet Bank (Member FDIC) is thrilled to be supporting the ESC Fall regular season this year and looks forward to watching the action play out. Nelnet Bank knows the collegiate esports community works tirelessly to bring opportunities to students as they develop and prepare for their futures. The team at Nelnet Bank wishes the teams, players, and everyone else the best of luck in this tournament!
ESC Week 6 preview
On Oct. 11, there will be two matches played on the official ESC Twitch account for Rocket League. The stream will go live at 8 p.m. EST.
ESC VALORANT standings after Week 5 (Image via eFuse)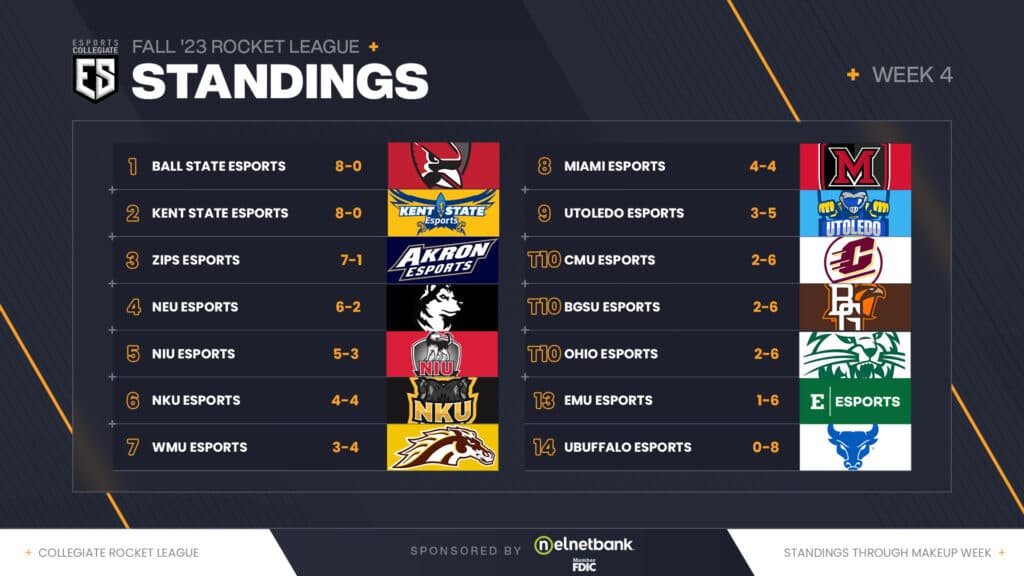 ESC Rocket League standings after Week 5 (Image via eFuse)
Streamed ESC matches of the week
University at Buffalo versus Bowling Green State University (Rocket League): Oct. 11 at 8 p.m. EST*
To start off the stream this week, we have a battle between the University at Buffalo (0-8) and Bowling Green State University (2-6). For Buffalo, they have a very low probability of making it to the postseason after a tough beginning of the year. However, for Bowling Green, there is still a chance to get into that seventh or eighth seed before the cutoff in Week 7. At the moment, the Falcons are in a three-way tie in tenth place with Central Michigan and Ohio.
Bowling Green will have a tough matchup against fourth place Northeastern at 9 p.m EST. It could be a major decider for their postseason potential. With manager Bricks subbing into the roster during Week 3 for the Falcons, it will be interesting to see how the team plays moving forward. With Ball State and Western Michigan still left on the schedule for the Falcons, a tough road lies ahead and a crucial win is needed against Buffalo for their postseason dreams to stay alive.
For Buffalo, their season has been riddled with forfeitures since Week 1. Ajspload, HimanHorsey, and Agent AJay have subbed in for the Bulls since their Week 1 loss to Ball State. With only two matches played against Northern Kentucky and Toledo in Week 4 for the newer roster, they should not be counted out from this match. As they continue to warm up into the later part of the season, they have potential in picking up a few wins against some lower-ranked teams in the standings.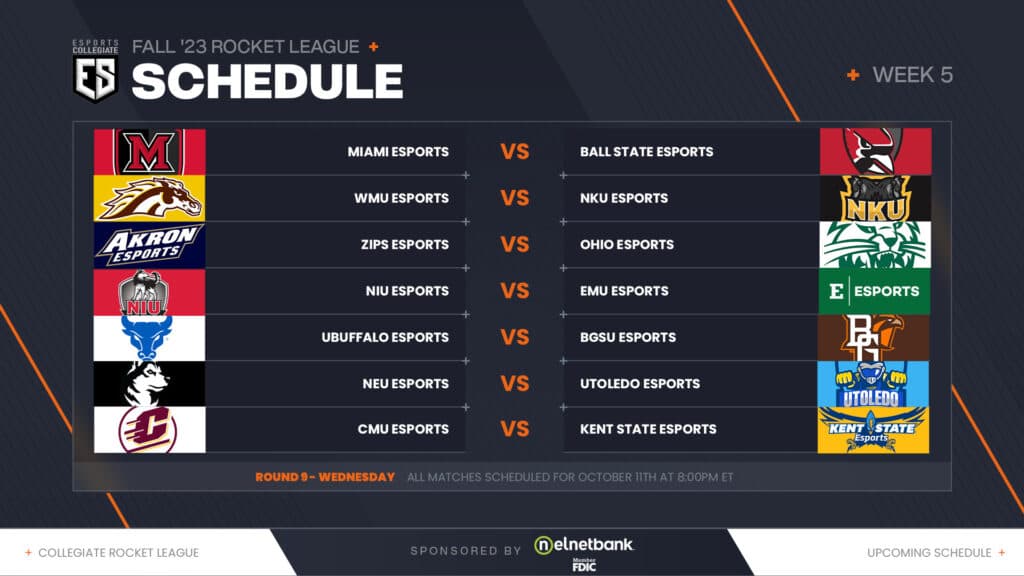 ESC Rocket League Week 6 Round 9 schedule (Image via eFuse)
Northern Illinois University versus Ohio University (Rocket League): Oct. 11 at 9 p.m. EST*
For the second stream of the night, the howling Huskies of Northern Illinois University (5-3) will go up against the growling Bobcats of Ohio University (2-6). Northern Illinois currently sits comfortably in the fifth spot in the standings heading into Week 6. For Ohio, they are a part of the three-way tie for tenth between Bowling Green and Central Michigan.
A win for the Bobcats would keep their postseason hopes alive with a potential crucial make-or-break match against their rival Miami University in Week 8. With wins against the two lowest teams in the standings, Ohio wants to showcase that they can beat the bigger teams. A win against Northern Illinois would certainly give them some momentum heading into Week 7.
Northern Illinois has a chance to push themselves up to a higher seed after this week with matches against Eastern Michigan and Ohio. The remainder of their schedule only has one team in the current top right of the standings, which is Kent State. The Huskies can put themselves at an extremely good position heading into the postseason with a potential third or fourth seed.
ESC Rocket League Week 6 Round 10 schedule (Image via eFuse)
ESC Week 6: Honorable mentions
Bowling Green State University versus Akron University (VALORANT): Oct. 10 at 8 p.m. EST*
The ninth and tenth-seeded teams in the current VALORANT standings duke it out this week for a chance at getting to that cutoff in the eighth seed. The Bowling Green Falcons (4-3) and Akron Zips (3-2) meet up this week for a potentially season-defining match. A win for the Zips will put them ahead of the Falcons in the standings and give them the tiebreaker later on just in case.
After their match, Bowling Green's schedule doesn't get easier. With four matches against the current top eight teams, they will have to bring their best VALORANT moving forward. For the Zips, they have a slightly easier schedule. However, they still have no freebies with opponents like rival Kent State, Western Michigan, Toledo, and Northern Illinois covering a majority of their remaining schedule. A win for either university this week against each other would be a major buffer heading into their tough schedules in the second half of the regular season.
ESC VALORANT Week 6 schedule (Image via eFuse)
Kent State University versus Northern Illinois University (VALORANT): Oct. 10 at 8 p.m. EST*
For our second VALORANT honorable mention, we have the fifth and sixth-seeded teams in the current standings facing off. Kent State (5-2) and Northern Illinois (4-3) have a crucial best-of-three series that could have later repercussions for postseason seeding. This match could foresee a later postseason meeting against these two teams in the first or second round.
After a good win last week against an undefeated Miami RedHawks at the time, Kent State are still dominant with their only two losses so far coming to the first and fourth seed in the standings. Northern Illinois is coming off a clean sweep 2-0 against Ohio as well and are looking good. The Huskies, in the latter part of their season, contain four of the top five teams.
Will Kent State be able to knock down the Huskies into a potential eighth or ninth place heading into Week 7? Or will Northern Illinois take an important win as they head into the toughest part of their season?
Miami University versus Ball State University (Rocket League): Oct. 11 at 8 p.m. EST*
Ball State (8-0) has shown no signs of stopping. As their red bird rival steps up to the plate this week, Miami (4-4) has a huge task to complete. The Miami RedHawks sit right at the cusp of the eighth place postseason cutoff heading into the final three weeks of play.
With matches against both undefeated teams in Ball State and Kent State in Week 6, uncertainty begins to rise. Two potential losses in Week 6 could lead the RedHawks out of the top eight teams and into the bottom 12. This would be a detrimental strike to Miami's postseason chances.
All Ball State needs to do is to continue their dominant streak as they have a crucial match against Kent State in Week 7. However, Ball State cannot go into their Week 6 matches too confidently. Both Miami and Western Michigan have shown promise so far this year and have held in close with some of the top teams in the rankings. We will have to see if the Cardinals continue their undefeated streak and put Miami in a tough position heading into the final two weeks.
*Match times are subject to change.