The Metro Atlantic Athletic Conference (MAAC) 2023-2024 Esports Season returns in October with more action but the same dosage of classic rivalries.
The road to Atlantic City starts now! The Metro Atlantic Athletic Conference (MAAC) is back for another year of esports competition for the 2023-2024 season. Ten member schools will be duking it out across five different game titles to make their way to Atlantic City in the Spring.
MAAC 2023-2024 Esports Competition
Part of the esports competition format has changed this time around and instead of a Fall and Spring split teams will now be competing academic year round. Lets take a look at the schedule for this year.
MAAC Schedule for 203-2024 season:
Rocket League: Monday nights from October 9 to February 19
Super Smash Bros.: Tuesday nights from October 10 to February 20
Overwatch 2: Wednesday nights from October 11 to February 21
VALORANT: Thursday nights from October 12 to February 22
League of Legends: Yet to be announced (Riot Games ran event)
The esports competition format follows a round-robin style in which each team will play a new school each week in all games. There will also be a 'makeup week' in the schedule to provide room for rescheduled matches. The competition will be operated through eFuse's eRena platform, which has hosted tons of scholastic events, high-profile influencers, content creators and brands.
Each week will feature a broadcasted match on the official MAAC Twitch account. Those streamed matches will be revealed across the MAAC socials and in the weekly preview articles moving forward. You can keep an eye out on all MAAC socials to stay updated!
Week One MAAC Preview
Week 1 MAAC Esports Schedule for all game titles (image via eFuse)
With the new seasonal format means more MAAC action for all of us. Monday through Thursday will bring so many thrilling matches and rivalries to the forefront every week across multiple game titles. With each school playing each other in all selected game titles every week rivalries will mean that much more if you can take a majority of the matches across multiple esports titles.
All of these matches have one clear goal in mind. To win and secure a higher seed to go to Atlantic City and compete in The Showboat. Last year we saw five winners crowned at The Showboat and all would like to be crowned again.
Rocket League 2022-2023 Champions : Fairfield University
Super Smash Bros. 2022-2023 Champions : Quinnipiac University
Overwatch 2 2022-2023 Champions : Mount St. Mary's University
VALORANT 2022-2023 Champions : Quinnipiac University
League of Legends 2022-2023 Champions : Iona University
Week One Featured Broadcast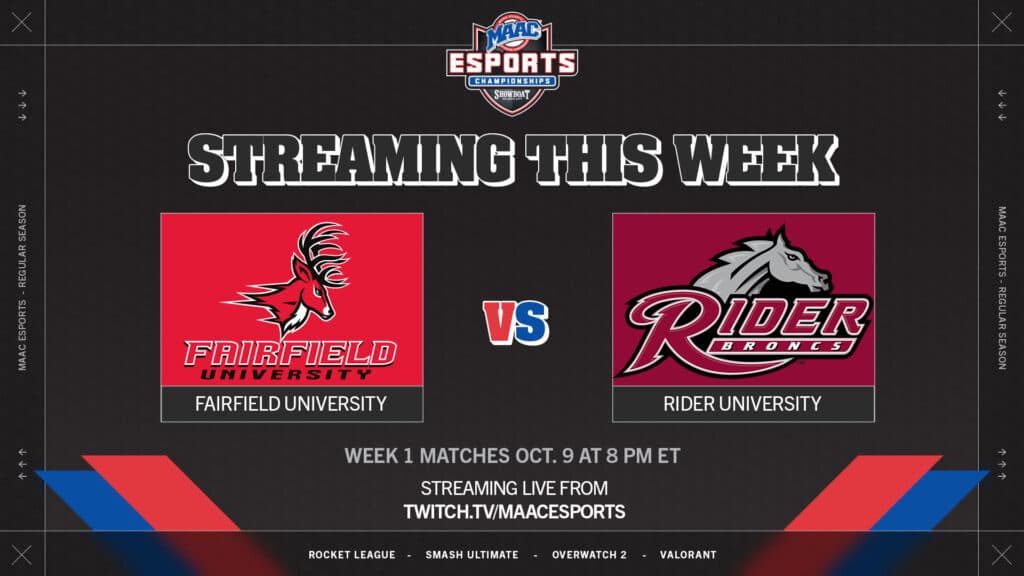 Featured Broadcast Week 1 Oct. 9 at 8 p.m. EST (image via eFuse)
Fairfield University vs. Rider Univesity (Rocket League) Oct. 9, 8 P.M. (EST)
For the first featured broadcast of the year we have last years Rocket League Champions, Fairfield University, face up against a new squad of talent in Rider University.
The defending champs Fairfield University want to start off with a bang and continue their dominance while Rider join Rocket League action after not competing last season. With a long road ahead for both teams tonight could really kick-off the year for them with a win.
Fairfield captain Matter, law express, and substitution player Lou return to the roster this year from last years championship squad. Two new players join the roster as Nico will be starting alongside Matter and law express in the featured broadcast match.
For Rider Nick "Zoomy" Panzitta, Wesley "weshowell" Howell, and Dylan "dylank033" Kotch will start the pitch against the defending champs. To start the season against the defending champs is no small feat and they will have to bring it their all.
*Match times are subject to change.