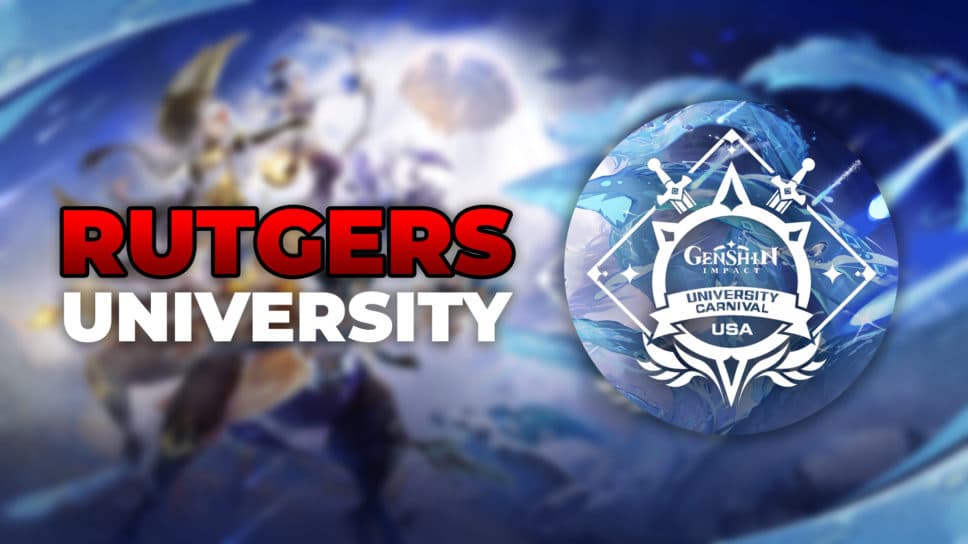 Genshin Impact University Carnival: Rutgers University
Meet Rutgers University and the students who achieved 20:00.92 in the Genshin Impact University Carnival qualifiers.
Rutgers University is competing in the live LAN finals of the Genshin Impact University Carnival this weekend and we sat down with team captain, c!c!, to learn about their team, how qualifiers went and more.
"Since our team has been friends for a while now, we are all pretty aware of each other's gameplay style and interests so it was really helpful when practicing for the competition to see what needed to be improved on."
c!c!, Rutgers University
How they met
Prior to attending college at Rutgers University, c!c! created the "Rutgers Class of '26 Gaming Server", a Discord server for incoming freshmen who liked to game.
When she initially created the server, she never thought it would lead to placing first and flying out to Seattle for a Genshin Impact collegiate tournament.
Through the server, c!c! met fellow incoming freshmen, Shubo and Karthik, who she got to know a little bit. Once they all began attending Rutgers, only a couple months ago, c!c!, Karthik, and Shubo started to hang out and eventually formed a trio.
Karthik started playing Genshin Impact when the game was first released in September 2020. Both c!c! and Lucas started playing the game in April 2021.
Not long after the trio became friends, they were made aware of the Genshin Impact University Carnival, through the Rutgers Esports server. With their newfound friendship and their experience playing Genshin, the trio thought it made sense to compete.
c!c! stated that their prior friendship made practicing for the competition easier: "Since our team has been friends for a while now, we are all pretty aware of each other's gameplay style and interests so it was really helpful when practicing for the competition to see what needed to be improved on."
Rutgers dominates in Genshin Impact University Carnival Qualifiers
Upon learning about the tournament, the team sprung into action practicing for the speedrun competition.
Practice for Rutgers University consisted of each team member conducting their own practice runs, using their own methods.
"I personally did a few practice runs on my own before we started our co-op practice because I wanted to make sure I could help lead my teammates in case there was any confusion and offer suggestions," she said.
The solo practiced runs provided each team member an opportunity to provide ideas and really collaborate on the strategy they would eventually bring to the qualifiers. Additionally, the solo practice helped the team later optimize their strategy.
"It helped us to spot out who had a faster speed and from there we would offer ideas to integrate our strategies to form a faster run," c!c! said. "Our few first runs were definitely messy and slow because we weren't sure where to go at first, but after a few hours we began to nail down the exact locations to go to and started to time ourselves once we formed our strategies."
For the sprint portion, the team opted for triple Yelan, a popular choice amongst teams.
On the choice of Yelan, Karthik explained, "I noticed, on the right side, there was a giant open space and we were using triple Yelan at the time. So, I was like 'Oh, just take advantage of that. Just go straight all the way there.'"
He went on to say, "There were small crevices in the mountain. So you just go up and jump and just basically regain stamina. You just use the most out of Yelan as possible."
The Rutgers University team competed in the qualifying event on October 16th – competing against another team from the same school, as well as 25 other schools, across the two days of competition.
To the team's surprise, they finished the run in 20:00.92, three and a half minutes faster than the rival Rutgers team who competed the day before. The 20-minute score earned them first place in the competition.
c!c! said, "I think [the qualifiers] went great for us! We were surprised because the time we got during the qualifiers was faster than any time we timed for ourselves when we practiced."
She attributed this to the fact that the team was extra focused during the competition, in addition to some luck with their critical attack numbers.
Live finals: An equal playing field
Going into the live LAN environment in Seattle, the Rutgers University team is not feeling any pressure, only excitement.
The team also looks to improve before the finals, c!c! shared, "I definitely feel like although we won 1st for qualifiers, there is a LOT to improve on before finals. We aren't sure of the format yet for finals but we are definitely ready to practice whenever!"
When asked which school they felt was their biggest opponent, c!c! identified 2nd place finishers, the University of Nevada, Reno. The Rutgers squad only beat the Nevada team by one minute and 47 seconds.
c!c! acknowledged that every team is a worthy opponent: "We're going into this competition with an open mindset, knowing everyone is as equal of an opponent!"
As far as the non-competitive side of the Genshin Impact University Carnival LAN, the Rutgers team looks forward to meeting everyone in person.
"We've all gotten to know the other teams a little bit through our discussions of our main accounts on Genshin," c!c! said. "I can't wait to meet everyone and have a great time together during the finals!"
How to Watch Rutgers' run in the Genshin Impact University Carnival
Rutgers University will be competing in the live finals on Saturday, October 29th starting at 1pm PT. The event will be streamed live on the eFuse Twitch channel.