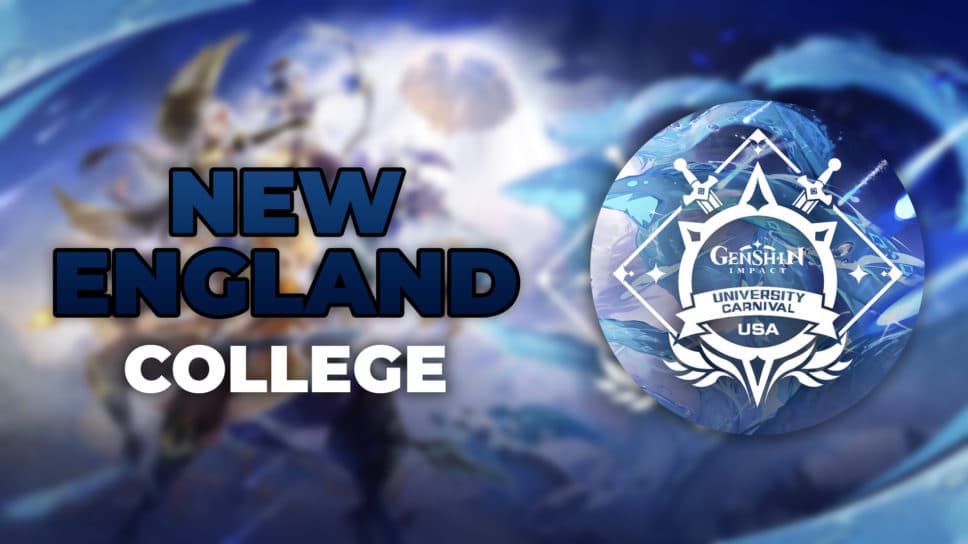 Genshin Impact University Carnival: New England College
Unlikely friends from New England College qualified in the top 8 of the Genshin Impact University Carnival.
Meet New England College, one of the top eastern teams competing in the Genshin Impact University Carnival.
An unlikely bond
Who would guess that a Smash player, an Overwatch player, and a VALORANT player would come together over Genshin Impact?
This was the case for New England College, which placed 5th in the Genshin Impact University Carnival qualifiers on October 15th.
Sydney shared that she had been friends with Cyon since earlier in the year and knew Rhys through the esports club, though they had never really talked.
Each played on their respective teams within the esports club but never thought they might come together to compete in a Genshin Impact tournament, where they would be flown out to Seattle to play in the finals.
Despite the fact that they were only acquaintances, Sydney felt good about how they developed their team chemistry throughout the qualifiers.
"I think that even though none of us have ever played Genshin, or any game for that matter, together before it was a little bit odd at first, especially because Genshin is a game that I know all three [of us] are only used to playing solo," she said. "But I think the fact that all of us are so knowledgeable and have a good understanding of the game really helped us to be able to just naturally work together well."
New England takes top 5 in Genshin Impact University Carnival Qualifiers
On preparing for the qualifiers, Sydney shared that she made documents filled with information about all of the domains they would be running and what characters would be optimal for each domain.
She said: "Based off of that we started building team comps together and looking at combos we could theoretically do with those characters."
Additionally, the team practiced the sprint sections on their normal Genshin accounts and Sydney drew out the routes for the team on the map so they could easily memorize them.
For the sprint section, the New England College team opted for triple Yelan.
She went on to share that the three were equal when it came to skill and strengths within the game, but that their strategy of who was playing what role came down to artifacts.
"A lot of who played what role [or] character was based off of the artifact sets available to us," Sydney explained. "For example, Cyon played Sucrose because he was the only one of us who had a full EM viridescent set and I played Yelan because I had the most on set pieces with good crit rate and crit damage numbers."
Despite the fact that Genshin is the first game the trio had played together as a team, their preparation earned them a 23:08.41 finish, just 12 seconds faster than the team from the University of Pennsylvania.
New England College confidently completes the final domain:
New England College's first LAN event
The New England College team looks forward to the live finals, held at Gameworks in Seattle.
Sydney shared, "Not only is this my first time going to Seattle but it's also my first LAN event ever, so I'm honestly not even sure what to expect."
For New England College, the excitement outweighs any pressure or anxiety the team might feel about the live finals.
"At this point, it's all just genuine excitement, but we might start to feel more nervous or pressured once we actually get there," Sydney said. "It really is a once-in-a-lifetime experience for all of us, though, so our mindset currently is that, although we 100% are going to try our best to win, we just want to go out there and enjoy it as much as we can."
Sydney specifically looks forward to seeing the arena the teams will be playing in as well as feeling the atmosphere of the live LAN environment.
"It's probably going to be like nothing I've ever felt before," she said.
How to Watch New England College's run in the Genshin Impact University Carnival
New England College will be competing in the live finals on Saturday, October 29th starting at 1pm PT. The event will be streamed live on the eFuse Twitch channel.