Esports Collegiate Conference returns for 2023-2024 season
Here's a preview of some upcoming matches.
The Esports Collegiate Conference (ESC) is returning for the 2023 to 2024 season. Read on for the details, what to expect, and more.
What is the Esports Collegiate Conference?
The ESC is the governing body of 14 universities across seven states. These universities are competing in the collegiate esports space. The conference features fall and spring seasons for four different esports titles.
Those titles include Rocket League, VALORANT, Overwatch 2, and League of Legends. In the fall, Rocket League and VALORANT will be competing for the ESC Championship trophy and a bid for the 2023-2024 Collegiate Esports Commissioners Cup (CECC) National Championship.
ESC graphic (Image via eFuse)
Week 1 matches preview
Streamed ESC Week 1 matches
ESC Week 1 Round 1 Rocket League schedule (Image via eFuse)
Rocket League: Bowling Green versus Toledo: Sept. 6 at 8 p.m. EST*
The season will kick off with a classic rivalry match! The Battle of I-75 will race into action as the Bowling Green Falcons take on the Toledo Rockets. Both teams had rough seasons last year with below .500 records. However, momentum can carry them far on a weekly basis, and achieving victory against a rival can boost that confidence to the next level.
ESC Week 1 Round 2 Rocket League schedule (Image via eFuse)
Rocket League: Kent State versus Western Michigan: Sept. 6 at 9 p.m. EST*
For the second streamed match of the day, Kent State Golden Flashes will take on the Western Michigan Broncos. This will be a rematch of last year's semifinal where Kent State took the series and dropped to Akron in the finals.
Player Raka will return for Western Michigan alongside some new faces to replace Gengar and Alsyg. Meanwhile, Tempo, J-BAR-24-22, and redo will have big shoes to fill against a tough team.
ESC Week 1 VALORANT schedule (Image via eFuse)
Other Week 1 matches
Rocket League: Akron versus Miami: Sept. 6 at 8 p.m. EST*
Back-to-back-to-back ESC Rocket League champions Akron Zips will be looking for another win this year. After going undefeated last year, they will be looking to continue their dominant streak against the RedHawks of Miami. Tristn will return to the roster while the Miami team will feature a completely new roster. The old team placed third in the regular season last year and went out early in the playoffs.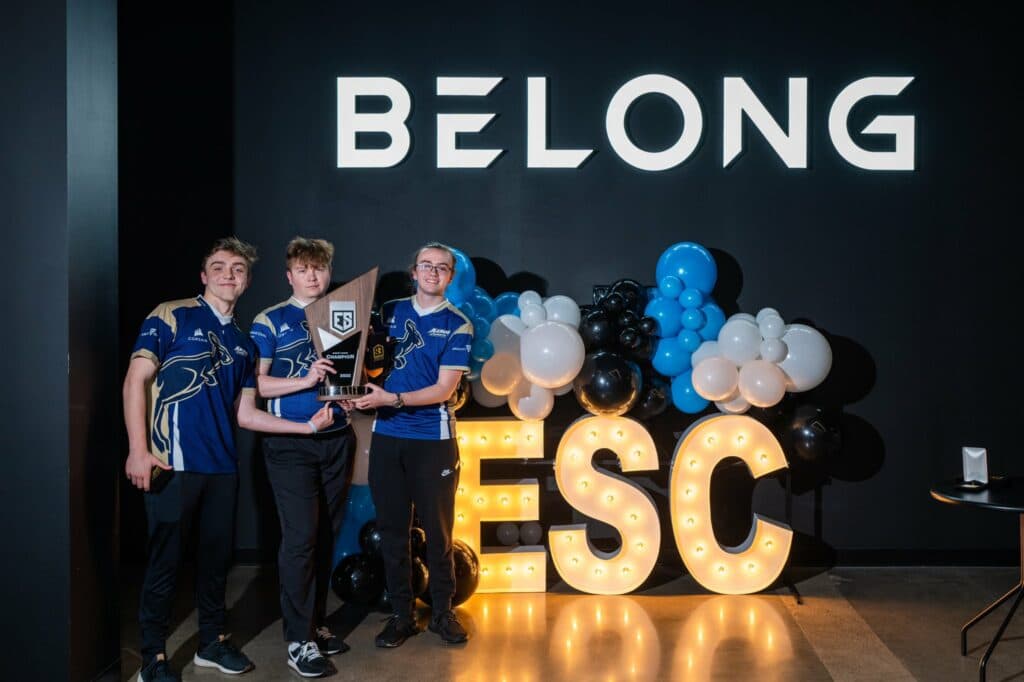 The 2022 ESC Rocket League champions (Image via eFuse)
VALORANT: Buffalo versus Toledo: Sept. 5 at 8 p.m. EST*
The reigning ESC VALORANT champions will find themselves up against the Rockets of Toledo in their first showing of the year. Bap will return on the Buffalo roster with many new faces alongside them. These will include Avexedd, inahz, and snowing. Will Buffalo be able to win? Will Toledo find success with their new roster and outdo their 5-8 record from last season? Only time will tell.
The 2022 ESC VALORANT champions (Image via eFuse)
VALORANT: Ball State versus Northeastern: Sept. 5 at 8 p.m. EST*
After winning Program of the Year at the inaugural EsportsU Collegiate Awards, Ball State looks to continue their success. Over the summer, they made it to major pickups for their VALORANT roster in Rebo and Fragg. They also have Ian returning to bring some veteran experience to the roster.
The new roster will have a big challenge ahead of them against Northeastern, which had a very successful outing last fall. The team finished in third place in the regular season with a record of 11-3 and fell to the eventual champions in the semifinals.
*Match times are subject to change.