Undefeated teams face their biggest challenge and there's a three-way tie for the seventh seed. Some exciting matches ahead in Week 7.
Week 7 (Oct. 17 - Oct. 18) begins with only two weeks remaining for the ESC Fall Rocket League season. ESC VALORANT is on a makeup week this week with three weeks of play still left to go. With only limited weeks left of the Fall competition, some teams are beginning to run out of their opportunities to make the top eight postseason deadline. Other schools have begun to clinch their postseason spots with currently two undefeated teams in Rocket League heading into this week.
Check out the updated standings for both games and the Rocket League schedule heading into ESC Week 7. We also have brought attention to some key matchups that you will not want to miss.
Nelnet Bank (Member FDIC) is thrilled to be supporting the ESC Fall regular season this year and looks forward to watching the action play out. Nelnet Bank knows the collegiate esports community works tirelessly to bring opportunities to students as they develop and prepare for their futures. The team at Nelnet Bank wishes the teams, players, and everyone else the best of luck in this tournament!
ESC Week 7 Preview
There will be no official broadcasts this week on the official ESC Twitch account. However, you will be able to find the highlighted games this week at each school's individual broadcast channels.
ESC VALORANT standings after Week 6 (Image via eFuse)
The ESC Rocket League standings after Week 6 (Image via eFuse)
ESC Week 7: Highlighted Matches
Miami University versus Northeastern University (Rocket League): Oct. 18 at 8 p.m. EST*
Northeastern (6-3) looks to clinch their postseason status this week against Miami University (4-6) and Akron University (9-1). If the team manages to lose the remainder of their matches there is a potential of missing out from the postseason at the ninth or tenth seed. A win against Miami secures their spot in the postseason and gives them a chance at a higher seed.
For the RedHawks this match is crucial and season-defining. With Eastern Michigan and rival Ohio University left after Northeastern, the RedHawks can either make their way to the fifth seed or higher or miss out on the postseason entirely. The new roster this year for the RedHawks have shown promise against tougher opponents and this week against Northeastern is the biggest test so far this year with postseason implications behind them.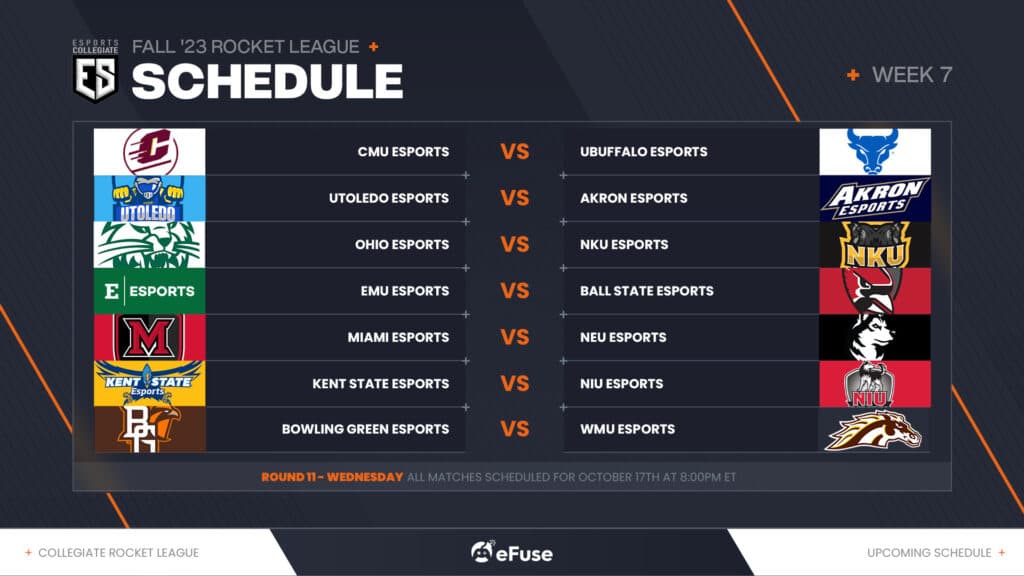 ESC Rocket League Week 7 Round 11 schedule (Image via eFuse)
Kent State University versus Northern Illinois University (Rocket League): Oct. 18 at 8 p.m. EST*
The two and four seeds in the current standings clash on the pitch this week. The currently undefeated Kent State Golden Flashes (10-0) faceoff against the Northern Illinois Huskies (7-3). Kent State while currently undefeated has the toughest schedule remaining out of all of the ESC teams. With matches against the other three top-four teams in Ball State, Akron, and Northern Illinois they must play flawless if they want to hold onto that undefeated record and first seed heading into the postseason.
For Northern Illinois, a win against Kent State not only breaks that undefeated streak they are on but gives Northern Illinois the opportunity to get a higher seed if Kent suffers the same fate against Ball State and Akron. With Buffalo and Central Michigan remaining on the schedule for the Huskies, the team will try to continue their win streak and stay within the top four of the standings.
Northern Kentucky University versus University of Toledo (Rocket League): Oct. 18 at 9 p.m. EST*
Northern Kentucky (4-6) rise up against Toledo (4-6) for their 9 p.m. match. With a three-way tie for the seventh seed, both teams are looking to pull away from one another. The season is coming down to the wire for many of the schools within the five and twelve seeds within the standings. One loss in week seven can potentially kiss your dreams goodbye for the postseason.
Toledo kept their postseason dreams alive after a stellar 3-1 win over five-seed Northeastern in Week 6. Now with the Akron Zips for their first Week 7 match, they face another seed before their match against the Norse. Northern Kentucky on the other hand are one a three-loss streak and are looking to break it in Week 7 against Ohio University in Round 11.
ESC Rocket League Week 7 Round 12 schedule (Image via eFuse)
Western Michigan University versus Central Michigan University (Rocket League): Oct. 18 at 9 p.m. EST*
Another Michigan rivalry sets up our last preview match of the week and it's an important one. Western Michigan (4-5) meets up against Central Michigan (3-7) in a crucial match to potentially secure postseason play. If both teams secure their first win in ESC Week 7, this match could determine the tiebreaker for the six through eight seeds in the standings heading into the final week of competition.
For Central Michigan, a loss to Western Michigan may close the door for postseason play this year. This all depends on other results around the conference in ESC Week 7. Both teams must come prepared to play their best and showcase why they deserve to make it to the postseason of ESC. Central Michigan has another important match in Week 8 against higher-seeded Northern Illinois. Will the Chippewas punch their ticket for the postseason with a trail of wins or will are they heading for a crash landing and watching from the sidelines?
*Match times are subject to change.