The postseason is here for the ESC 2023-2024 Season! Rocket League crowned their champion this week and VALORANT begins their Quarterfinal matches in ESC week 11.
A champion has been crowned the ESC 2023-2024 Rocket League Champion after an amazing ten-week season. VALORANT remains without a victor and only eight teams remain looking to take the crown heading into Week 11.
Nelnet Bank (Member FDIC) is thrilled to be supporting the ESC Fall regular season this year and looks forward to watching the action play out. Nelnet Bank knows the collegiate esports community works tirelessly to bring opportunities to students as they develop and prepare for their futures. The team at Nelnet Bank wishes the teams, players, and everyone else the best of luck in this tournament!
In this week's preview check out a recap of Rocket League's Semifinal and Final action. You can also find a preview of VALORANT's postseason matchups happening this week.
ESC Week 11 Rocket League Championship Recap
On Saturday, November 11, four teams were competing with only one coming out as the true victors of the ESC 2023-2024 Rocket League season. Here is a look at how the playoff bracket unfolded heading into Saturday.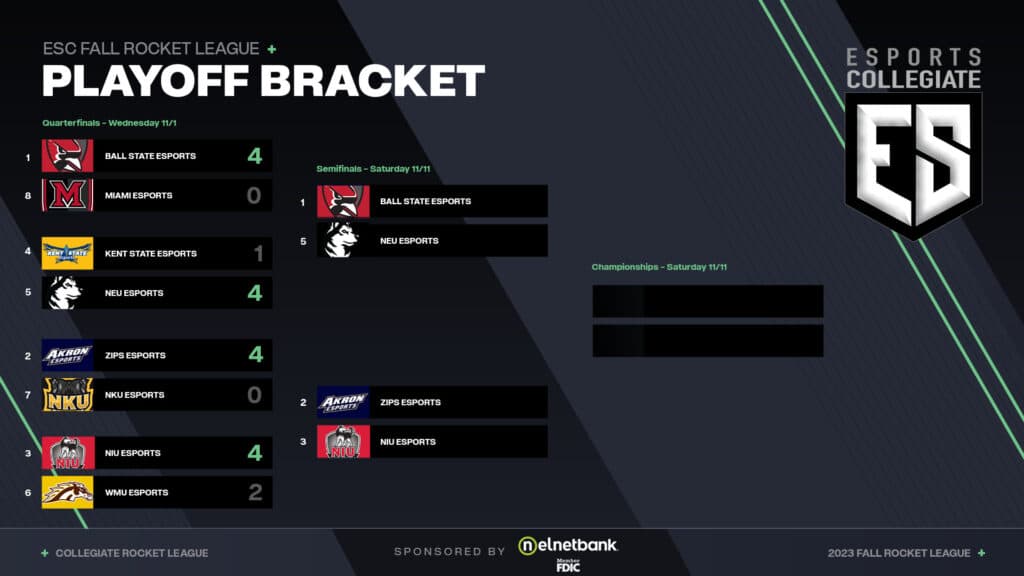 ESC Rocket League Playoff Bracket (Image via eFuse)
ESC Rocket League Semifinal Matches
#1 Ball State (14-0) vs. #5 Northeastern (9-5)
To start the night, the undefeated Ball State Cardinals faced up against the fifth-seeded Northeastern Huskies. Although a shaky start for both sides, Ball State began to show why they had remained undefeated during the regular season. Dominant ball possession throughout the series was the key for the Cardinals' victory.
Northeastern did show some promise however being able to take a game away from this strong Cardinal roster. Unfortunately it was not enough and Ball State advanced to their first ESC Rocket League Championship with a score of 4-1 over Northeastern.
#2 Akron (13-1) vs. #3 Northern Illinois (11-3)
Following a strong performance from Ball State, the Akron Zips managed a clean 4-0 sweep against Northern Illinois to make it to their fourth ESC Rocket League Championship in a row. The Zips roster looked dominant during their Semifinal performance and had managed to clean up a lot of the errors it had shown during their loss to Ball State during the regular season. Revenge and a fourth trophy in a row was on the table for the Zips heading into this ESC Championship match.
ESC Rocket League Championship Match
#1 Ball State (15-0) vs. #2 Akron (14-1)
The undefeated season on the line, Ball State came in ready to defend their undefeated streak and claim their first ESC Championship in Rocket League. For Akron, this would be the fourth ESC Championship Trophy in a row if they won. Back to back to back to back appearances for the Zips and they showed no fear. After a tough 3-1 loss to Ball State during the regular season, Akron wanted to show why the postseason is the only thing that matters in the end.
The Zips came out of the first game with engines firing on all cylinders. An 8-4 goal win in the first game of the series set the tone for the games following. Game two ended with the result of 4-0 in favor of Akron and Patty started to set the pace for what would be an 11-goal performance overall in the series.
Ball State tried to answer in game three but Akron managed to hold strong a take the win 3-2 putting them at championship point. As Ball State tried to hold onto their undefeated season, Akron denied the glory and won game four 4-2 and swept the Cardinals to win their fourth ESC Championship in a row.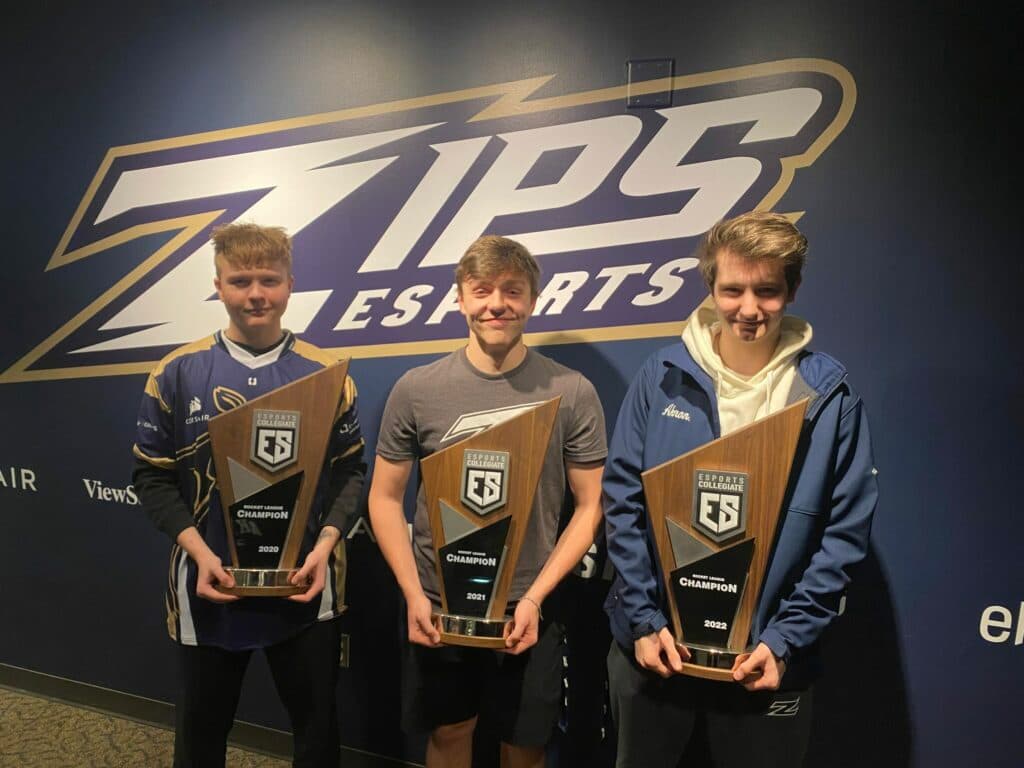 From left to right (.tristn, pattty, bullzeye) holding three of the four Akron ESC Championship Trophies (Image via ZipsEsports on X)
The dynasty remains in the ESC as far as Rocket League is concerned as Akron has now won four in a row since the founding of the Esports Collegiate Conference. After last year's championship, the Zips were able to show excellence representing them at the Collegiate Esports Commissioners Cup (CECC) - Finals in Arlington, Texas. Placing runners up at the tournament behind Northwood University, the Zips will get another chance this year at CECC after winning their fourth ESC Championship.
ESC Week 11 VALORANT Playoff Preview
Eight teams now remain as the online Quarterfinals commence this week (Nov. 14 - Nov. 17) with the Semifinals and Finals following on December 2 and 3 in person. Let's take a look at the final regular season standings and playoff bracket heading into the four Quarterfinal matches set to be played this week!
ESC VALORANT Regular Season Standings (Image via eFuse)
ESC VALORANT Playoff Bracket (Image via eFuse)
ESC Week 11 Quarterfinal Matches
The Quarterfinal matches will be streamed out by the competing schools' university Twitch accounts. You can find those accounts linked below so you do not miss out on any of the ESC Postseason action.
Another Ball State roster looks to remain undefeated heading into this postseason. Will the same fate happen and the Cardinals fall later to the Akron Zips in the Semifinals or potentially fall early to their red bird rival Miami? Will the reigning champs of Buffalo secure a back-to-back ESC VALORANT Championship? Can the Huskies of Northeastern secure their first VALORANT Championship and fourth ESC Trophy overall? Or will a new face to the postseason like Bowling Green or Toledo step up and surprise everyone this year?
So many storylines are ready to go this postseason. Who do you have winning it all? Tune in this week to find out who will make it past the Quarterfinal action and make their way to the LAN on Dec. 2 and 3.
*Match times are subject to change.