In cooperation with Nelnet, the ESC Conference heads into Week 10 of the action. A winner to be crowned by the end of it! Here's a look at what to expect.
The stakes are the highest they have ever been for the Esports Collegiate Conference (ESC) as the Rocket League championship concludes this weekend alongside the VALORANT regular season coming to a close. Here's a look at the final four Rocket League teams as well as the playoff picture for ESC VALORANT.
Nelnet Bank (Member FDIC) is thrilled to be supporting the ESC Fall regular season this year and looks forward to watching the action play out. Nelnet Bank knows the collegiate esports community works tirelessly to bring opportunities to students as they develop and prepare for their futures. The team at Nelnet Bank wishes the teams, players, and everyone else the best of luck in this tournament!
ESC Rocket League Championship
We've narrowed down the field to final four teams as last week's quarterfinals have concluded. We saw Ball State continue their undefeated run with a 4-0 sweep over Miami, meanwhile Northeastern found an exceptional result as they were the lone quarterfinal upset finishing off Kent State in 5 games.
Northeastern's playoff victory is the only time a lower seeded team has won an opening quarterfinal match in the past two season's, will they be able to continue that magic and find an answer for Oath and company?
On the other side of the bracket we saw the defending champs handle business against Northern Kentucky with a convincing 4-0 sweep as they set their sights on defending their title. Northern Illinois meanwhile, moved on with a 4-2 victory over Western Michigan and have their chance to make their mark on the season by upsetting Akron.
All matches kick off on Saturday, November 11th at 5:00pm ET over on the ESC Twitch.
ESC Rocket League Championship Schedule
#1 Ball State (14-0) vs #5 Northeastern (9-5) @ 5pm ET

#2 Akron (13-1) versus

#3 Northern Illinois (11-3) @ 6pm ETGrand Finals @ 7pm ET
VALORANT Week 10 Featured Matchups
Miami Redhawks (5-6) vs Bowling Green (4-7) - Tuesday 11/7
Miami takes on Bowling Green to keep their playoff hopes alive as they sit in one place out of the playoff picture thanks to their -1 game differential. However, as far of strength of schedule goes in the final week of the season Miami has the best chance of locking in their playoff bid with a 2-0 week as they are the only 5-6 team to face two teams outside of the top 8. However, Bowling Green has shown they can cause trouble to teams of this caliber as in Week 2 they took down Western Michigan 2-1 who is right beside Miami in the battle for top 8.
Northern Illinois (5-6) vs Akron (7-5) - Thursday 11/9
Northern Illinois, Miami, and Western Michigan all find themselves at 5-6 with only two of them being able to continue past the regular season, so for those three teams their playoffs start now. Northern Illinois unfortunately, may have the hardest road in front of them with not only this matchup with Akron but a Tuesday matchup against an undefeated Ball State. This matchup against Akron is their best chance at ending up 1-1 on the week and having a shot at the continuing their journey to the ESC Championship.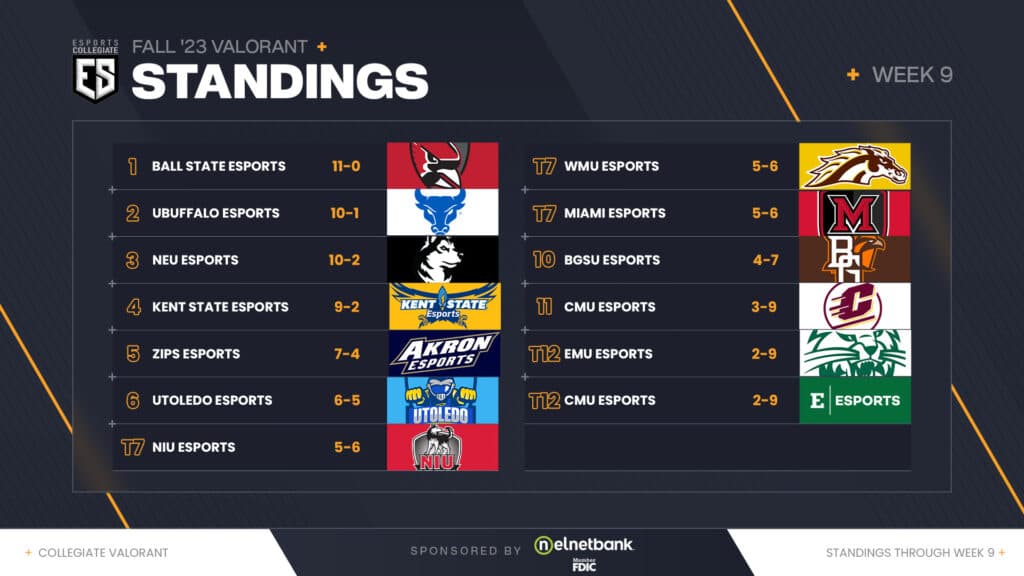 Broadcasted Matches
Ball State (11-0) vs Northern Illinois (5-6) - 8pm ET - VALORANT

Ball State (11-0) vs Buffalo (10-1) - 8pm ET - VALORANT

Rocket League Championship - 5pm ET - Rocket League
All matches listed above will be broadcasted on the official ESC Twitch channel found here.