Here's the Week 5 preview for VALORANT.
This week of play from Oct. 3 to Oct. 5 marks Week 5 of the Esports Collegiate Conference (ESC) Fall Season for VALORANT and Rocket League. This week, Rocket League gets a mid-season break from all of the action and a chance to make up for some rescheduled matches. Since Rocket League is on a break, that means VALORANT is on the main stage with double the matches.
Check out the updated standings for both games and the VALORANT schedule heading into Week 5 of the ESC. We also have brought attention to some key matchups that you will not want to miss.
Nelnet Bank (Member FDIC) is thrilled to be supporting the ESC Fall regular season this year and looks forward to watching the action play out. Nelnet Bank knows the collegiate esports community works tirelessly to bring opportunities to students as they develop and prepare for their futures. The team at Nelnet Bank wishes the teams, players, and everyone else the best of luck in this tournament!
ESC Week 5 preview
Unfortunately, there will be no broadcasts this week on the official ESC Twitch account. However, you will be able to find the highlighted games this week at each school's individual broadcast channels.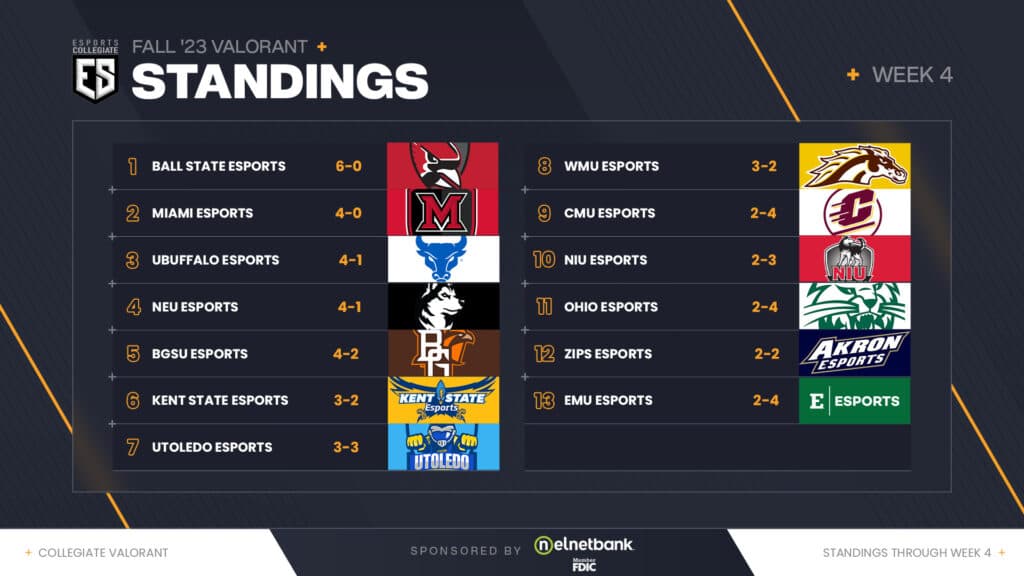 ESC VALORANT standings after Week 4 (Image via eFuse)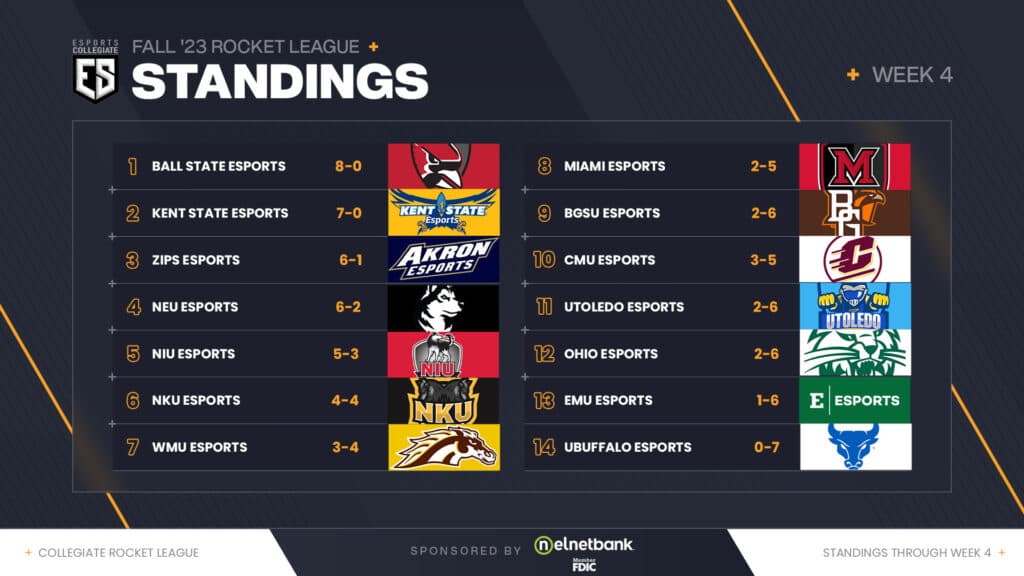 ESC Rocket League standings after Week 4 (Image via eFuse)
ESC Week 5: Highlighted matches
Eastern Michigan University versus Western Michigan University (VALORANT): Oct. 3 at 8 p.m. EST*
To kick off this week's preview matches, we have a Michigan Rivalry match. On Tuesday, the Eastern Michigan Eagles (2-4) get to meet up against the Western Michigan Broncos (3-2). Although Eastern Michigan sits at the bottom of the standings heading into Week 5, with a win over Western and Buffalo, they could push themselves near the middle of the pack.
After a tough loss to Ohio University last week, Eastern Michigan has to bounce back if they want to keep their postseason hopes alive. Senior players Corey "littlego" Smith and Jeremiah "Santii" Santiago must lead the way for the Eagles against the Broncos and Bulls this week.
For Western Michigan, the team shows up this week after a bye in Week 4. With a week off from the ESC competition, you have to wonder if it may impact their play heading into this week's matches. Their last win against Northern Illinois put them above the Huskies in the standings. If Western Michigan can take wins over Eastern Michigan and Toledo this week, then they can start to feel a little comfortable in the standings heading into the next half of the season.
ESC VALORANT Week 5 Round 6 schedule (Image via eFuse)
Bowling Green State University versus University at Buffalo (VALORANT): Oct. 3 at 8 p.m. EST*
Bowling Green (4-2) and Buffalo (4-1) mark the second Tuesday match to look out for in Week 5. The Bowling Green Falcons have shocked the ESC so far this season. After a (0-13) record last year, the Falcons look to flip the script and make postseason play for the first time. Currently sitting in the fifth place in the standings, Bowling Green players Mike "yawn累" Chen and captain Edward "Raxophone" Rak shows that this roster has promise.
The Falcons have a tough opponent this week in the University at Buffalo. After a dominant showing on the official ESC stream against Akron, Buffalo continues to improve. The Bulls looked like they figured things out since their last time on stream against Northeastern where they lost 1-2. Freshman player Luke "Avexedd" Coppola showed out against the Zips and dropped 51 kills across the two maps. If Avexedd can continue to produce those numbers on Sentinels alongside his teammates, then Buffalo has a great chance for an ESC Championship repeat.
Kent State University versus Miami University (VALORANT): Oct. 5 at 8 p.m. EST*
The first match on Thursday is the match between Kent State (3-2) and Miami (4-0). Kent State took their second loss of the season last week against a tough Ball State team. Both maps were not standouts and Kent State had a fighting chance in the Haven. Senior captain Luke "shaK" Rohloff must rally the team together this week and go against a soaring Toledo Rockets team plus feathered nemesis in the Miami RedHawks.
After having internet problems in the first week of the season, Miami have shown to be a dominant squad. With a close series against Northern Illinois last week, the RedHawks almost lost their undefeated streak. However, after big performances from Chris "Comfy" McNeilly and Cody "CCR" Radabaugh, the RedHawks continued their undefeated season. They must continue their dominance against Central Michigan and Kent State University if they want a spot at the top of the standings.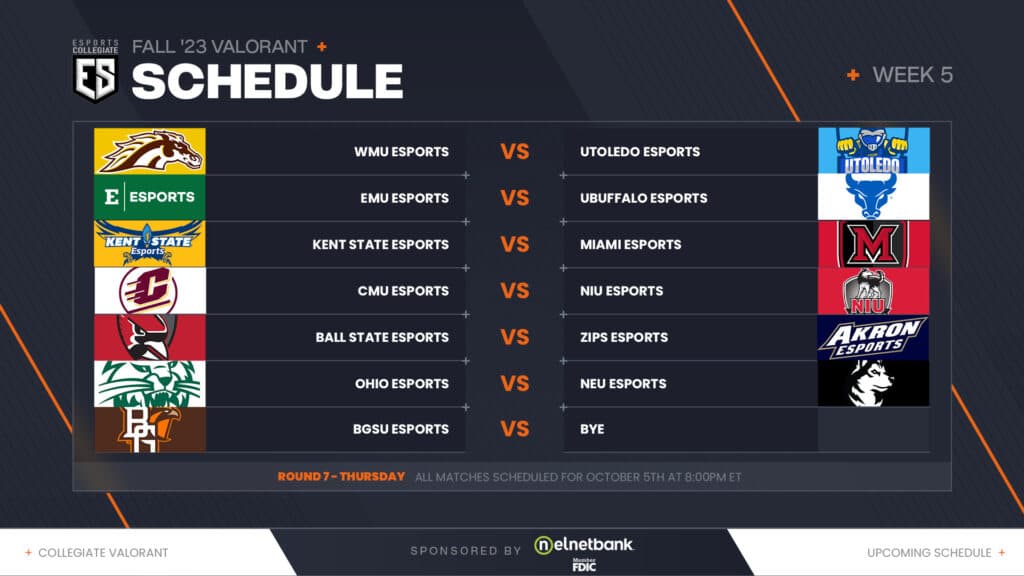 ESC VALORANT Week 5 Round 7 schedule (Image via eFuse)
Central Michigan University versus Northern Illinois University (VALORANT): Oct. 5 at 8 p.m. EST*
The final game to be highlighted this week is the match of Central Michigan (2-4) and Northern Illinois (2-3). On Thursday, these teams will finish out their Week 5 against one another. Both teams are currently sitting near the bottom of the standings. A win for either of these teams would be huge moving forward into the second half of the season. Each win matters as only the top eight teams will make it to the postseason. A win against one another may also lead into a tiebreaker later on.
Central Michigan has a tough match against Miami on Tuesday while Northern Illinois matches up against Ohio University. Senior player Alex "Wish" Benkarski and Sophomore captain Michael "Bannable" Strange lead the way for Central Michigan. On the other side, Senior captain Jacob "agua" Cummins and senior Nathan "Thune" Evans lead the pack of Northern Illinois Huskies.
*Match times are subject to change.