$50,000 CCA Fortnite Creative Series Qualifier recap
Here is a recap of the official Qualifier for CCA's $50,000 Fortnite Creative Series.
The College Carball Association (CCA) hosted their first Qualifier for their brand new $50,000 Creative Series, featuring Fortnite. With competitors from schools all over North America, the action ended up being quite intense.
CCA Fortnite Creative Series hosts its one and only Qualifier
The CCA Fortnite Creative hosted a successful Qualifier, where 16 teams per region qualified for next week's Swiss-system tournament.
The series was divided into four regions across North America: North, East, South and West. Each region consisted of multiple colleges, where teams of three (all players from the same school) competed against other students from an opposing school.
The tournament was a double-elimination bracket, where teams competed on a new Rivalry Hardpoint Map, which was a part of Campus Corner. Campus Corner is a unique Creative Hub developed by CCA for collegiate Fortnite competitors.
The series lasts over 8 weeks, where one school will come out victorious.
16 qualifying teams from each region
16 teams will be moving forward to next week's Swiss tournament. Here is a list of every qualifying team per region.
Yorku CA
Fisher College
The UCONN Champs
Dawson College
University of Waterloo
SCC FN
CSTJPANDAS
Northwood Esports
Carthage Firebirds
MCMaster Canada
IWU Esports
Illini Orange
SHU Fortnite
John Abbott College
UWSP
UMD Academy
Akron Zips Esports
USC Spartans
UMD Fortnite
Slippery Rock University
George Mason University
Villanova University
MVNU Esports
High Point University Purple
Niner Esports
UBUFF
WVU Potomac State College
Saint Francis FW
Saint Francis FW (B)
Purdue Pub Players
High Point University Panthers
Purdue
UNT Esports
FGCU
CU Boulder
UT Arlington
TAMU
TAMUCC Islander Blue
University of Oklahoma
GCU Esports
OC Esports
Sailfish Esports
University of North Florida
CU Boulder 2
Florida Tech
Huntingdon Hawks
Penn State
CSULB Gold
CSULA
University of Nevada, Reno
UMN Gold
San Jose State University
De Anza College
Clarke Pride Fortnite
SJRC Bear Cubs
UMN2
Grand View University
UMT Griz Maroon
UMT Griz Glacier
YU - Fortnite 1
Center for Arts and Technology
YU - Fortnite 2
BLC Esports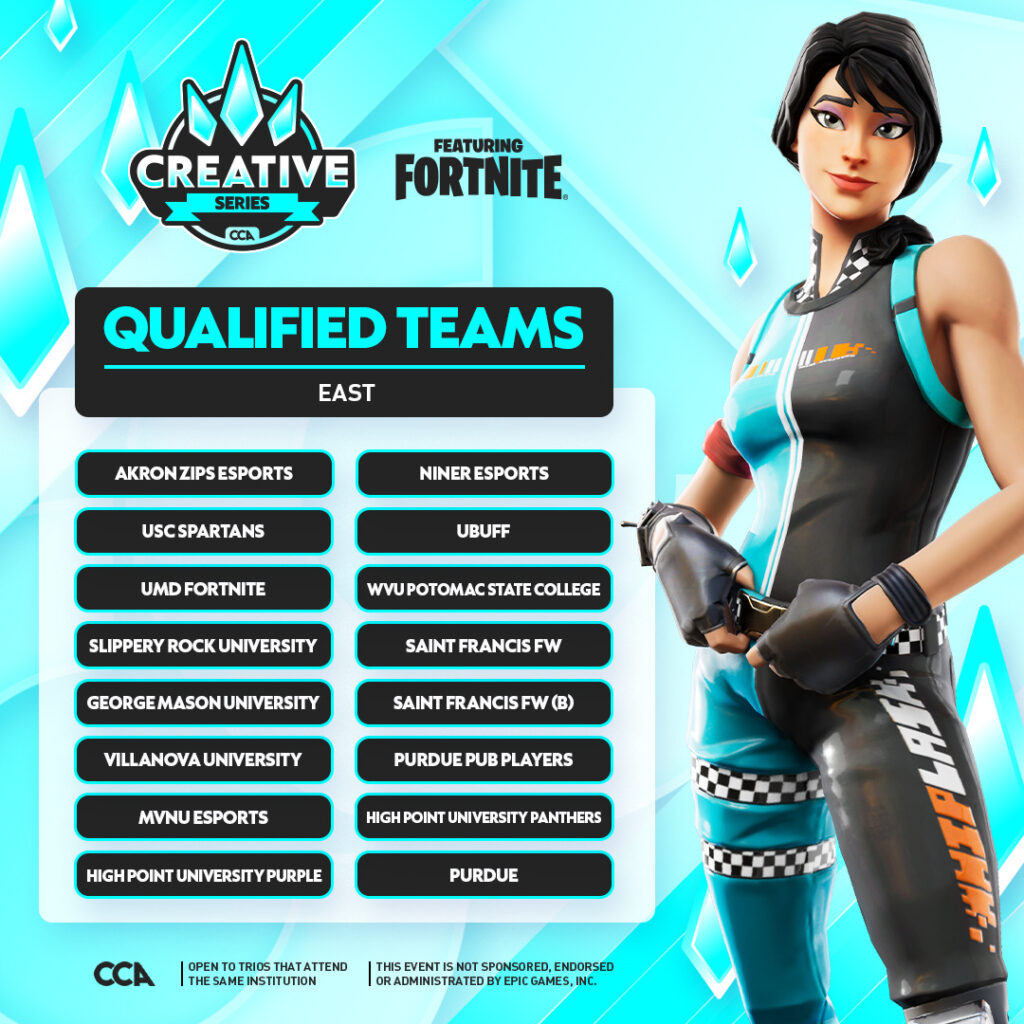 "Our team came together about two to three years ago when we each first came to campus. We are on the University of Akron's varsity Fortnite team and have been competing in collegiate events for a while now," said Akron Zips Esports. "One thing you should know about us is that we are going to be the Creative Series champs in late October."
Competitors not only are competing for bragging rights but also for a $50,000 prize pool.
Prize Pool
Here is a breakdown of the official Creative Series Prize Pool.
Creative Series Prize Pool:
Stay tuned to esports.gg for more Collegiate Fortnite and esports news.