The biggest online chess community, Chess.com, experienced its highest number of active players in history.
The universal board game, chess, has turned into an online sensation throughout the past few years and it is not slowing down. Chess.com, the largest online platform for chess, has just broken the record for its daily visitors - accumulating more than 10 million active players in a single day. This heavy traffic crashed the Chess.com servers and it is currently under maintenance.
Chess.com crashes as it faces unprecedented growth
On 31 December, Chess.com witnessed rapid growth to reach 7 million active players in one day for the first time in history. And that wasn't the end of Chess.com's rise as it continued to break records every single day in January 2023, with the exclusion of only five days. Finally, on January 20, Chess.com hits a milestone to see 10 million active players on-site in a single day.
Daily active users on Chess.com in January 2023.
Image via Chess.com
Due to the sudden surge of players, Chess.com's servers have crashed and players might experience errors while playing chess or solving puzzles. Servers are likely to crash during peak hours which Chess.com states to be around "noon to 4:00 pm ET."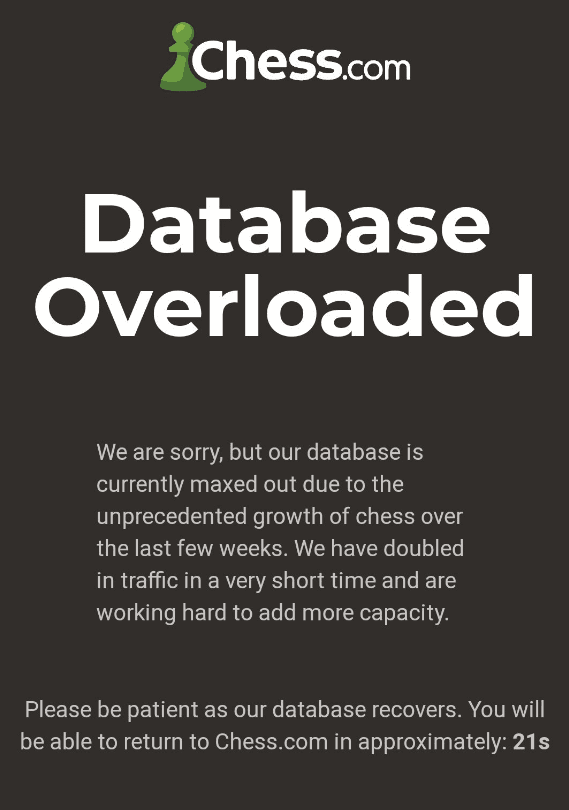 Chess.com server crashes due to heavy traffic.
In response to the overwhelming visitors, Chess.com published a post to thank the vigorous player base and promised to fix the servers as soon as possible. The weekly Titled Tuesday tournament on Jan. 24 was also canceled and it will return the next week with a doubled prize pool.
What is making chess grow more popular?
Chess is an ancient game that has remained the same throughout centuries. It has no updates, no fancy maps, and no new characters. Only the same, old pieces that move the exact same way they did centuries ago. So why is the biggest chess community online, Chess.com, growing like never before?
Chess.com shared a list of what could be the reason for this profound growth. So let's break down the biggest events that were likely the biggest factors.
Pandemic
It first started during the pandemic, when a lot of online games became the go-to activity including chess. Chess then became even more popular due to the Queen's Gambit series. The hit series told the story of a chess prodigy's journey to join the elites. During this time, chess also exploded on Twitch, courtesy of GM Hikaru Nakamura's presence on the platform and many other content creators.
Chess cheating scandal
The pandemic era already solidified a great interest in chess. But in 2022, more hot issues came to light that expanded chess beyond expectations. One of them is the biggest chess cheating scandal in history involving the world champion, Magnus Carlsen, and a 19-year-old GM, Hans Niemann. This was talked about across numerous platforms and is still an ongoing issue with Niemann filing a lawsuit against multiple parties.
Messi x Ronaldo playing chess
Then came the FIFA season in November 2022, when Luis Vuitton released an internet-breaking photo featuring the two biggest football superstars in the world, Lionel Messi and Cristiano Ronaldo, playing a game of chess. The game of chess even depicts the same position as a Carlsen vs Nakamura game in 2007. This also prompted a witty reaction from Magnus Carlsen on Twitter.
Ludwig's chessboxing event
Mittens
Finally, in January 2023, Chess.com released what would be an insanely popular bot, Mittens. This intelligent (and adorable) cat bot caught the interest of many, despite not being nearly as intelligent as Stockfish.
It's only the beginning...
It seems like chess just wouldn't stop being entertaining for the masses and it has certainly converted a lot of people into a daily chess grinder. If you want to join the chess hype, you can begin playing on popular chess platforms like Chess.com and Lichess.