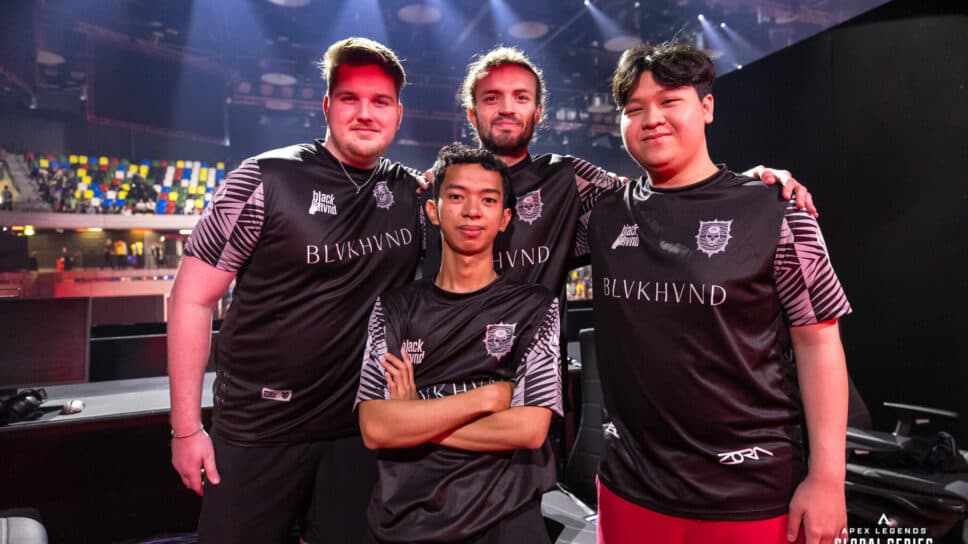 Voltic and BLVKHVND enjoying being "cozy in zone"
Voltic and BLVKHVND have been the surprise package at Champs so far.
Justin "Voltic" Maunz and BLVKHVND have been a surprise package at the ALGS Championship in Birmingham. They start todays finals in first place, with the maximum ten advance starting points.
While focus has been on the TSM and DarkZero battle, StrafingFlame, EzFlash and PlayerKay have quietly gone about their business.
esports.gg spoke to Coach Voltic during the tournament.
Voltic encouraging his team to take more risks
The pressure at LAN is always immense, but the ALGS Championship is another level all together. $2 million is on the line. While that is an insane prize pot for any team, those outside of North America feel even more pressure. A lack of investment and third party events makes ALGS that bit more crucial.
As a result, it can be easy to play very cautiously on LAN. Voltic says he has been encouraging his team to take more risks. The looser they play, the better they have gotten as the tournament has progressed.
"[We've worked on] Team fighting, taking risks was a big one. We play heavily in zone, and there's just times where you've got to clear your edge, you've got to wipe the people on your edge. There was a lot of times where we just didn't realize our risks. Today we came in thinking, okay, we got this spot, we've gotta hold it, we've gotta think of our threats. We have got to clear our edge. And we played the game how we were supposed to today."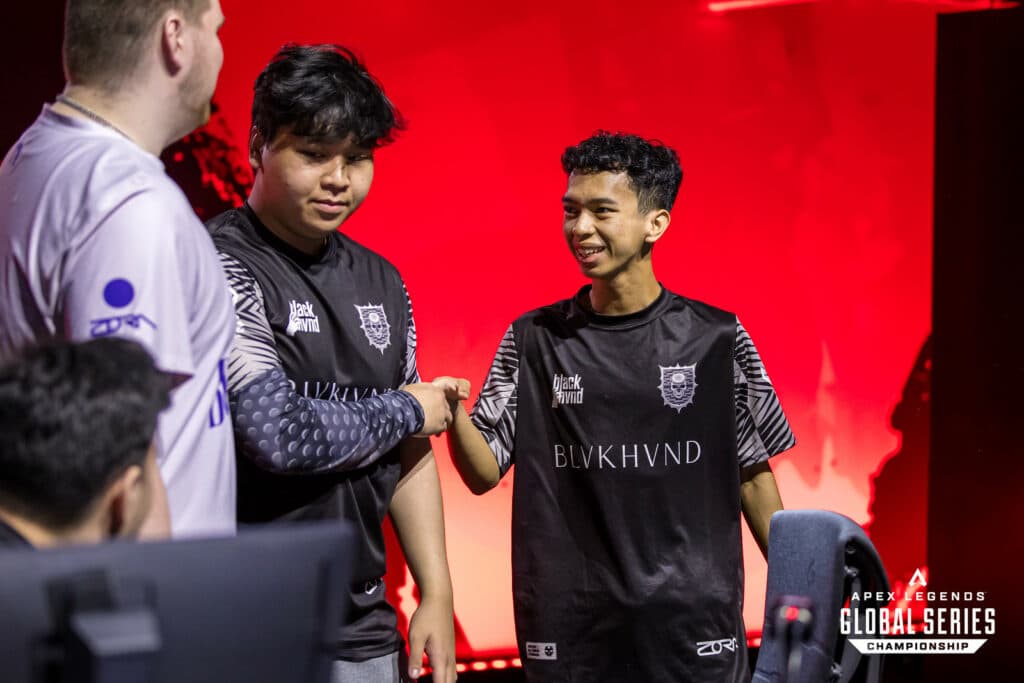 (Photo EA/Joe Brady)
Voltic feels that some of their cautiousness at the beginning of the tournament was down to a lack of experience.
"I'd say it comes with experience. The more you play, the more you learn Like, OK, I can get away with this. I can't get away with this. It just all comes down to experience at the end of the day, I'd say."
Having POI's is key for Voltic
A key factor for Voltic and BLVKHVND has been having secured drop spots. They are one of the teams that have benefitted from the much discussed Ring Console changes.
"Well, one thing in Last LAN that was really tough for us, you know, we landed Landslide and Thunderwatch. And with the recent changes with Beacon, it allows us to play Landslide a lot more comfortably.
"For our playstyle, it helps so much instead of having to play off zone one Beacon, you know, majority of the time we're getting zone two Beacon. So it works out well. The good thing about coming into this LAN, we were the underdogs last LAN, we were really the underrated team. We got some respect under our belt. So now, we have our own POIs."
(Photo EA/Joe Brady)
Voltic wants his team to be cozy
esports.gg spoke to Voltic before yesterdays winners bracket, and his prediction rang true. BLVKHVND cruised through the Winners Bracket.
"I really do think we're going to cruise through it. The big thing about winners, you don't have to win. You just got to get top ten. And playing from zone, I feel like there's so many edge teams, there's so many teams that just like to int. We're just going to be cozy in zone. There's a lot of Fuses, but we play Wattson, so we counter that. So we're going to be chilling." 
(Photo EA/Joe Brady)
What sort of impact can a coach make
"It usually just comes down to macro or like one simple little mistake where it's just like, oh, we literally do this one little thing and we're chilling. So usually, it comes down to mistakes. I feel like we don't usually make any crazy, huge mistakes that mean we delve into a huge discussion. Usually, literally just macro and sometimes micro."
Top five minimum is the target
BLVKHVND are ambitious for their chances at the ALGS Championship. Voltic feels they can win, but what result would leave them satisfied?
"I would say minimum we we want to aim for at least... obviously we want to win... but realistically I think we'd settle for a top five I think that's easily doable for sure"
BLVKHVND and Voltic will look to continue their dream run and bring home the ALGS Championship Trophy today when the match point finals get underway.
---