Reps: "The winning factor for us was getting our coach Raven"
esports.gg spoke to Reps following TSM's win in the ALGS Split 1 Playoffs
Jordan "Reps" Wolfe is one of Apex's longest serving and most successful players. A now three time LAN champion, he has competed with ImperialHal and with TSM since the beginning of the game. Following their huge LAN win in London esports.gg spoke to Reps for some instant reaction to their victory.
TSM lost their crown
TSM have always been heralded as the top team in Apex. From the get go, they have been successful. But, in Reps' eyes TSM haven't always held the title of the best team in Apex.
"I definitely felt we did lose it. There was ups and downs. We weren't as dominant clearly as we had won back to back LAN's. At the start we were winning almost every online tournament."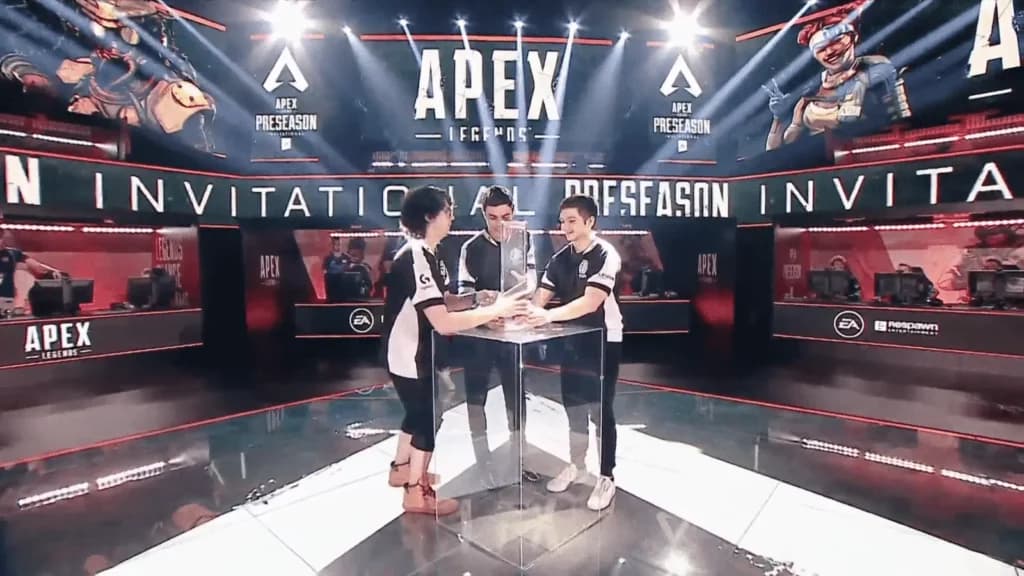 TSM win the Apex Legends Pre Season invitational
Reps was quick to note how strong the support for TSM has been since the game's release.
"The best part about it is, throughout all those online tournaments the TSM fans stayed with us no matter what. Always supported us. I really feel like that never ending support is what helped us get that win."
Reps doesn't feel pressure despite huge fanbase
TSM fans are among the most dedicated and vocal. No matter where in the world, online of offline TSM have a cult following. Stadiums cheer their every move, Twitch chats are awash with TSM logos and copypastas in support of the TSM roster. But, how does this attention impact TSM?
TSM were the most popular team in the Copperbox (Photo: EA)
"I honestly don't think [the huge fanbase] makes me feel more pressured. I obviously want to do as well as I can for the fans and win for them every time but I'm here to win so it doesn't really affect me that much"
Huge Valkyrie rotate made victory simple
TSM owe their victory in part down to a fantastic Valkyrie Skyward dive across the zone. They moved away from several teams and cleared the space they needed to clinch a victory. Reps admitted as soon as they made that move he felt they could win.
"Once we Valk ulted and saw that they were trading over there we knew it would come down to a three versus three. We didn't know it was Acend who were also on match point meaning whoever won that fight won the whole tournament.
Once we cleared out that side we knew we had to hold our one rock, wait for teams to push into us and win our fight to win the tourney."
TSM deployed different strategies for match point
TSM didn't earn the most points across the eight game finals however. That accolade went to NRG who finished second after TSM's match point victory. Match point format is one of the standout aspects of the ALGS and creates drama like no other. For competitors, it means having multiple gameplans and developing an understanding of the format. Reps revealed that TSM approached their games differently before and after they hit the 50 point threshold.
Reps in Raleigh (Photo: EA)
"Before you get to match point there are just certain zones that are just really hard for you to win. So you want to play around just accumulating as many points as possible, playing hard edge and trying to get as many kills and points as possible. But then once you get to match point you have to start playing for the win, kills don't matter as much."
Reps: "Whenever we get mad there are never any hard feelings"
One of the aspects about TSM that has drawn attention is their team dynamic. They are brisk, sometimes ruthless but always honest with each other. To outsiders it can come across as rude, but Reps says that their team is built on a foundation of respect.
TSM can have heated discussions during tournaments (Photo: EA)
"The best part about our team is that we have a mutual respect, if someone says don't do this we listen to them. Whenever we get mad there are never any hard feelings.
"We are all passionate about the game and we know we're better than what we did. So when we make mistakes it bothers us because we know we are better than those mistakes."
Reps credits Raven with LAN victory
TSM have been massively improved since the addition of coach Raven. Reps credits Raven enormously for their victory.
"The winning factor for us was getting our coach Raven. He changed our game plan completely. Raven also helped me get on a strict schedule where I am very focused on everything I have to do.
TSM Raven operated from the shadows in London
"He helped us out with everything. Changed our POI's, our rotations and he was the winning factor. We had to execute it but we had the winning game plans."
When pressed as to if they knew the impact Raven would have on their team, Reps admitted it was a bit of a gamble. A gamble that has clearly paid off.
"We took a gamble because we were struggling and we couldn't figure out what was wrong. We didn't want to change our roster because we knew we had the potential still. If we aren't going to change our roster we need a coach and we found the best coach in the game."
Unlike some esports, Raven was brought out with Hal, Reps and Verhulst. Reps insists that he is as much a part of the team as any of the players and deserved to share the moment.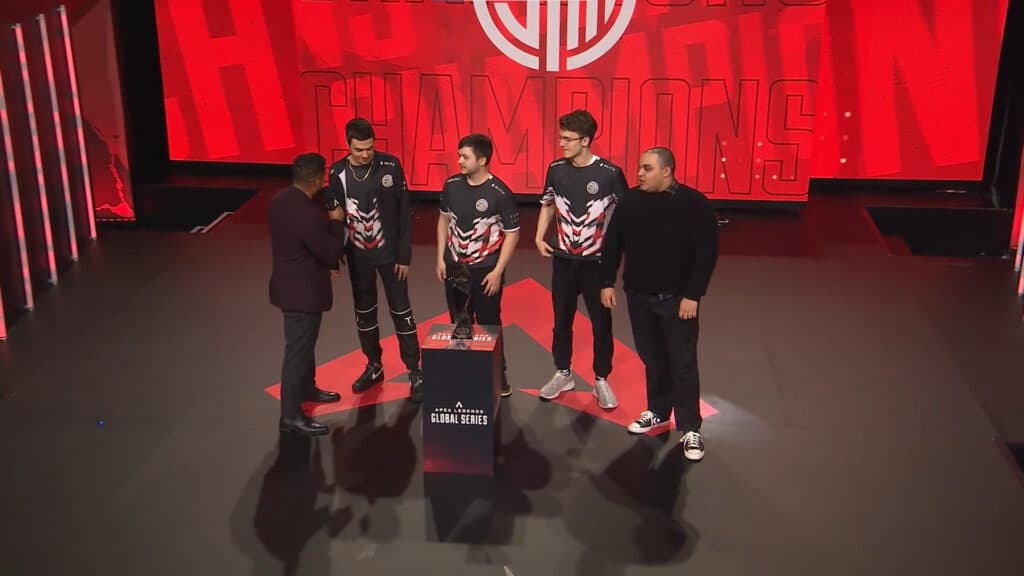 TSM lifted the trophy in London (Screengrab via PlayApex)
Laser focus on more LAN success for TSM
For Reps and TSM there is no time to rest. Pro League is set to return in March, with another London LAN also quickly appearing on the Horizon.
"It's time to go back and stream, grind and prepare for the next Playoffs. We have to go back to back again now."
Could this be the start of another TSM dynasty in Apex Legends? Time will tell. For now though, they are the undisputed global Apex Legends Champions.