NRG successfully defended their Knights Carnage Cup title, becoming yet the latest team to adopt Bangalore on Storm Point.
NRG successfully defended their Knights Carnage Cup title. This win extended their impressive run of form in non-ALGS tournaments.
Elsewhere, TSM and Complexity also performed strongly. It was also a notably strong performance for the Tripods, they took a win in game 5. NickMercs and co will hope to carry this momentum into the final weeks of ALGS.
The Knights Carnage Cup consisted of 6 games spread across both Worlds Edge and Storm Point. Cloud9 chose not to play the Carnage Cup, having recently announced their departure from the org.
NRG convert to Bangalore in the Knights Carnage Cup
NRG are yet another conversion to the Bangalore revolution in North America. Sweet declared after their disappointing ALGS performance yesterday that they would play 'hard edge' on Storm Point.
However, unlike teams such as FURIA and Luminosity, NRG opted to keep Seer instead of also swapping to Bloodhound.
NRG Sweet at LAN in Raleigh (Photo: EA)
This gives NRG a bit more nuance in their fighting, with Nafen still able to capitalise on the opportunity to cancel heals and revives from enemy teams.
Checkpoint well suited to Bangalore
It makes sense why NRG have opted to alter strategy on Storm Point. Aside from being one of the best 3v3s fighting teams in the region, Checkpoint is also a great POI for a Bangalore team.
It has a Spider Nest built into the POI; which allows you to grab plenty of heals, but also gives you the chance to get digital threat scopes. They are absolutely key to a Bangalore team.
NRG Nafen at LAN in Sweden
Checkpoint is also in close proximity to one of the IMC armouries. These let a team grab 'smart loot', as well as getting a lot of points towards your EVO shields. These two mechanics combined give NRG a great chance to pick up as many digital threats as they need, as well as gather very strong resources.
Will NRG's ALGS luck turn?
With NRG adding the Knights Carnage Cup to their impressive list of recent victories, many fans are asking why they haven't yet quite found their form in ALGS. They sit 13th overall, which is not to be laughed at, but for this team standards are always sky high.
NRG would freely admit that they have made errors in ALGS, but it also safe to say that NRG have had a fair share of bad luck. In today's Knights Carnage Cup, NRG got two strong zones. One on Storm Point and one on Staging. They won one, and took second in the other.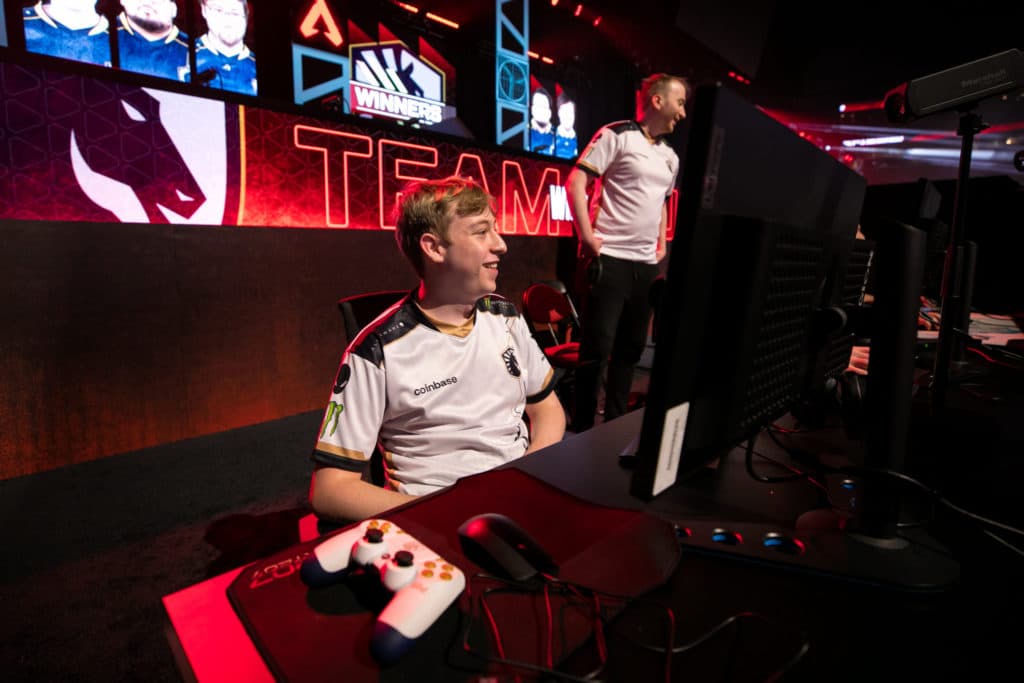 NRG Gild with his former team, Liquid (Photo: EA)
They also benefited from strong beacon and crafter spawn rates across the 6 games. It's clear that NRG have what it takes to be successful in any tournament they play. Today's Knights Carnage Cup victory will give NRG a sense of momentum, but also add to their frustration. They need a very strong final ALGS performance to push into the top 9 before the regional finals. NRG will be hoping that they the use of Bangalore on Storm Point will give them the extra spark they need to find more success in ALGS.
Knights Carnage Cup standings
1st - NRG - $6000
2nd - TSM - $3000
3rd - The Guard - $1000
Knights Carnage Cup Standings
Tripods grab a big Knights Carnage Cup game win
The highlight for NickMercs, Gent and Deeds was an incredible game 5. They called the zone impeccably, positioning themselves on the Barometer height, and staying there for almost the entire game.
It was Apex zone play at it's finest, the Tripods had a really strong position but also crucially really strong potential to pick up kills. Their end total was 14, the most any team got in a single game across the entire event.
The Tripods had a great position in Game 5
Zone teams sometimes struggle to find strong positions that are in the final zone, and also have good potential to pick up kills. You cannot be successful in Apex without a good combination of both.
Deeds shines in the Knights Carnage Cup
If you ever doubted the potential of this Tripods team, Deeds has a message for you.
The Tripods do have what it takes to mechanically compete with the likes of Spacestation Gaming. The issue they have found, including in today's Knights Carnage Cup, is putting themselves in strong positions.
However, this is something that is clearly improving every week. The more experience that the Tripods get at the top level, the more we will see them improve. Crucially, they appear to be hitting their stride just in time for the upcoming ALGS Regional Finals. It's an outside chance, but if Tripods can find a game like their performance here - anything is possible.
Stay tuned for the latest esports news and updates.