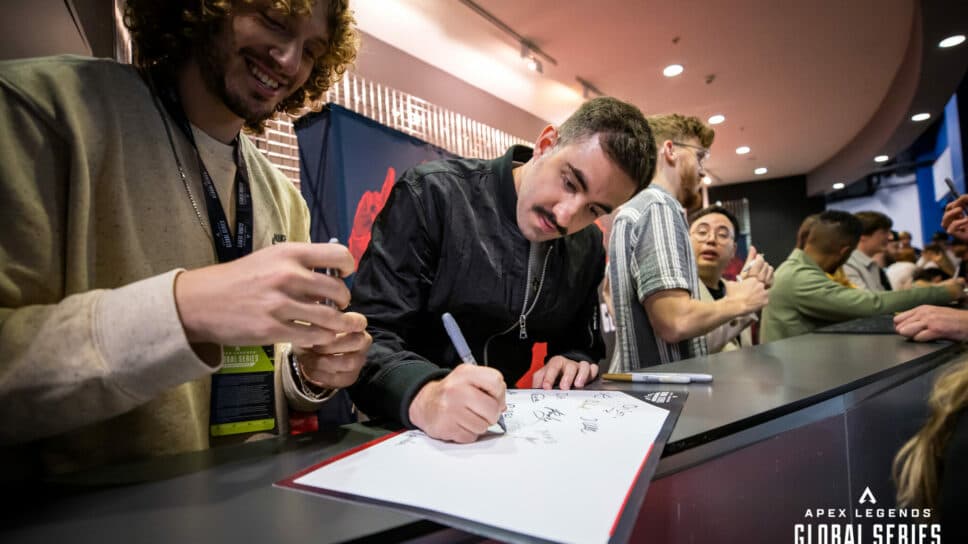 NiceWigg and Greek on ALGS and how it can get better
and they really want to go to Japan
Esports.gg spoke with Jack "NiceWigg" Martin and Athanasios "Greek" Alestas about their thoughts on ALGS Year 3 Championship so far, which underdog teams they're following, and what they hope changes in the future for Apex as an esport.
The b-stream duo has been casting together for ALGS since the ALGS 2022 Split 2 Playoffs and have become increasingly popular in the Apex Legends scene ever since.
The ALGS moment of all time
Starting off the conversation by talking about the most hype moment in the competition so far; the 360 no scope Kraber shot by Emtee of Moist Esports. The duo thought that moment was a fantastic addition to the Kraber clips hall of fame, but don't think that ALGS has peaked quite yet.
NiceWigg: "I do think when we were at Sweden, we saw some pretty wild plays there too. Like that one Skittles armor swap play one v two. I definitely think we've had some really exciting moments. I'm just happy that we have at least one out of the last two tournaments that have been really exciting."
Greek: "Kraber is the most phenomenal gun to watch a trick shot with and we were saying yesterday that we hadn't really seen too many Kraber clips recently in LANs. Actually, Skittles from OpTic usually goes for trick shots at the end of the game. So to see Emtee actually connect with it, and we got to watch it on stream too, it was amazing."
ALGS underdog storylines to watch for NiceWigg and Greek
ALGS always has some of the most dramatic storylines in esports to follow, but sometimes the focus lingers a lot on the NA region teams. When asked about which underdog storylines they were following through Year 3 Champs, Greek said DreamFire while NiceWigg choose BLVKHAND.
Greek on DreamFire: "They have a huge fan base that comes out to all the LANs too. Anytime they're in a fight, in any of the games, we can literally hear the crowd through our headphones cheering them on."
A new champion besides TSM or DarkZero
Apex Legends LANs have been dominated by two teams; TSM and DarkZero. NiceWigg hopes that there will be a new winner, hopefully from a new region, so that Apex Legends can grow as an esport internationally.
The origin of the NiceWigg and Greek ALGS watch party duo
NiceWigg spoke about how he was initially asked to do a b-stream by himself, which he felt didn't go well. However, he was still asked to come back so he started doing more watch parties and competed in fewer competitions himself.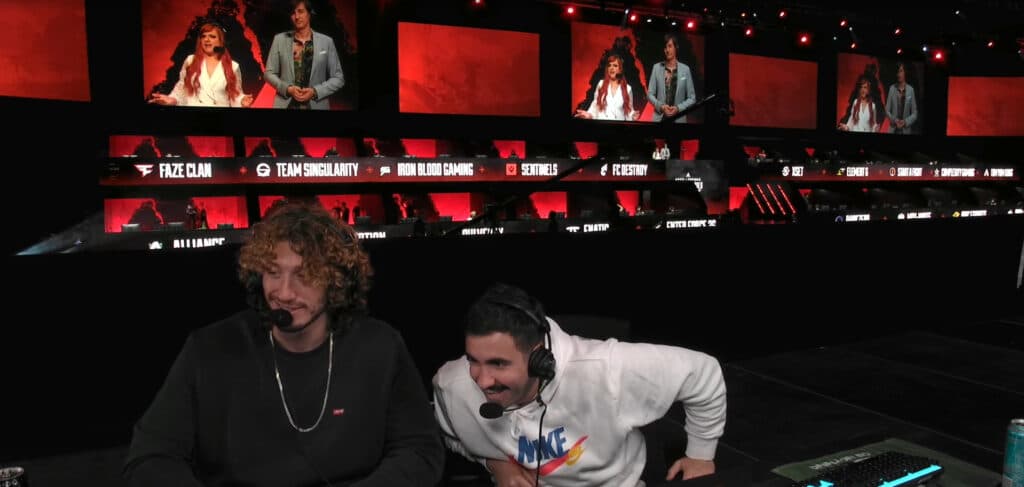 NiceWigg and Greek on the b-stream of ALGS Year 3 Champs
After a while, he moved to LA with Greek and another friend. Greek was still competing at the time, but NiceWigg asked, "why not join me?". So the duo started doing watch parties together and eventually EA reached out to NiceWigg and said he could bring anyone he wanted, so his choice was obvious.
When asked if they ever miss competing themselves, NiceWigg simply said "nah". However, Greek said that he does miss competing.
Greek: "Everytime a team wins, I feel the goosebumps. The closest feeling to it is being here at the venue being able to watch the players celebrate. I definitely miss it so I still play a lot but watch partying is pretty damn fun too.
Improvements for the future of ALGS
The biggest change for the future of ALGS that both Greek and NiceWigg would like to see is more international events. NiceWigg suggested that three or four LAN tournaments all over the world would help Apex Legends grow as an esport, which Greek agreed with.
On how ALGS has improved already, the duo complimented the broadcast for always improving and the casters. Specifically, NiceWigg felt that ALGS has finally found a set of casters that truly love Apex Legends and appreciate the game.
"We have that core family."
NiceWigg on the ALGS casters
As for the future of ALGS venues, Greek said that he wants Year 4 to be in New York City, while NiceWigg wants it in Tokyo. Elaborating on his choice, NiceWigg pointed out how big Apex is in Japan and that another major esport game, VALORANT, is taking viewership away from Apex in Japan.
NiceWigg and Greek will continue their b-stream tomorrow on Sunday for the finals of the ALGS Championship. For more insights on ALGS, check out our coverage here!
---