Graceful retires from competitive Apex due to financial issues
Graceful has announced his retirement from Competitive Apex Legends. This is due to financial difficulties making competition unsustainable.
Apex Legends veteran, Graceful, has announced his retirement from Competitive Apex Legends. Citing financial issues, Martin "Graceful" Wongphrom, says he simply cannot afford to compete any longer. He will instead move towards coaching and streaming alongside other employment.
Graceful added on Twitter that he hopes to be able to return to competition in the future, should it be viable for him to do so.
This retirement will only add to bubbling concerns around the financial state of the EMEA region. With tournaments at a premium outside of ALGS, and orgs hesitant to invest heavily into Apex Legends, making ends meet is sometimes more of a challenge than finding success in game.
Graceful at the ALGS Split 1 Playoffs in London (Photo EA/Joe Brady)
Finances force Graceful retirement
In an incredibly honest Twitlongr, Graceful revealed that he has struggled to pay rent from his salary across his Apex Legends career. The 29 year old has been signed with several organisations, most notably North, iG International and Kungarna. Graceful has earned just over $50,000 in prize money during his four year Apex career. Most recently, he has been competing with Element 6.
Instead, he has been relying on savings from his Overwatch career and his Apex prize money. In addition, Graceful's wife works and has been supporting the household financially.
For Graceful, this is simply not sustainable anymore. "All though I have the most supportive wife in the world, I simply can't continue to let her carry the burden alone."
He says that it is "out of respect to her I will be stepping away from competitive since it's not sustainable for us currently".
Graceful is one of EMEA's most decorated players
This retirement ends an incredibly successful career for Graceful. He has found success across several rosters, winning several major events. His first major result, back in 2020, was a third place an $69,000 ALGS Online event. This kickstarted an Apex career that would see several major tournament wins.
Graceful, competed in Overwatch, before Apex Legends
Graceful also won the GLL Masters Spring and took two first places in different arena tournaments. Due to the lack of Arena events, this makes him one of the most successful arena players in Apex history.
Graceful notable results
ALGS Online #2 - 3rd
ALGS Summer Circuit #4 - 1st
ALGS Summer Circuit Playoffs - 1st
PGL Showdown Europe - 2nd
ALGS Winter Circuit Playoffs - 5th
GLL Masters Spring - 1st
BLAST Titans Arenas - 1st
GLL Arena Summer - 1st
ALGS Split 2 Playoffs (LAN) - 10th
JBL Quantum Cup - 1st
Perhaps the most memorable result for Graceful will be the ALGS Split 2 Playoffs. Held in his home country of Sweden, Graceful was a last second call up after Cloud9 IGL Zachmazer tested positive for COVID-19.
Usually, teams put hours of preparation into a global LAN event. They work on strategies, team synergy and opposition research. A lot of this preparation falls onto the IGL, who needs to be ready to adapt to new teams that are not faced during regional events.
Cloud9 discuss strategies in Sweden
However, Graceful and C9 had no such time to prepare. Stepping into the IGL role at the last second, with two players he had hardly ever played with.
This makes C9's run in Sweden even more impressive. They finished 7th in the group stage, 2nd in the first winners bracket and then took 10th in finals.
This result helped rejuvenate Gracefuls career and was undoubtedly his best result across his career.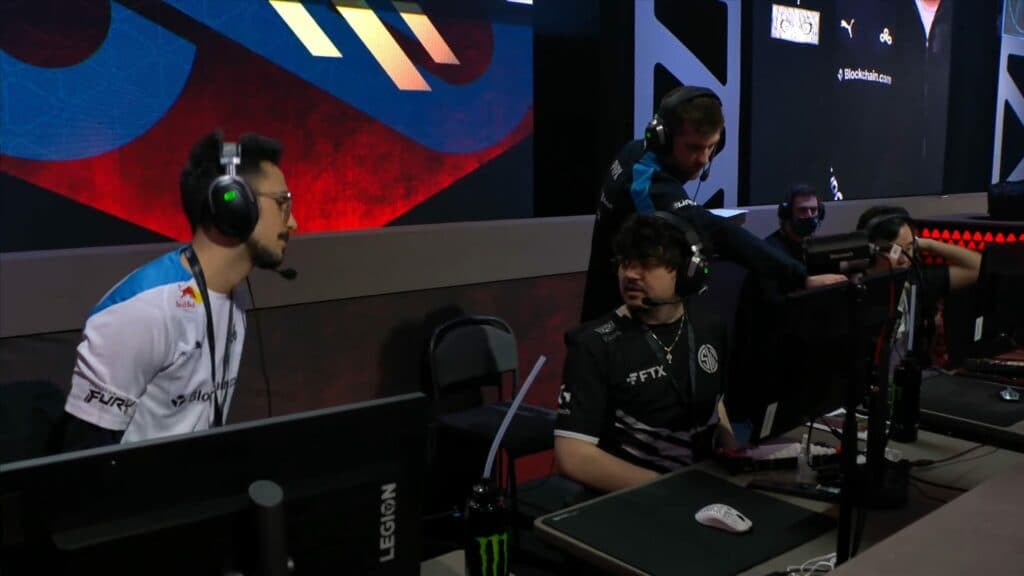 Cloud9 in Sweden
Hope for a return?
While Graceful is stepping back for now from Competitive, he will still be streaming and creating content. He says that he "will be going back to part time working while focusing on Streaming/Content creation for my next aspiration. I've since long put coaching/streaming/content on the shelf and it's time we dust that off and I'll be going all in!"
He has also followed up on Twitter to say that if viable, he would return to competition, if it paid the bills.
There is hope that should the EMEA scene pick up, with average salaries rising, that Graceful might be able to resume his competitive career.
Stay tuned to esports.gg for more ALGS coverage and esports news.