Glytch Energy find crucial victory in hunt for LAN qualification
Glytch Energy took a huge stride towards LAN, finding a crucial victory in the ALGS Pro League. They are up to fifth overall.
Glytch Energy claimed a maximum 25 points as they set one foot on the plane to London. It was a blistering performance by Aidan, Vein and Reedz when they needed it most.
They have now skyrocketed up to fifth in the overall standings, and will qualify for LAN with just a middling performance in the Regional Finals.
However, two other teams that needed a big performance failed to show up. Both Luminosity and NRG failed to take advantage of their 'gameday in hand' and will need strong showings next weekend.
Glytch Energy take big stride towards London
There was big pressure on Glytch Energy. They were part of a small collection of teams that did not play yesterday, but were still very close to the LAN qualification spots. This gave them a major chance to put down a big result, and reduce pressure on next weekends Regional Finals.
What is crucial about the Regional Finals is that they are Match Point format. While overall series points are awarded like normal, there is no set limit of games. That means that you could have a slow start, and suddenly find the games have finished because someone won.
Glytch Energy are now right on the cusp of qualification, and have earned the right to not have to worry about factors like this next Sunday.
That isn't to say that Glytch Energy won't feel confident of victory next weekend. They made end games incredibly consistently. Only once did they die before fourth, and they picked up two wins across the six games. Even more encouragingly for Glytch Energy was that they found a win on both Storm Point, and Worlds Edge.
Glytch Energy found a fantastic position in game three (Screenshot: PlayApex)
Glytch Energy show incredible patience
Their Worlds Edge victory was a great example of what made Glytch Energy so successful today. Having worked their way into a top tier spot, Glytch Energy were faced with several options. They identified that they needed to try and allow other teams to fight, and stay uninvolved for as long as possible.
By displaying such patience and self control, Glytch Energy manufactured themselves a really simple win. Holding onto their Dark Veil for as long as possible gave them huge control and a lot of space to work with, as they watched other teams brawl to the death.
This is even more impressive because of the context of the season. Glytch Energy were chasing a big win, and needed big points. It would be understandable if they had chosen to dive into the fight earlier, in an attempt to rack up as many kills as possible. Yet, they remained calm and reaped the benefits.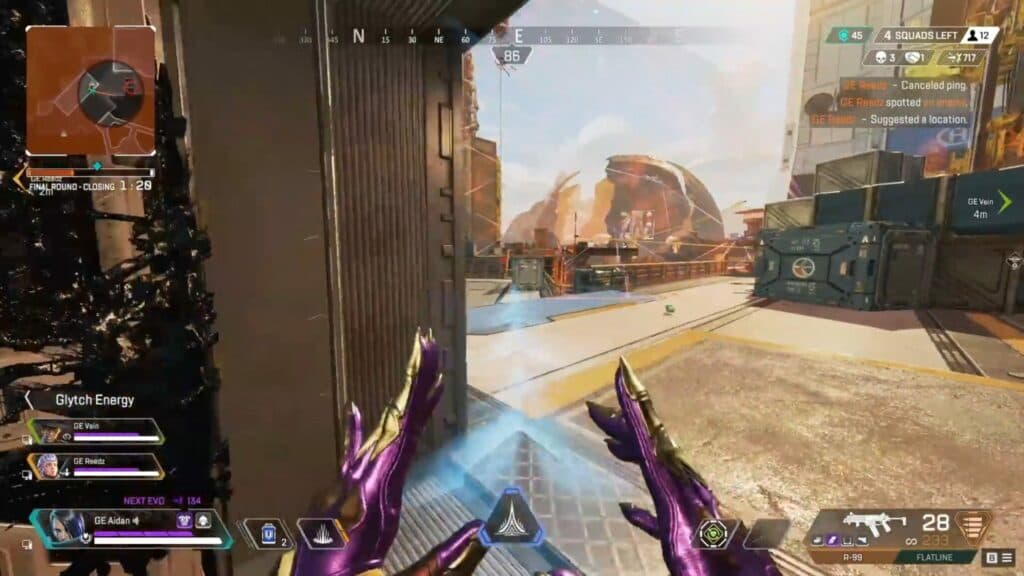 Even in their poor second game, finishing 17th, they still found three kills. This was a truly unbelievable performance by Glytch Energy and they were excellent value for their win.
NRG under pressure ahead of Regional Finals
Elsewhere, it was a difficult set of games for NRG. They were one of the teams who only needed a solid showing to be in the all important top 11, but they struggled to get going at all today. NRG finished 9th, and sit 12th, tied on points with Wildcard in 11th.
Sweet, Nafen and Gild were particularly unfortunate in game six. AJC, for some reason, made a bizarre rotation South and delayed NRG's rotate towards trials. While NRG did manage still to secure a good spot in zone, they were then heavily focused by XSET and 100 Thieves. The revival of Horizon in the meta proved fatal for NRG, with XSET taking to the skies again and again, chipping away at Sweet, Nafen, and Gild.
NRG Gild fell victim to his former teammates in game six (Photo EA/Joe Brady)
All hope is not lost for NRG, but they will need to ensure they have a strong performance in next weekends Regional Finals.
Questions will be asked of the NRG roster, who have struggled to find a strong performance in the Pro League so far. They have not placed higher than fifth in a single gameweek so far this split. That is of course not a horrible result, but by NRG standards it is way below par.
Critics of NRG would point to their playtime. Nafen and Sweet have been playing significantly less Apex over recent weeks. A lot of this is down to frustration with several key bugs in Apex, but has it impacted their performance? It is impossible to ever truly answer that question, but it is a question that will be asked until NRG's form improves.
NRG Sweet will need to help his side to a big performance next weekend (Photo EA/Joe Brady)
Who is heading to the Regional Finals?
XSET - 112 (Q)
OpTic - 106 (Q)
FURIA - 97 (Q)
DarkZero - 89 (Q)
Glytch Energy - 84
FaZe - 81
100 Thieves - 80
TSM - 76
Luminosity - 72
Meat Lovers - 72
WildCard - 71
------------
NRG - 71
Complexity - 70
LANimals - 68
Oxygen Esports - 60
CLG - 59
Sentinels - 57
E8 - 50
Native Gaming - 49
Drug Free - 48
Crucially, TSM will feel even happier with their situation today than yesterday. While they still need to perform well next weekend, both NRG and Luminosity failed to pass them. There are only so many teams that can outscore them, as long as they keep within around the top eight teams next weekend. It seems that plot armour is even thicker than we thought.
Stay tuned to esports.gg for more ALGS coverage and esports news.