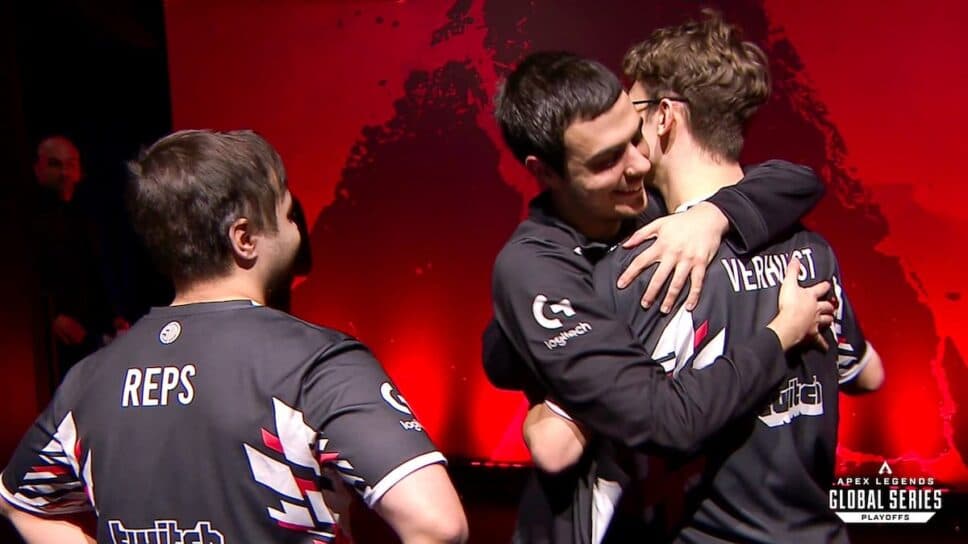 Best moments of ALGS 2023 Split 1 Playoffs in clips
40 teams competed in the ALGS Split 1 Playoffs in London and the hypest clips from the event have been curated here!
The ALGS Split 1 Playoffs in London are over and with 120 of the best players in Apex Legends in attendance, you can be sure there were some amazing plays. But if you missed some of the action, we're here to help. We've compiled a list of some of the hypest moments from the entire event.
These moments ranged from no scope Kraber kills, players standing on their desks, and 1v1s that come down to punches and can all be found here!
TSM's Verhaulst starts the weekend with a triple kill
TSM kicked off Split 1 of the ALGS Playoffs with Evan "Verhulst" Verhulst wiping the entirety of Alliance on Storm Point. The first squad wipe of the weekend hinted towards the victory that TSM would later claim on Sunday.
JZ Zaine rolls over team Passion
Zaine "Zaine" Kazi made the power of the controller known in Match 4 of Group A vs B with a ridiculous squad wipe that made the crowd roar. The brand new esports organization, JLINGZ, certainly made their presence known in the early matches of the playoffs.
100T Vaxlon's peacekeeper shakes up the lobby
In two back-to-back battles for 100 Thieves on Thursday, Alan "Vaxlon" Gonzalez flexed his peacekeeper skills and wiped Alliance and Dreamfire off the face of World's Edge.
The carnarge didn't end with Alliance, as next Dreamfire were greeted with the bad end of a peacekeeper.
Element 6's KSWINNIIE lands a no scope Kraber shot
In the midst of a desperate battle for their lives, Element 6's Elwin "KSWINNIIE" Echeveria managed to pull off an insane rez, followed up a quick no scope Kraber shot, which he topped off with a melee hit to secure a top five spot in Match 5 of the Playoffs Winners Bracket.
ALL Mande stands up on his desk and gets told to get down
Following the chaotic endgame fight of the Winners Bracket Match 5, Alliance came out on top and Mikkel "Mande" Hestbek quickly climbed up on his desk to roar back at the cheering crowd. He was, however, promptly and firmly asked to get down by ALGS staff, making this an iconic ALGS clip.
Melee 1v1 between TSM ImperialHal and ALL Yuki
One match came down to six bullets between Phillip "ImperialHal" Dosen and Oscar "Yuki" Jiang. Though the CEO threw two impressive punches, Yuki managed to hit a headshot that put the fan favorite down. Should Hal consider a new ammo management strategy? The two perspectives on this tense 1v1 are below.
fun123 wipe a squad in .06 seconds
The Korean team, fun123, showed how fast a sticky end can come to any team playing at ALGS. An Arc Star expertly thrown by Lee "KaronPe" Min-hyuk marks the beginning of the end for Element 6.
Finals clip: TSM win Split 1 of the ALGS Playoffs with perfect Valk Ult
A late game Valkyrie ultimate is high risk and high reward for any team at ALGS, especially TSM. However, their overall victory on Sunday came right after one of the smoothest Valk ults ever in this ALGS clip.
The perfect landing is only topped by the W that TSM secured on Thunder Watch. Just listen to that crowd roar!
---
The Apex Legends Global Series will continue in Split 2 later this year. To find out more news covering Apex Legends esports, more clips, and everything besides, check out our ALGS Split 1 Playoffs Hub and Esports.gg!