Looking to truly inspire the entire senior class? Apex Legends players have some suggestions – mostly Revenant quotes.
An Apex Legends player has decided to use an iconic Lifeline voice line as their senior quote.
On Reddit, a high school graduate showed off their entry in their school's yearbook, which showed a quote underneath their photo. She admitted that she wasn't quite sure what to put so she decided to use a voice line she likes by Lifeline.
"Breathe easy, watch your side, and never quit," the senior quote read.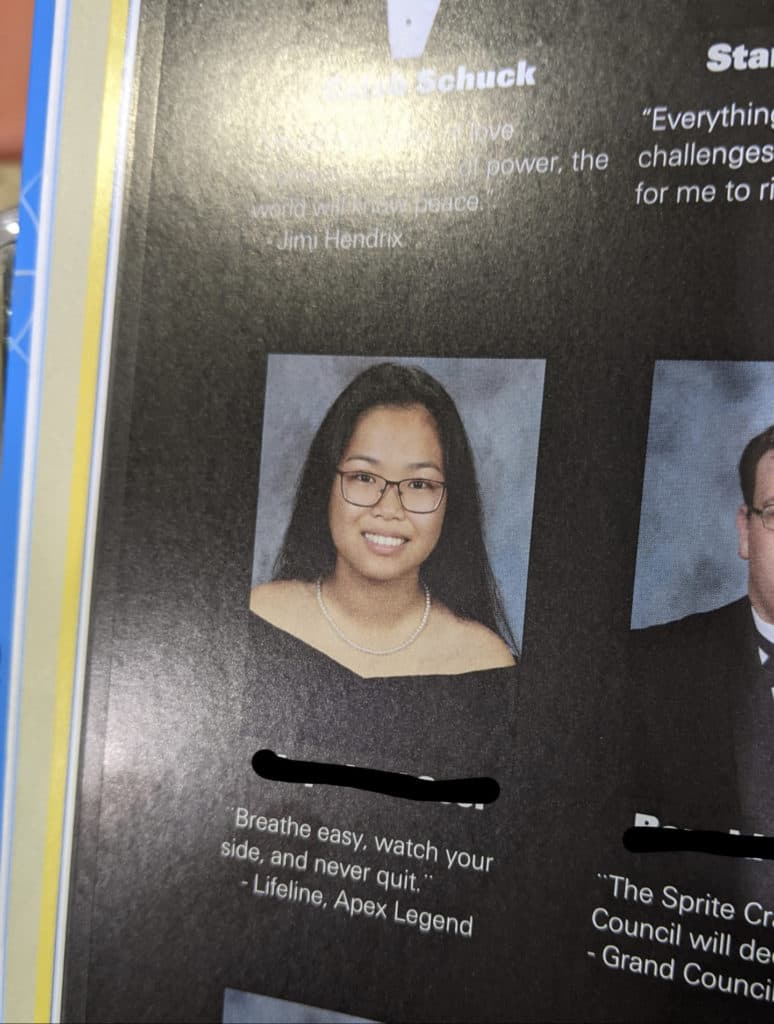 The senior added that their second choice would have been the ever-iconic: "Mozambique here." This is a favorite line of any Lifeline main.
The thread blew up on Reddit, catching the eye of an Apex Legends developer.
"This is incredible. Gonna shoot you a DM, ya legend," an Apex Legends moderator said, adding a heart.
Apex Legends voice lines that are perfect for miserable Gen Z gamers
In response to the bold decision to use Lifeline's intense quote in her senior yearbook, other gamers shared the voice lines they would use if they could go back and choose an Apex Legends quote their senior year. Here are some of the suggested voice lines:
"Give up and die" - Revenant
"Why can't I just die already" - Revenant
"Sniff, sniff, sniff, sniff" - Revenant
"Look at all these skin suits, they don't stand a chance" - Revenant
"That voice in the back of your head telling you there's still hope... It's lying" - Revenant
"I feel most alive when rapidly approaching my death" - Caustic
"All suffering is in the service of knowledge. I will see to it" - Caustic
"I don't concern myself with the ambitions of insects" - Caustic
"The distance between life and death is measured by suffering" - Caustic
"I will travel every road, kick down every door, until I get what I want" - Wraith
"Don't be an idiot" - Crypto
Apex Legends has a colorful cast of legends that all have very distinct personalities and backstories. But it's clear most Zoomers and Millennials relate to Revenant's angsty voice lines the most.